Core Strength
More New Jerseyans than ever are enjoying the health benefits of Pilates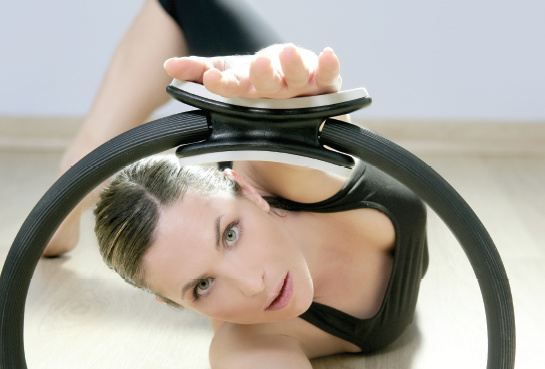 Pilates is hot! The exercise regimen has proven one of the most recession-resistant activities in the U.S., with growth of more than 450 percent since 2000, according to national studies. Developed by German-born Joseph Pilates during World War I, Pilates is a body conditioning routine that focuses on the strengthening of core (abdominal and back) muscles and proper breathing.
After the war, it was used for treating veterans and others in need of physical therapy and was quickly embraced by the dance community. But the wide range of ways Pilates can be taught (in group classes, in one-on-one sessions, on mats and on various forms of apparatus) has allowed its expansion to all kinds of fitness seekers, from newcomers to serious athletes who include it as part of cross-training.
"In Pilates, we talk about the 'powerhouse,' or the core, which incorporates your abdominal area, upper back muscles and hips," explains Audrey Laurelton, a nutritionist, Pilates instructor and co-owner of the Equilibrium studio in Montclair. "It's impossible not to wind up using the rest of the body as well, and as a result each exercise is going to work every part of your body."
The Pilates workout also emphasizes breathing in rhythm with the tempo of your movement. "We don't do more than 10 of a particular set of exercises before flowing into the next exercise," Laurelton says. "It's not like in some forms of exercise where you're going for the burn. Pilates avoids the buildup of lactic acid in muscles that can make you feel sore, or like you've been hit by a truck, the next day."
Nonetheless, Pilates is a rigorous workout that leads to beneficial effects starting with a person's first 55-minute session, says Deborah Vaphides, certified acupuncturist, Pilates instructor and cocoowner of Equilibrium. "When you begin to strengthen the muscles Pilates emphasizes— abdomen, hips, upper back—you start to see results pretty quickly," she says.
"The waist gets narrower, the hips slimmer, the collarbone lifts and the shoulders and upper back become stronger and more defined. The spine and the abdominal system kick into gear and line themselves up so you just look better." Like yoga, Pilates classes vary considerably. At Equilibrium, instructors focus on what's called classical Pilates, which adheres strictly to the exercises as developed by Joseph Pilates himself. It can be tailored for many goals—for the bride-tobe who's getting ready for the big day, for a senior citizen who's working on body strength, for a golfer who wants more power in his or her swing.
Clients typically do one to two sessions a week. Ideally, a beginner will learn the exercises with the aid of a specifically designed apparatus, such as the reformer, the tower and the chair, which provide resistance training with springs, and then move on to mat classes, in which resistance is provided by the student's own body weight, Vaphides says. "This is the best exercise around in my opinion, and I've done them all," says Vaphides.
"If you decide to make the investment, I promise you will wake up every day thanking yourself that you learned to do Pilates.
A Simple Exercise You Can Do at Home
For those who want to learn more about Pilates exercises, Deborah Vaphides recommends Brook Siler's book The Pilates Body: The Ultimate At-Home Guide to Strengthening, Lengthening, and Toning Your Body—Without Machines. Below is a variation of the Teaser, a classic Pilates mat exercise.