Crafty Brews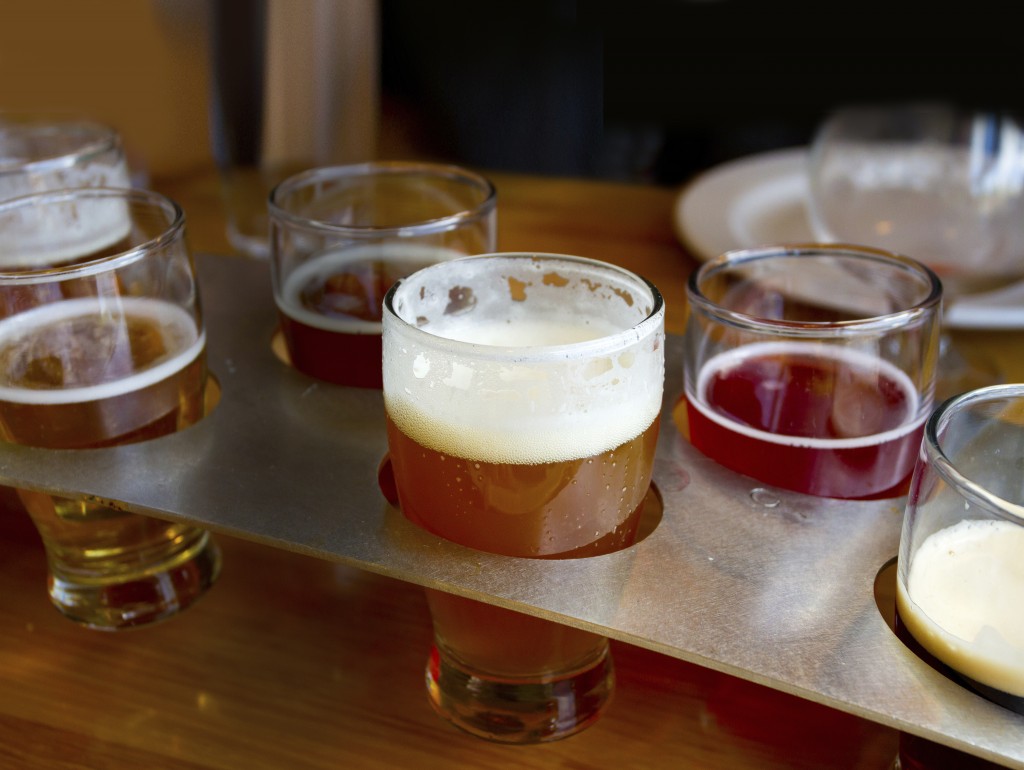 Beer: It's the world's most popular alcoholic beverage and the most-consumed drink of any kind after water and tea. But if your go-to brew is the mass-produced, mass-marketed variety, make your way to the other side of the beer aisle. There you'll find fuller-flavored artisan alternatives known as craft beer.
Today, 98 percent of the 2,500-plus breweries in the U.S. are small, independent ones, according to the Brewers Association (BA ), a trade group. These innovative brewers produce craft beers, and for them the goal is quality, not quantity. "While the bigger breweries seem to have mastered a consistent taste they can put out in mass quantities, craft brewers love experimenting with different recipes," says Julio Izquierdo, co-owner of Mason's Cellar in Rutherford. "They'll throw anything in a barrel and see what happens. And the result is usually a home run."
Craft beers accounted for just 10.2 percent of overall beer sales in 2012, according to the BA . But that share is on the rise. Volumes of craft beer sold were up 15 percent in 2012 after a 13 percent rise in 2011. Izquierdo believes it's because of a new generation's thirst for new and exciting products.
"Craft beer delivers," he says. "There's a beer for every individual and every season." These new brews aren't trying to be the next Bud, he explains. Instead, they glory in their diversity, and they're all about making happy hour a little more fun.
Eager to start sampling? The craft beer scene in New Jersey is on the rise—there are about 30 breweries in the state—so it's become easier to find many brews and styles at your favorite bottle shop. (Distribution varies by brewery and is typically limited in stores, so call ahead to confirm.) Local breweries include Bolero Snort Brewery, one of the latest entrants to the scene. (Based in Ridgefield Park, the company contracts its brewing to High Point Brewing in Butler, which produces the highly rated Ramstein beers.) Bolero Snort's offerings include Blackhorn American black lager, a medium- to heavy-bodied brew with notes of coffee, and Ragin' Bull amber lager, a crisp beer with aromas of toasted malts and earthy hops. Both are available in draft and bottles at more than 35 locations throughout Bergen.
Some shops, including Mason's Cellar, hold samplings— another opportunity to find out what tastes you like. If you're heading to your local pub, ordering a beer "flight"—four to five different brews in small glasses—is a great way to sample small-batch brews.
Other popular brewers in the Garden State include River Horse of Ewing, Fairfield's Cricket Hill, Flying Fish of Somerdale and Carton Brewing of Atlantic Highlands, all of which have year-round and seasonal brews and are available statewide. The beers of Ocean-based Kane Brewing, another craft beer standout, may be found at more than 100 bars and restaurants and 50 shops in the state. Many breweries, including those listed here, hold tours and tastings on select dates and times. Again, call ahead or visit their websites. —JOANNA YEUNG