Creating Curb Appeal
Help your home make a lasting impression with these exterior-design tips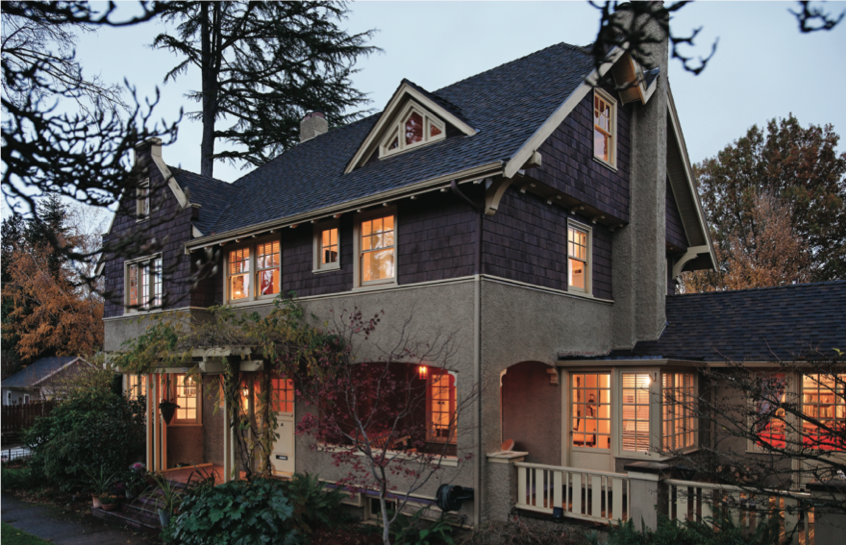 by Leslie Garisto Pfaff
To friends, family and passersby, every house tells a story. But is yours 
a compelling narrative, something that draws people in and makes them want to know more? Or is it a tale of woe? (boring paint job, scraggly plantings, nondescript hardware…) Either way, you don't need an extreme makeover to enhance your home's curb appeal. Some key changes can go a long way toward giving it the look—and the second looks—you've been longing for.
PAINTING
Nothing changes the appearance of your house like a fresh coat of paint. But why stop there? Instead of freshening up your old colors, consider going with something new. If the thought makes you anxious— sure, that pearly aqua looks great on a paint chip, but how's it going to look spread over the whole house?—there are online "visualization" tools (including Behr Paint Your Place, Sherwin-Williams Color Visualizer and Benjamin Moore Personal Color Viewer) that allow you to "paint" a photo of your home right on your computer screen. And if you decide to move away from the tried-and-true, says Mitch Berliner of CertaPro painters in Jefferson Valley, "you can paint the trim in the same color as the siding or in a darker color for added emphasis." Or you can add a third color on the wood sills in older houses and on the cornices at the top of the windows in newer homes.
Ideally, you should repaint your house every seven to eight years, Berliner says, though you may need to do it slightly sooner depending on condition. If your house isn't due for a new paint job but you'd love to give it a little punch of color, consider repainting just the front door. It's a design focal point, so any change you make to it is going to have a major impact on your home's overall look. For high drama, choose a color that complements, rather than blends with, your paint scheme—a blue door on a yellow house, for instance.
DOORS
If your entry door has seen too many comings and goings, or if it's just plain boring, consider replacing it. As a rule, fiberglass is more energy-efficient (especially if the door is Energy Star–rated and insulated with polyurethane foam) and less expensive, and it requires little in the way of maintenance. "But you're pretty much married to the color," notes Jason Shulman of Rockman Millwork Windows & Doors in Elmsford. Wood, on the other hand, "is more traditional and has more character, especially when you get up close," says Shulman. Because they reflect light, glass insets can also add interest to your doorway; to ensure privacy, frosted glass is an option.
If it faces the street, a new garage door can provide instant curb appeal— especially if the garage has multiple doors. The newer carriage-house-type doors blend well with traditional architectural styles, but for a contemporary house, consider something simpler and sleeker.
SHUTTERS
Like doors, shutters can offer instant impact, especially if you choose them in a color that complements your home's siding. For its warmth and traditional good looks, wood is by far the most popular choice of shutter material, though shutters are also available in low-maintenance vinyl and plastic. You'll find them (and accompanying hardware) in a broad array of architectural styles to match your home's exterior. A caveat: If your house wasn't designed with shutters in mind, they may not look right (or fit, for that matter). A program like Adobe Photo-Shop will allow you to add virtual shutters to a photograph of your house, or you can simply draw them on the photo by hand with a permanent marker.
LANDSCAPING
This is probably the easiest way to make your home an eye-catcher, whether you're removing all your old plantings and building new beds from scratch or simply adding some striking new plants to complement the old. For a quick fix, try fresh edging and mulching—with a small effort, you'll get instant polish. You can also prune older, overgrown shrubs and add a layer of new plantings—flowers, flowering shrubs, or a mix of the two—in front of them. In fact, adding any kind of color can boost curb appeal. If you do nothing else, consider placing some colorful annuals near the entryway, where the eye naturally focuses. Or install a few flowerboxes along the front of the house and plant them with a mix of flowering annuals and interesting foliage plants. Containers are great, too, but don't over-do them in the front of the house. Just a few—especially if you go for brightly colored glazed pots—can significantly enhance an entryway.
If you're adding new beds or expanding existing ones, "consider the architecture of the house," advises David Katz of Elite Landscaping in Poughkeepsie. The shape of your beds should complement the architecture but not mimic it (for example, rounded beds work best against the straight lines of most traditional houses). When it comes to plant materials, says Katz, "you should see
 the overall design rather than the individual components"—except, perhaps, for one or two attractive "specimen" trees or shrubs. Make sure you include a few plants with four-season interest—either evergreens or plants with textural or colorful bark. And try to anchor each bed visually with a larger, more dramatic shrub or tree or a group of them. Planting a mix of annual and perennial flowering plants guarantees season-long color.
For a lawn that has lost its luster, resodding can add instant appeal. But you have to take care of the sod or your lawn will quickly revert to its previous unkempt state. "For immediate results," says Katz, "nothing is going to compete with the instant gratification of sod."
 But he adds, "if you have the time, it's best to start with a simple soil analysis." (Contact the Cornell Cooperative Extension for more information—visit cce.cornell.edu for a listing of local offices.) That way, you can give your grass what it needs, whether lime, nitrogen or something else, to grow into the lush lawn of your dreams. And make sure that your grass isn't struggling to grow in shade or competing with the matlike tree roots of Norway maples and other densely rooted trees. If it is and you don't want to get rid of the trees, consider expanding your flower beds and planting areas directly under trees with
 a ground cover, such as vinca, which thrives in dry shade.
HARDSCAPING
Paths, walkways, driveways, front steps: Because they're underfoot, we some- times overlook them, but they can enormously add to (or detract from) your home's curb appeal. "The material you choose depends in part on the style of your home," says Chappy Manzer of Manzer's Landscape Design and Development in Peekskill. For maximum impact, in fact, you can mix two or more materials: In the hands of a design expert, the combination of formal-looking bricks with natural stone can be particularly striking, whether you choose colors that contrast with and complement one another or opt for a monochrome palette of different materials. (A simple but striking look is to edge a brick walkway with bricks of a different color.) Or you can go for an informal "country" style and create a dirt path punctuated with naturalistic stones. Another way to add visual impact: Build in "planters" that are flush with the ground along the walkway. Consider geometry as well: A curving pathway can add flow to the property (and you can vary the width, from wide
 to narrow, as the path gets closer to the house), while a geometric design can echo the lines of a formal house design.
Driveways have to be strong, but they don't have to be dull. You can enliven
 an asphalt drive with a stone inset that serves as a transition to a pathway or lawn. Manzer even designed a driveway with a sun inset by using Mexican beach pebbles inside a circle of Belgian block (echoing the Belgian-block apron) against a backdrop of natural stone. You can also install a patterned driveway using multicolored pavers, but if you want the excitement without the expense, you can use pavers just on the apron or the entry of the driveway.
And if your steps are footsore, consider replacing them. The material of your porch or entryway floor should influence your choice of
 stair material: wood with wood, for instance, and slate or stone with
 a slate floor. A simple fix for
 wood stairs that are solid but dull: repainting. Stair treads generally look better when they're painted the same color as the porch or entryway floor, but for drama, you can paint the risers in a variation on that color or in a complementary shade.
LIGHTING
Does your house lose its appeal when the sun goes down? Some well-placed lighting can easily solve the problem. Uplighting—the placement of small spotlights around the property to bring out the best in your house after hours—is a particularly effective way to add drama, but it has to be done carefully. Lighting should frame the house and accentuate important architectural elements, "as well as key points in the landscape, like trees with interesting bark or branching," says Katz. To save money and energy, consider LED lighting. LEDs used to be harsh and add a bluish tinge to houses, but advances in technology have made them warmer and given them wider beam spread, ideal for uplighting.
Path lighting can also add drama —and safety. But don't overdo it, cautions Katz. "You don't want your walk or driveway to look like an airport runway," he says. He recommends no more than three to five lights for most pathways. But since path lights are visible by day as well as by night, choose good-looking fixtures. Solid copper fixtures that develop a subtle brown patina, for instance, look great against frontyard plantings.
Changing out your sconce or porch light is a great quick fix, and the lights come in such an array of designs that you're limited only by your imagination and the overall look of your house. If you have a porch and spend lots of time there in the warm-weather months, consider a fan/light combo. You can even buy so-called "dark sky" fixtures that illuminate your entryway but don't add to light pollution.
HARDWARE
They're the fashion accessories
of exterior home design: small details that can transform your home's overall look from "nice" to "wow." And because they don't generally cost a lot, you get maximum bang for your decorating buck. House numbers, for example, can emphasize the architectural style of your home, from contemporary
 to Arts & Crafts, at a minimal price and with equally minimal effort. The same is true of mailboxes; choose one whose design—and finish— complements your home's exterior. (If your mailbox just needs a little TLC, try spiffing it up with some metal polish or a coat of paint that matches your entry door or house trim.) And don't forget the doorbell (or knocker): it may be small, but it's something that everyone who visits your house can't help but notice.