Cushy Camping
You've got lots of reasons not to rough it in the woods, right? Here's why they're all bogus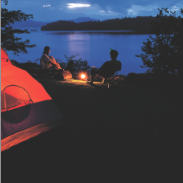 AH, CAMPING!
If you're like many of us, you've always meant to do it—"but." The only thing standing between you and the rustic serenity of the great outdoors is your mountain of excuses. Well, it may be time to reconsider.
Camping is not only a great way to bond with your family, it can actually be good for you too. Researchers have found that people are happier and better able to manage stress when they're outdoors. In one study, those who walked on an outdoor track moved faster and experienced more positive emotions than those who walked indoors. MRI (magnetic resonance imaging) scans have found that when people look at mountains, forests and other outdoor landscapes, they experience more activity in the parts of the brain tied to emotional stability, a positive outlook and happy memories. Nature may even strengthen your immune system: Japanese researchers found that women who spent two to four hours walking in the woods on two consecutive days experienced a nearly 50 percent increase in the activity of cancer-fighting white blood cells. Other studies have shown that communing with the great outdoors sharpens memory and attention span—and may even boost your creativity. Not to mention the fact that you're getting exercise, which is good for your heart, bones and mind.
What's that you say? You'd be completely sold—except for those airtight excuses? Read on.
EXCUSE #1:
"I'D THROW MY BACK OUT AFTER SLEEPING ON THE GROUND!"
Reality check: Not if you try a comfy, lightweight mattress. Today's products—which are also known as air pads—weigh only a few pounds and contain warm materials such as Primaloft, says Veronica Malone, a supervisor at REI in Paramus. They also come with high-tech features that prevent them from deflating. You can even use the mattress for a houseguest when you're not heading out to the woods. "If you splurge on one item, it should be the sleeping pad," says Russell Rayot, a store manager at Campmor in Paramus.
EXCUSE #2:
"I MIGHT ENCOUNTER BUGS OR- EVEN WORSE- WILD ANIMALS!"
Reality check: You can keep pesky critters away with some common sense. Be sure the netting in your tent isn't ripped and the zipper can be closed completely. Also, steer clear of water, fallen trees and piles of logs or rocks, since bugs tend to favor moisture and darkness. Set up your tent in an area with low grass, and light a fire to keep bugs at bay. Bugs are attracted to sweat, so take a shower at the campground facility or cool off in a lake or pond. Use unscented deodorant, creams and soaps, since bugs are also attracted to perfumes. And be sure to clean up after you eat because flies, toads and mice are drawn to food (and snakes seek out those animals). Wash cooking utensils well, and be sure there are no crumbs near your tent. Finally, consider using a bug repellant containing deet—and spray your clothing as well as your tent.
EXCUSE #3:
"I'D HAVE TO FORAGE FOR FOOD!"
Reality check: Not if you can bring your own gourmet picnic! Some restaurants and delis can pack up a moveable feast with everything from free-range chicken and barbecued pork to a cheese platter and artisanal chocolates. Even a few hearty sandwiches might suffice. Try Market Basket in Franklin Lakes or The Fresh Market in Montvale. Or simply bring your portable barbecue grill from home and cook what you normally eat—chili, spaghetti, chicken. Consider making hot dogs on a stick and/or s'mores for the kids. If you don't have a portable grill, consider purchasing a propane stove like a two-burner Coleman (around $100), suggests Rayot. It may even come in handy during the next power outage.
EXCUSE #4:
"MY KIDS WOULDN'T LAST AN HOUR WITHOUT THEIR IPOD TOUCHES AND IPHONES!"
Reality check: Many campgrounds offer fun activities to keep kids occupied. Some provide pools, playgrounds, miniature golf and even outdoor movies, says Rayot, who takes his kids camping frequently. He has water-pistol fights with them in the warm weather, and he brings what he calls "tailgate games" such as beanbag tosses.
EXCUSE #5:
"I'D GET LOST IN THE WOODS!"
Reality check: Sensible preparation may cut this risk way down. You might assume you need a GPS, but "if you're in an area without a satellite signal, it could cut out," warns Rayot. Better to pick up a good trail map, which is usually available at state parks. A basic compass can come in handy; look for the Suunto A10 ($17, eastern Mountain Sports, Paramus).
EXCUSE #6:
"I'D GET DIRTY AND I'D MISS MY BLOW-DRYER!"

Reality check: There are several different types of campgrounds, including private ones with showers and bathrooms and more rustic ones that only offer outhouses, says Rayot. If you're near a cabin, simply bring shampoo and soap from home and shower there. Or consider purchasing a biodegradable soap that will help you feel fresh—and won't harm the environment. Dr. Bronner's organic liquid soap ($4.49 for a 4-ounce bottle at Ramsey Outdoor) can be used as a shampoo and body wash.
EXCUSE #7:
"I'D BE TOO HOT- OR TOO COLD!"
Reality check: Not if you dress in layers. start with a synthetic or wool top, which will draw sweat away from your body. "Stay away from cotton," says Rayot. "It absorbs moisture so you feel hotter and stickier in the summer and colder in the winter." Malone recommends starting with a lightweight T-shirt like the Patagonia Capilene 2 top, which wicks away sweat and stays odor-free ($49, REI, Paramus). There's also a matching pair of long underwear, which can keep you warm on cool nights ($45, REI, Paramus). another option is the Terramar top, which can keep you dry and odor-free ($14 to $55, Campmor, Paramus). The next layer should be an insulating layer. It could be a few sweaters—or a fleece top like the Denali fleece by The North Face ($140, Eastern Mountain Sports, Paramus). The third layer should protect against the elements; it should be both waterproof and windproof, advises Malone. Try a breathable, waterproof jacket like the Marmot PreCip jacket ($100, Ramsey Outdoor). Finally, be sure to wear protective—and warm—woolbased socks, and don't forget a hat.
To stay warm at night, consider bringing extra blankets and zipping your family's sleeping bags together.
EXCUSE #8:
"I'D BE BORED!"
Reality check: There are so many options: Take a hike and teach your kids outdoorsy craft projects. Read a book in the tent or play board games. Tell campfire stories. They need not be scary; you can share funny family stories instead. Or you can make up a tale—form a circle and go around the campfire and have each person add one sentence. Try a scavenger hunt; search for pinecones, bird feathers, maple leaves and rocks. (use the buddy system so no one gets lost.) Play instruments—like the fiddle, harmonica, guitar, mouth harp or bongos—and outdoor games such as Frisbee, soccer, Hacky Sack or volleyball. Consider purchasing a disposable camera for each of your kids and letting them snap away. For more information, consider taking free camping basics and/or hiking classes, which are offered year-round at REI in Paramus.
ExcusE #9:
"THE WOODS WOULD
CREEP ME OUT!"

Reality check: We're betting they'd enchant you if you gave them a chance. But there are woods-free alternatives. Go to a beach that allows camping —or stay in your own backyard.