Damien I. Davis, M.D. • Anne J. Miller, M.D. • Michael F. Pizzillo, M.D. • Asit K. Shah, M.D., PH.D.
Englewood Orthopedics Associates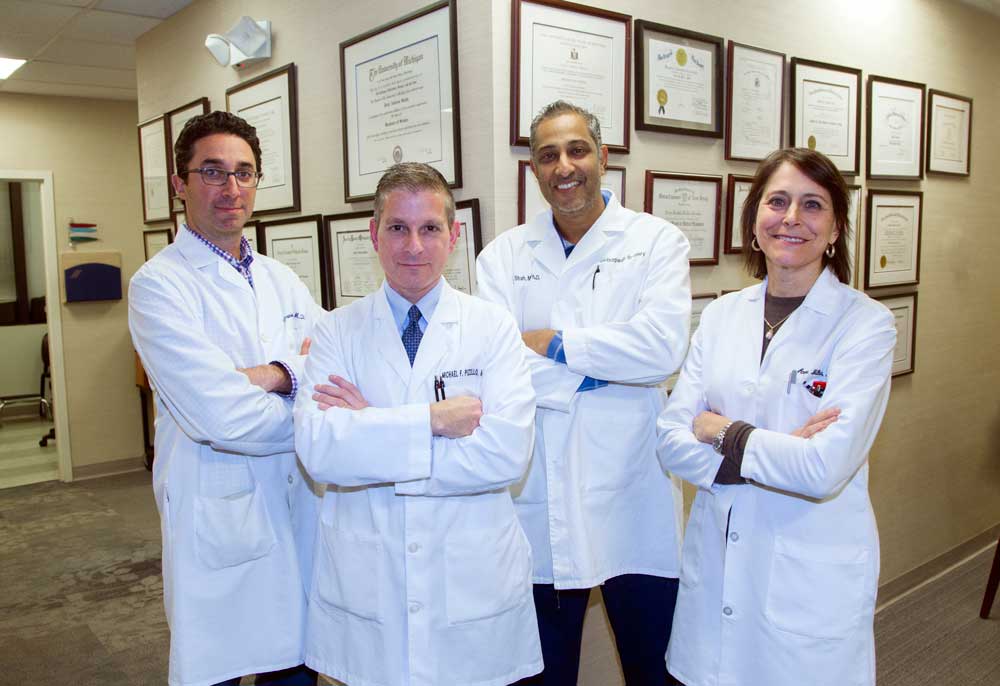 ENGLEWOOD ORTHOPEDICS ASSOCIATES, a multi-specialty group, offers university level care close to home. The practice's nine physicians are each fellowship trained in their respective disciplines for the finest treatments in orthopedic and sports medicine. Physicians work alongside patients to help manage their conditions with the continual focus on getting better and staying healthy. The practice's Physical Therapy Department, with three physical therapists and a hand therapist, designs individualized treatments using medically advanced healing techniques and personal motivation to achieve successful outcomes.
Top Doctors Damien Davis, Anne Miller and Michael Pizzillo focus their practice on upper extremities, with Dr. Davis and Dr. Pizzillo specializing in shoulder and upper extremity surgery and Dr. Miller on disorders of the hand, wrist and elbow. Dr. Asit Shah's primary interest is in minimally invasive hip and knee replacement and reconstructions.
Dr. Miller and Dr. Shah are Examiners for the American Board of Orthopedic Surgery. Additionally, Dr. Shah has been an invited faculty at the Harvard Hip and Knee Arthroplasty Course. Dr. Pizzillo holds Subspecialty Board certifications (CAQ) in both Surgery of the Hand and Orthopedic Sports Medicine; he is one of 37 orthopedic surgeons in the U.S. with this distinction. Dr. Davis is a member of the American Society for Surgery of the Hand and has published articles on disorders of the upper extremity.
401 South Van Brunt St., Englewood, NJ 07631 • 201.569.2770 • englewoodortho.com