Damien I. Davis, M.D. • Jessica Fleischer, M.D. Anne J. Miller, M.D. • Michael F. Pizzillo, M.D. Peter A. Salob, M.D. • Asit K. Shah, M.D.
Englewood Orthopedic Associates, LLC.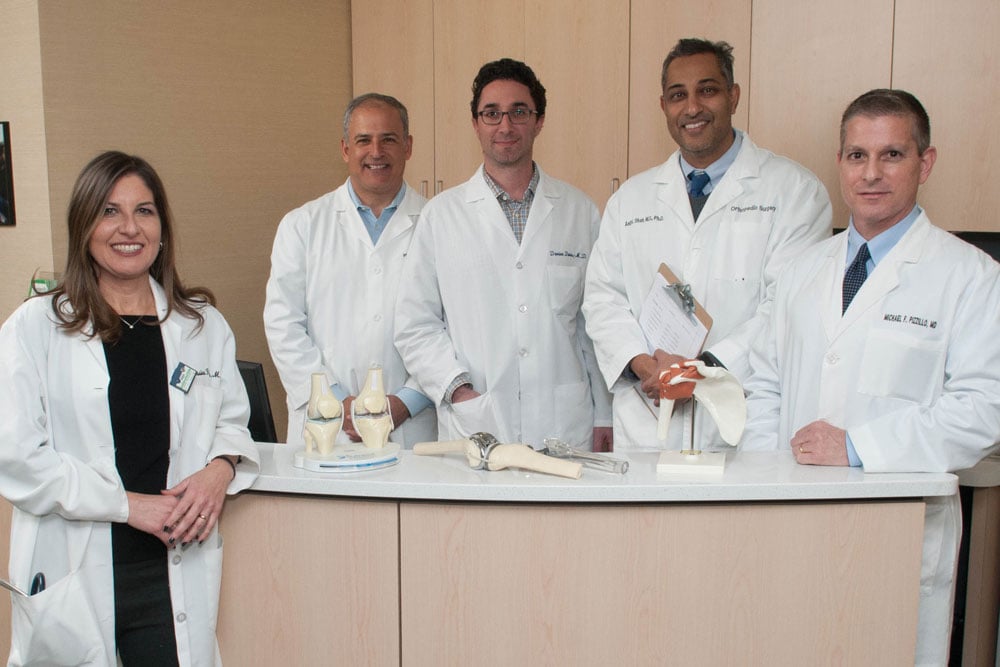 ENGLEWOOD ORTHOPEDIC ASSOCIATES treats both children and adults who experience joint, extremity, spinal conditions, osteoporosis and metabolic bone diseases. A unique feature of our practice is the ability to have your orthopedic and rehabilitative needs met all under one roof, along with our walk-in urgent care facility in Englewood. We excel at handling complex procedures and we are highly skilled with the newest technical advances for osteoporosis, minimally invasive surgeries and arthritis reconstruction, as well as small joint replacement.
Each of our board-certified doctors are skilled in various orthopedic surgeries and specialties. Dr. Richard Salzer, Dr. Asit Shah and Dr. Peter Salob focus on hip and knee conditions, Dr. Anne Miller, Dr. Damien Davis and Dr. Michael Pizzillo focus on hand and upper extremities, Dr. Brian Cole specializes in spinal conditions, Dr. Adam Becker handles foot and ankle conditions, Dr. Jessica Fleischer specializes in osteoporosis and Dr. Andrew Hall focuses on rehabilitation and pain management. Our primary concern is you, the patient, and we will do our best to make your visit pleasant.
PHOTOGRAPHED FROM LEFT TO RIGHT: DR. JESSICA FLEISCHER, DR. PETER SALOB, DR. DAMIEN DAVIS, DR. ASIT SHAH AND DR. MICHAEL PIZZILLO. NOT PICTURED DR. ANNE MILLER.
Englewood: 401 South Van Brunt St., Englewood, NJ 07631
Paramus: 1 W. Ridgewood Ave., Paramus, NJ 07652
West NY: 6310 Bergenline Ave., West NY, NJ 07093 • 201.569.2770 • fax: 201.569.1774