Divine dinner party
Looking for inspiration for an unforgettable holiday repast? Bergen Health & Life called on three Bergen County chefs to create a three-course menu for a festive dinner you can create in your own kitchen.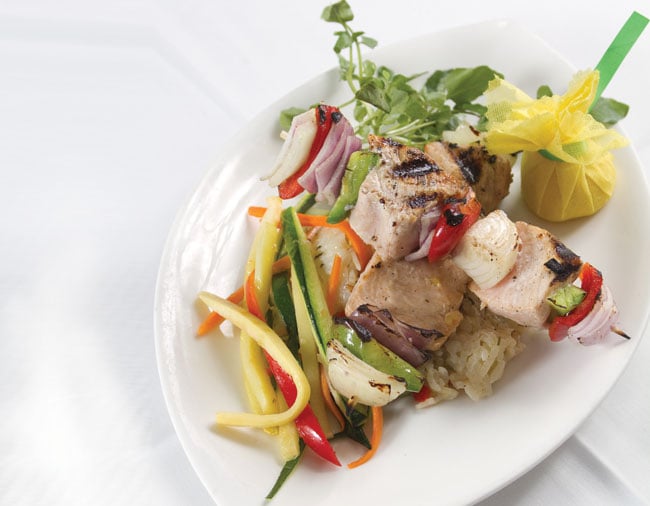 Grilled Swordfish Souvlaki
Chef Peter Panteleakis Oceanos, Fair Lawn
Serves 6
INGREDIENTS
2 red onions, quartered
2 red or green peppers, cut into small pieces (to fit on skewers)
18 pieces of swordfish, cubed (about 1½ pounds)
½ cup extra virgin olive oil
1 clove garlic, crushed
½ tablespoon dried oregano
½ tablespoon rosemary
1 whole lemon, squeezed
Salt to taste
Pepper to taste
DIRECTIONS
Mix all ingredients together and marinate for 6 hours in the refrigerator.
Place 1 piece of onion,1 piece of swordfish and 1 piece of pepper on a skewer. Repeat until you have three pieces of swordfish on each skewer, adding extra vegetables if desired.
Grill over charcoal for approximately 10 minutes, turning at the halfway point, OR cook in the oven for 15 minutes at 450 degrees.
TIP: "For snacks that are both eye-catching and healthy, choose colorful vegetables and add a dip made with low-fat Greek yogurt."
~ Laurie Schlussel, Nutritionist, Emerson
Ratatouille and Goat Cheese Napoleon
Chef Michael Latour, Latour, Ridgewood
Serves 6 to 8

FOR THE TOMATO COULIS
INGREDIENTS
2 28-ounce cans plum
tomatoes (San Marzano)
3 cloves garlic
Pepper to taste
Salt to taste
4 ounces olive oil
1 large carrot, diced
White wine
1 medium leek (white part only)
DIRECTIONS
Heat olive oil in a large sauce pan. Add garlic, brown lightly, then add carrots and leeks.
Sweat vegetables for 2 minutes, deglaze with white wine and reduce.
Add tomatoes, water and salt and pepper to taste.
Cook on low flame for about one-and-a-half hours.
Let cool and puree in a blender.
FOR THE BASIL OIL
INGREDIENTS
10 basil leaves
4 ounces olive oil
Salt to taste
Pepper to taste
DIRECTIONS
Puree ingredients in a blender.
FOR THE PASTA
INGREDIENTS
2 pounds pasta sheets, cooked
1 large eggplant
2 medium-size zucchini
2 yellow squash
12 ounces roasted red peppers
½ cup all-purpose flour
Olive oil (enough to cover a sauté pan about ¼")
4 eggs, beaten
16 ounce crumbled goat cheese
6 ounces Pecorino Romano cheese
¼ cup basil oil
1½ cups seasoned bread crumbs
Cut zucchini, squash and eggplant lengthwise and coat with eggs, flour and bread crumbs. Coat a sauté pan with about ¼" olive oil and sauté vegetables. After sautéing, place vegetables on the side.
Using a baking dish about 4" deep and 16" long, first coat with a layer of tomato coulis, then add layers of vegetables (roasted red peppers and sautéed vegetables), cooked pasta and crumbled goat cheese, in that order. Repeat layers until all ingredients are used, alternating between the goat cheese and Pecorino Romano cheese.
Cook for 45 minutes at 325 degrees. Garnish with basil oil.
Banana Cake with Caramel Mousse, Eggnog Mousse and Vanilla and Caramel Sauces
Pastry Chef Michael Matthews, Rocca, Glen Rock
Serves 8
FOR THE BANANA CAKE
INGREDIENTS
3¼ cups cake flour
2 teaspoons baking soda
1 cup butter
4½ cups 10x confectioner's sugar
4 whole eggs
1 cup sour cream
1 tablespoon vanilla
6 frozen bananas
4 ounces dark rum
DIRECTIONS
Preheat oven to 350 degrees. Grease and paper a half-sheet (13" x 18") pan.
Mix flour and baking soda together and set aside.
Puree bananas with rum. Cream butter and sugar until fluffy.
Slowly add eggs and vanilla into flour mixture until combined, then fold in sour cream, creamed butter and sugar and banana/ rum puree.
Spread evenly into sheet pan and bake for 35 minutes or until golden brown and a toothpick comes out clean. The cake should be baked one day before use to assemble the dessert.
On the following day, use individual ring molds to cut disks out and leave one disk in each mold; 8 rings required for this recipe.
FOR THE CARAMEL MOUSSE AND SAUCE
INGREDIENTS
¾ cups water, plus 4 tablespoons
1½ envelopes of unflavored gelatin
2¾ cups heavy cream
2 ounces diced butter
2¾ cups sugar
2 tablespoons light corn syrup
1 tablespoon vanilla
DIRECTIONS
Pour 4 tablespoons of water into a bowl and sprinkle gelatin over the top to bloom. Set aside until later.
Combine sugar and corn syrup and ¾ cup water in a heavybottom saucepan. Stir over medium heat until dissolved, often brushing down the sides of the pot with water.
Increase heat, boil without stirring until syrup turns deep golden brown. Remove from heat and add 1½ cups heavy cream and butter—this will bubble up vigorously. Return to heat and cook until any sugar bits are dissolved.
Pour 2 cups of the caramel sauce you have made into a bowl and set aside.
Heat up gelatin mixture from step 1 until dissolved and clear. Add 1½ cups of caramel sauce.
In another bowl, combine 1¼ cups heavy cream with vanilla and beat to medium peaks, then fold into caramel mixture to form mousse. Pour mousse mixture into banana cake-lined ring molds.
Keep leftover caramel sauce for plating dessert.
FOR THE VANILLA SAUCE
1 pint heavy cream
6 egg yolks
½ cup sugar
2 tablespoons vanilla
Pinch salt
DIRECTIONS
Heat cream until it comes to a boil. In a separate mixing bowl, combine egg yolks, sugar and vanilla until golden and thick.
Add hot cream a little at a time to the egg mixture, return the egg mixture to the pot and cook until it has thickened and covers the back of a spoon (do not bring to a boil). Add pinch of salt if desired.
Strain and put into an ice bath to cool. When cold it's ready to serve.
FOR THE EGGNOG MOUSSE
INGREDIENTS
3 egg yolks
1½ package unflavored gelatin
3 tablespoon dark rum
2 tablespoon brandy
2 cups heavy cream
½ cup sugar
1½ teaspoon ground nutmeg
2 teaspoons vanilla
3 egg whites
DIRECTIONS
Soften the gelatin with rum and brandy.
In a separate bowl, beat egg yolks with vanilla, nutmeg and half of sugar over a hot-water bath until lightly golden and fluffy.
Warm gelatin mixture over hot-water bath until clear and smooth and add to egg yolk mixture.
In separate bowls, whip cream until medium peaks form and keep cold. Whip whites until soft peaks form, adding the remaining sugar a little at a time.
Fold whipped cream into egg yolk mixture, then fold egg whites gradually into yolk and cream mixture. Spoon into ring molds with caramel mousse and banana cake on the bottom and place into refrigerator until set. Garnish plates with vanilla sauce and drizzles of caramel syrup. Place a piece of cake on each plate.