Eat, Play, Love
This Summer camp for grownups offers food, fun and relaxation.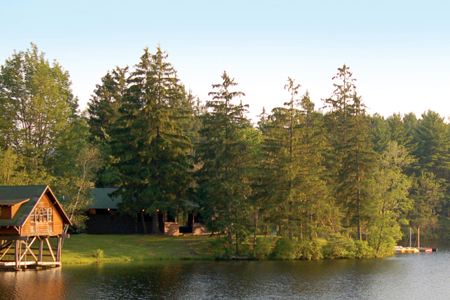 We couldn't choose between serenity and convenience, between rustic roughing-it and comforts galore. While we clamored to throw off civilization's electronic shackles—if anyone tweets, let it be the birds—we also craved amenities. So we packed our bags and headed for Cedar Lakes Estate near Port Jervis, N.Y.
CLE , you see, is a 500-acre Hudson Valley resort where you can combine breathtaking scenic beauty with as much—or as little—urban-style ease as you please. It's been likened to a summer camp for adults, and indeed, early in the 20th century the property served for decades as a summer getaway ("Camp Minisink") for inner-city youth. After years of disuse, it was bought in 1990 by the Karvellas family of New Jersey. Sisters Stephanie and Lisa Karvellas spent vacations here as children; after college, where Stephanie learned the art of party planning and Lisa graduated as valedictorian of Manhattan's International Culinary Center, they decided to build their business here. As co-founders of Cedar Lakes Estate, they've made it a big-time event venue as well as a gracious getaway resort, hosting weddings, parties and other red-letter occasions. Thus Stephanie gets to use her hosting skills as Lisa taps into her culinary talents.
We found rustic cottages nestled in the pines, and just outside the lavishly appointed Lakeside Cottage there was a rowboat waiting for us. CLE offers zip lines and rope courses too, and there's canoeing, swimming and fishing on the estate's several lakes. More competitive types can play tennis, volleyball, basketball or football on one of three fields.
Guests also can bird-watch to their hearts' content on a number of trails on the grounds, and a yoga class or spa treatment can easily be arranged. Accommodations range from somewhat minimal rustic cabins with bunk beds and outhouses to the ultra-comfy, fireplaceequipped Lakeside Cottage and Bluebird, the latter featuring a heated stone floor.
Dining is central to the Cedar Lakes Estate experience, and here, we promise, you won't be reminded of childhood summer camps. One picnic lunch, for example, featured house-cured ham with brown-sugar mustard, frisée and sweet pickles on ciabatta, along with hummus, shaved zucchini and roasted peppers on country bread. A market brunch offered expertly prepared breakfast favorites and salads, while other options included canapés, a formal plated dinner, a signature buffet and a Southern-style barbecue.
Many of the cottages have barbecue grills, and guests can take advantage of the garden's tomatoes, cucumbers, peppers and herbs. Beyond the estate, be sure to explore High Point State Park and take in its spectacular views of the Kittatinny Mountains.
In the end, we were glad we chose Cedar Lakes Estate. It offers enough options and personalities to make it a back-to-nature destination, a great place to take the kids, a romantic getaway or an excuse to bond with friends. Your inner glamper can be satisfied here, but so can the child in you. —Andrea Graziano