Fig Fancy
The ancients were onto something: This delicate fruit packs a nutrient-rich punch.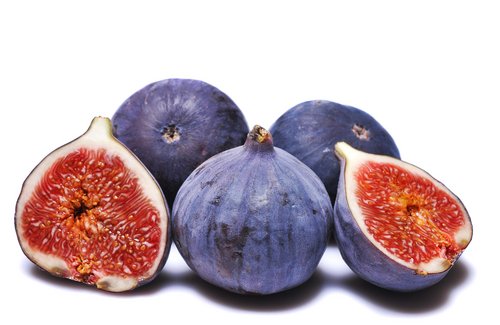 Did you know?
Figs were among the first plants to be grown by humans. Believed to have originated in the ancient Sumerian and Assyrian cultures in Asia, they were then spread by Phoenicians and Greeks to other parts of Europe and the African coast. Fig trees were considered sacred by Greeks, Italians, Egyptians and Southeast Asians— they were presented to Olympic athletes in place of medals at the first games and are the most mentioned fruit in the Bible. American settlers brought figs westward to California during the Gold Rush in the 19th century, and today that state produces 100 percent of the United States' dried figs and 99 percent of commercially available fresh figs.
Powers
Packed with nutrients and interesting properties, figs have myriad health benefits and practical uses. They have the highest fiber content of any common fruit or vegetable—just one-quarter cup of dried figs provides 5 grams of fiber, or 20 percent of the daily recommended value. Figs also contain generous helpings of iron, calcium, potassium and polyphenol antioxidants, which can help battle neurodegenerative and cardiovascular issues. Psoralen, a chemical found in figs, has been used for centuries to combat skin pigmentation diseases, and the fruit also contains a natural humectant that enhances the moisture in baked goods and helps them stay fresh longer.
Buy · Store · Grow
Our regional climate is not ideal for growing figs, but determined gardeners can do it. Plant in well-drained soil adjacent to southfacing walls protected from wind, and wrap in burlap from November through March, says Lana Dimidjian of Perennial Plantings Inc. in Englewood. When buying figs, look for fruit that is rich in color, plump and soft (but not mushy) and smells slightly sweet, not sour. Fig fanciers can also opt for dried figs, which have a shelf life of six months when they remain unopened or one month when opened. Store in a pantry or cabinet where the temperature is constant— exposure to fluctuations in temperature can increase "sugaring," the development of a white crystalline coating on the fruit. Though the coating doesn't alter the quality, it can be rinsed off under hot water if it's undesirable.
---
Recipe: Grilled Fig Salad
This salad incorporates varied flavors: sweet, salty, pungent and even a little sour. It's perfect for a night when the grill is already fired up. Courtesy of Whole Foods Market. (Serves 4)
Ingredients
4 large fresh Black Mission or Calimyrna figs
2 tablespoons balsamic vinegar
2 to 3 teaspoons dark brown sugar
1 ⁄8 teaspoon ground cinnamon
¼ cup extra virgin olive oil
2 to 3 teaspoons freshly squeezed lemon juice
½ teaspoon Dijon mustard
Sea salt, to taste
Ground pepper, to taste
8 cups mixed salad greens
Preparation
Snip the tiny stem end off each fig and cut in half lengthwise. Mix vinegar, brown sugar and cinnamon together in a medium bowl. Add figs and gently toss to coat. Let marinate while you heat a grill (indoor or outdoor). If necessary, coat your grill with a little olive oil. When ready, grill the figs, reserving all of the marinade in the bowl, for about 2 to 3 minutes per side or until grill marks appear. Do not overcook as the figs will become mushy. Remove figs to a plate. To the reserved marinade add olive oil, lemon juice, mustard, salt and pepper, whisking well to incorporate. Place greens in a large salad bowl. Toss with dressing, then divide among four individual serving plates. Place two fig halves on each plate of greens and serve.
---
TWO MORE FIG RECIPES TO TRY: