First Course
Let these elegant make-ahead nibbles prep your guests for the big feast.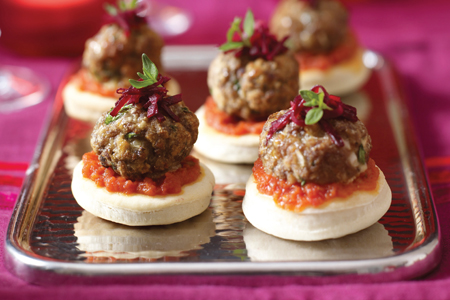 Mini beef burger with chile jam and marinated beet pizzettes
This mini classic is a favorite when made with this zingy and colorful combination of chile jam and fresh beets.
Ingredients
1 lb. ground beef
¾ cup fresh bread crumbs
2 garlic cloves, crushed
2 Tbs. finely chopped onion
1 tsp. Worcestershire sauce
1 tsp. Dijon mustard
1 large egg
Salt and freshly ground black pepper
1 beet, peeled and finely grated
1 tsp. red wine vinegar
1 Tb. olive or sunflower oil
Thyme leaves to garnish
For pizzette bases:
2 cups bread flour
1 tsp. salt
2/3 cup warm water
1 tsp. olive oil
1 tsp. quick-rising dried yeast
For chile jam:
14 oz. tomatoes
2 red chiles or jalapeño chiles
2 thumbs fresh ginger, peeled
2 Tbs. fish sauce
3 garlic cloves, peeled
Directions:
1. To make pizzette bases, place flour and salt in a large bowl and make a well in the center of the flour. Pour water and oil into the well. Sprinkle yeast over the liquid and leave for 5 minutes. Use a wooden spoon to draw the flour into the middle and mix to form a sticky dough. Knead the dough on a floured surface for 10 minutes until a smooth, shiny and elastic dough is formed. Place dough in a lightly oiled bowl, cover and leave to rise for 1½ hours. Deflate the dough by pressing down with your hand. Preheat oven to 350˚F. Roll the dough on a lightly floured surface to about ½-inch thick. Using a 2-inch round cookie cutter, cut out rounds and place onto a baking sheet lined with wax paper. Bake 10–15 minutes until lightly browned.
2. Mix the ground beef, bread crumbs, garlic, onion, Worcestershire sauce, mustard, egg, and salt and pepper together well.
3. Divide into 25 balls and, using damp hands, shape into mini burgers. Chill until ready to cook.
4. Mix the grated beet with vinegar, and season with salt.
5. Preheat a frying pan with the oil. Sear the mini burgers, uncrowded, in a pan for 1½ minutes on each side, slightly flattening with a spatula as you turn them.
6. To make the jam, pulse all ingredients in a food processor until chunky.
7. To serve, place ½ tsp. chile jam on each pizzette base, add a mini burger and top with a small mound of the marinated beet. Garnish with thyme to serve. Makes 25.
Monkfish, pancetta and rosemary spiedini with lemon aioli
Skewering the pieces of the pancetta-wrapped fish on rosemary sticks will infuse the recipe with woody sweetness.
Ingredients:
12 oz. monkfish tail, boned and skinned
4 pancetta or bacon slices
20 4-inch rosemary branches
For the marinade:
¼ cup olive oil
Grated zest and juice of ½ lemon
1 garlic clove, sliced
1 tsp. salt and ½ tsp. freshly ground black pepper
Directions:
1. Cut the monkfish into 20 cubes (1-inch). Cut pancetta or bacon into 20 equal-sized pieces. Cover and refrigerate.
2. For the rosemary skewers, pull the leaves off the rosemary stalks, leaving just a few leaves at one end. Reserve leaves. Sharpen the other end to a point with a sharp paring knife.
3. For the marinade, coarsely chop the reserved rosemary leaves. Combine rosemary, oil, lemon zest and juice, garlic, and salt and pepper in a nonmetallic bowl. Add monkfish and toss to coat each piece well. Cover and refrigerate for 30 minutes.
4. Thread 1 monkfish cube and 1 bacon piece onto the pointed end of each rosemary skewer.
5. Preheat broiler. (Alternatively, preheat a ridged cast-iron grill pan or barbecue grill.) Broil or grill monkfish spiedini until cooked through, 2–3 minutes on each side. Serve warm. Makes 20.
Eggs Benedict
Serve these delicious canapés hot with fresh herbs or replace the ham with wilted spinach.
Ingredients:
6 slices medium white bread
5 Tbs. butter, melted, plus extra for greasing
24 quail eggs
4 slices Parma ham
¼ oz. chives, finely chopped to garnish
For hollandaise:
4 Tbs. butter
2 Tbs. water
2 large egg yolks
1½ Tbs. white wine vinegar
Salt and white pepper
Directions:
1. Preheat oven to 300˚F. Brush the bread with melted butter and use a 2-inch cookie cutter to stamp out 4 rounds per bread slice. Place the croutes on a baking sheet and bake until crisp, 20–25 minutes. Cool.
2. To bake the quail eggs, generously butter a mini muffin tin and crack an egg into each hole. Bake in oven 4 minutes. Using a teaspoon, carefully scoop the eggs out of pans and place on a tray or plate to cool.
3. For hollandaise, melt the butter, then skim the froth from the surface and let cool until lukewarm. Place a heatproof bowl over a pot of simmering water set on low heat. Make sure the base of the bowl is not in direct contact with the hot water. Place water and yolks with a pinch each of salt and pepper in the bowl. Whisk the ingredients to a light and frothy mixture that holds the trail of the whisk, about 3 minutes. Remove the pot from the heat. Whisk in butter, a little at a time, whisking vigorously after each addition, until the mixture emulsifies and becomes thick and creamy. Gradually whisk in vinegar. Add salt and pepper to taste.
4. Increase oven temperature to 350˚F. Place croutes, not touching, on a flat baking sheet, tear the ham into 24 equal pieces, and place a piece folded on top of each croute. Place the baked egg on top and cover with 1 tsp. hollandaise. Bake, 4–5 minutes. Garnish with finely chopped chives. Makes 24.
Photographs reproduced by permission of DK, a division of Penguin Group (USA) Inc. from Hors d'Oeuvres by Victoria Blashford-Snell and Eric Treuille. Text and Photographs ©2012 DK Publishing. All rights reserved.