Five Comfort Food Classics That Never Go Out of Style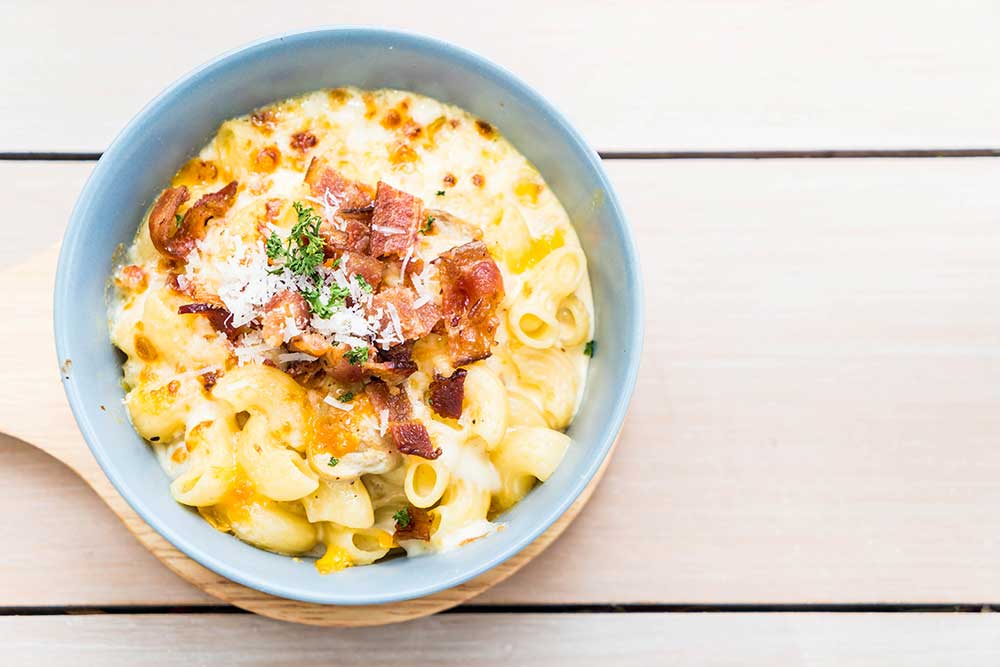 The holiday season can be a magical time. It can also be overwhelming. In fact, more than 60% of people report heightened stress around the holidays.
So, when festivity turns to frustration, sometimes you just need to treat yourself and indulge. And what better way to do so than with a classic, comforting dish?
Here are five of our favorites we think you'll love too:
1. Bourbon & Bacon White Cheddar Mac and Cheese (above)
As if Mac and Cheese wasn't comforting enough, we added bacon and bourbon to take it to the next level. This fantastically flavorful recipe features the best ingredients, like Panko Bread Crumbs, Cabot Farmhouse Reserve Cheddar Cheese, Kings Single Origin Extra Virgin Olive Oil and Kings Artisan Egg Pasta.
Now, it's easier than ever to get ingredients like these, even when you don't feel like getting out of your PJs. Kings is now on Instacart! That means high quality products and signature favorites delivered to your door in as little as one hour.
2. Pot Pies
The Pot Pie may just be one of the most identifiable comfort foods, and for good reason. And while the classic Chicken Pot Pie is certainly a favorite, why stop there? Kings Food Markets has released its Cooking Studio Calendar, which includes an exclusive "Pot Pie Workshop." Participants will have the opportunity to indulge in decadent dishes, including:
Chicken Pot Pie with Sausage and Mushrooms
Turkey Pot Pie with Cheddar Cheese Crust
Beef Pot Pie with Mashed Potato Crust
Louisiana Shrimp Pot Pie with Creamy Cornbread Crust
3. Chicken Parmesan
Mangia! This Italian-American favorite rightfully earns its place on the list as a delectable and dependable favorite. Lightly fried, covered in mouthwatering marinara, and finished off with a magical layer of melted mozzarella, what more could you ask for?
Chicken Parmesan is one of many decadent dishes available on the Kings Catering Menu, all crafted by in-store chefs.
Looking to bring some convenient and craveable comfort to your Thanksgiving dinner? Check out Kings' Thanksgiving Catering Menu for all your classic favorites. It's a simple way to treat yourself any time—holiday or not. Place your order online at kingsfoodmarkets.com/thanksgiving.
4. Cream of Broccoli Soup
Sometimes a hot bowl of soup is all you need, and you'd be hard-pressed to find a soup more comforting than Cream of Broccoli.
A vibrant and velvety version of this satisfying staple can be found in Kings Food Market's Grab & Go Chef Prepared Foods section.
5. Chocolate Peanut Butter Fondue
No list of comfort foods would be complete without something sweet! And this recipe is the definition of decadence. Luxurious semisweet chocolate pairs perfectly with creamy peanut butter. This can be served with Kings Pound Cake, fresh assorted fruits and Smashmallow gourmet marshmallows.