Flatly flavorful
"The better part of a year"-that's how long Chris "The better part of a year"-that's how long Chris Saville says he and wife Kate spent in their kitchen before perfecting recipes for the tasty, healthier pizza alternatives they serve up at The Flatz Company in Wyckoff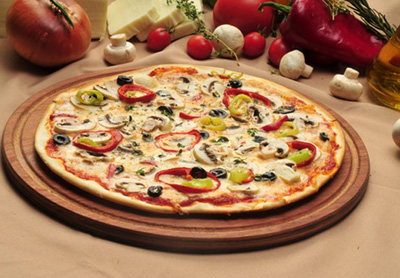 "The better part of a year"-that's how long Chris Saville says he and wife Kate spent in their kitchen before perfecting recipes for the tasty, healthier pizza alternatives they serve up at The Flatz Company in Wyckoff (201-560-0150, www.theflatzco.com).
Perhaps the key component in the ultra-thin, 12-inch pies is their crispy whole-wheat crust, made from all-natural flour. From there, customers can choose from 19 varieties, or build their own with toppings such as cherry peppers, white truffle oil and poached egg.
A good place to start is the "Original" ($7.50); topped with mozzarella and homemade tomato sauce, it's just 750 calories for the entire pie-less than half that of traditional pizza.
More daring? Try the "Island Flat," a combo of banana, organic coconut, pineapple, mozzarella and homemade tomato sauce.
A bonus? All cups, salad containers and cutlery are biodegradable, and boxes are made from recycled materials.
"The pizza is so good, and the fact that many ingredients are organic appeals to us," says Kelly Van Calcar, a mother of four from Wyckoff. "My kids ask to eat there every day!"