Float Your Boat
Try kayaking for some fun on the water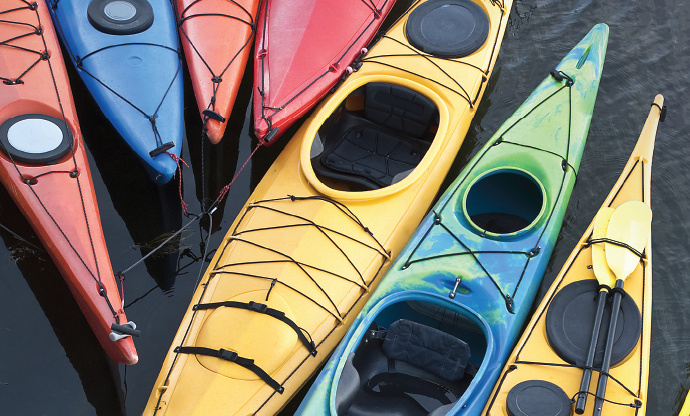 Here's a summer idea: Why not enjoy the great outdoors by going kayaking? and while paddling your way alongside the scenic banks of the state's pristine parks, take note of the unexpected workout you're receiving: The water sport, similar to canoeing, is a bona fide calorie buster (it burns 300 to 500 an hour, depending on water conditions and your speed and body weight), provides low-impact upper-body conditioning (requiring about 500 paddle strokes per mile) and is an eco-friendly way to sightsee and explore. "Paddling is great activity for family pleasure or a day of solitude," says Rob Fischer of Ramsey outdoor in Paramus and Ramsey.
Choose your own adventure:
Here are several places in and around the state and beyond to embark
Romantic outing: Monksville Reservoir in Ringwood. Day trip Hudson River at Memorial Park in Nyack, N.Y.; Long Island Sound off the Thimble Islands in Branford, Conn.
Sightseeing: Hudson River at Liberty State Park, where you can spot the Statue of Liberty and the Manhattan skyline (The park's Nature Interpretive Center offers kayaking eco tours. Call 201.915.3409 for details.)
White-water adventure: The Delaware River at various points in the tri-state area (Kittatinny Canoes in Barryville, N.Y., offers novice tours on the river at several launch spots: kittatinny.com. Tours through scenic Hunterdon (N.J.) and Bucks (Pa.) counties are available at Paddle Creek in Frenchtown: paddlecreekfrenchtown.com.)
Where to Buy or Borrow
Visit these Paramus resources:
Campmor campmor.com, Eastern Mountain Sports ems.com, Ramsey Outdoor ramseyoutdoor.com, REI rei.com
RELATED READS: Get Outside in Bergen