Get Outside
Get out... (outside, that is!). From organized bike rides to waterside walks, we make it easy for you to experience the county's natural wonders close to home with this handy guide.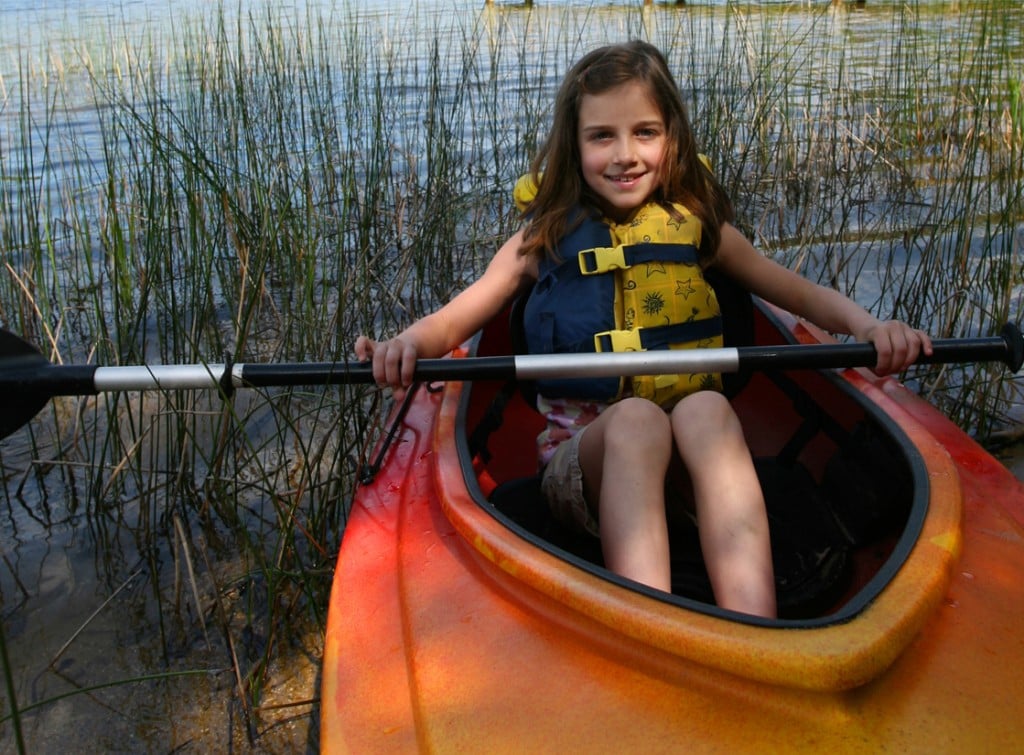 Boating
Launch your canoe, kayak, rowboat or even a small boat with an outboard motor (at high tides only) from the boat ramp at Kenneth B. George Park on Riverside Way along the Hackensack River in River Edge. If you're paddling south, be sure to catch a glimpse of historic New Bridge Landing, where George Washington led his troops after the battle of Fort Lee in November 1776.
You can also depart from Johnson Park in Hackensack, just north of the Anderson Street Bridge, and Foschini Park, a popular fishing destination near River Street. A few miles south, Waterside Park on Industrial Avenue in Ridgefield Park features a small floating dock suitable for launching canoes and kayaks. BERG.0614.ToDoOutdoors.REV.indd 37
Palisades Interstate Park is another option. You can launch trailer-towed boats as well as canoes and kayaks at Hazard's Dock. Canoes and kayaks also can be launched at the Englewood, Alpine and Ross Dock picnic areas.
Don't own a boat? You can rent canoes and kayaks at The Paddling Center at Laurel Hill Park on the southern end of the Meadowlands in Secaucus ($25 per paddler, per day). Laurel Hill is open weekends only until October 26 from 9 a.m. to 6 p.m., weather permitting. You can also rent from the Overpeck Park Kayak Center in Ridgefield Park ($15 per paddler for up to 2 hours; $10 per paddler for each additional hour). Overpeck will be open on weekends from 9 a.m. until 6 p.m. and Wednesday through Friday from 12 p.m. to 7:30 p.m. through October 26.
These locations are the only venues in the Hackensack River Watershed where you can rent a canoe or kayak. Solo paddling is not permitted; the buddy system is the rule at both locations.
With more than 400 members, the Hackensack River Canoe & Kayak Club offers expeditions in New Jersey, south- ern New York, western Connecticut and eastern Pennsylvania. While most of the trips stay within this region, longer ones take members farther afield. The club doesn't rent boats, but paddlers without boats may be able to use a livery service for some trips. Annual membership: $15/ individual; $25/family.
---
Biking
The Saddle River Area Bike Path stretches for nearly six miles through Ridgewood, Glen Rock, Fair Lawn, Paramus, Saddle Brook and Rochelle Park along the Saddle River and Ho-Ho- Kus Brook. It passes by the historic Easton Tower on Route 4 as well as a scenic waterfall at Dunkerhook Park. The trail also includes ponds, picnic areas, playgrounds, tennis courts and athletic fields.
The Bicycle Touring Club of North Jersey organizes 1,000 group rides each year, from child-friendly jaunts to multi-day tours. With more than 1,300 members, it's the largest touring club in the state. Annual membership: $22/household.
---
Hiking
Palisades Interstate Park (Fort Lee, Englewood and Alpine): Set above the soaring cliffs of the Hudson River, this picturesque park offers 2,500 acres of wild shorefront and uplands to explore, plus several Manhattan vistas. Its 30 miles of trails vary in length and skill level—ranging from an easy riverside stroll to challenging rock scrambles.
Ramapo Valley County Reservation (Mahwah and Oakland): In Bergen County's largest park (4,000 acres), visitors can hike and enjoy the Ramapo River and several ponds. The trails connect with those in Ringwood State Park to the west, Ramapo Mountain State Forest to the southwest and Camp Glen Gray to the south, making possible a wide variety of rugged day-long hikes. While challenging hiking is certainly possible here, the areas closest to the parking lot are used primarily for strolling, especially with one or more dogs. Other highlights include fish- ing spots (valid New Jersey fishing license required) and a camping area (permit required).
Campgaw Mountain Reservation (Mahwah): Although most know it for its skiing prowess, Campgaw also offers notable hiking through its 1,373 wooded acres in the warmer months. The flat trails at the base of Campgaw Mountain are ideal for those looking for a short, easy hike, and they can be combined with trails that lead to the viewpoint at the summit of the mountain for a longer, more challenging hike. You can even spend the night at various campsites (permit required).
James A. McFaul Environmental Center (Wyckoff): Commune with nature without breaking a sweat by strolling the paths that wind through this peaceful, 81-acre wildlife sanctuary. Also on site: indoor exhibits featuring live native animals, saltwater and freshwater aquariums, natural history displays and monthly art displays. A two-story observation deck overlooks a waterfowl pond.
The Ramapo chapter of the Adirondack Mountain Club offers numerous recreational opportunities and outdoor experiences year-round, includ- ing three hikes every week in the historic Hudson Highlands region of New York and New Jersey. Annual membership: $50/individual; $60/family.
---
Nature Walks
For a child-friendly walk, head to the Tenafly Nature Center. Along its Yellow Trail, which is open to the public daily from dawn to dusk, you'll see many different types of trees, birds and insects. Be sure to print out the self- guided tour booklet at tenaflynaturecenter.org to get the most out of this walk. It includes descriptions of the 20 "stations" you'll see along the way, as well as a mini test toward the end to see how much you've learned.
Enjoy a nature walk through a forested freshwater wetland on 1.2 miles of trails and boardwalks in one of Bergen County's new- est parks. As you walk the Teaneck Creek Conservancy's trails, you'll observe wildlife, trees that are hundreds of years old and eco- logical art exhibits. This remnant of the New Jersey Meadowlands is undergoing a major transformation, including restoration of urban wetlands by Rutgers University scientists.
It's a short (one mile) but pleasant walk around a scenic pond at the Celery Farm in Allendale, a 107-acre freshwater wetland that's open to the public during daylight hours every day of the year. The wetlands and woods provide a habitat for many species of birds, small mammals, fish, reptiles and insects. In fact, more than 240 species of birds have been recorded here, and more than 50 are known to breed here. Because of its short length, flat terrain and benches positioned along the trail, this is an ideal walk for families with young children. (The main access to Celery Farm is from a small parking lot on the east side of Franklin Turnpike. drive slowly; it's easy to miss.)
Anyone who's intrigued by birds or simply enjoys nature is a fit for the Bergen County Audubon Society. The club sponsors frequent field trips and hosts various programs and events throughout the year. Members also receive a discount at Wild Birds Unlimited of Paramus. Annual membership: $20/individual; $35/family.
---
Waterside Walks
Want to enjoy breathtaking views of the Hudson River and the Manhattan skyline—and burn a few calories while you're at it? Take a stroll on the Hudson River Waterfront Walkway, a pedestrian-friendly walking route along the Hudson that covers 18.5 linear miles from Bayonne to the George Washington Bridge, stretching through parts of nine cities and two counties. You can walk, jog, bike and fish while taking in the spectacular view that stays by your side throughout.
Liberty State Park's walkway in Jersey City offers magnificent views of the Statue of Liberty, Ellis Island and the New York skyline. (Parking is available throughout the park.) The park also features a 9/11 memorial, playgrounds, bike paths and lots of green spaces to spread out a picnic. (You can grill here too!) A popular spot in the area is the Chart House at Lincoln Harbor in Weehawken, a fine waterfront restaurant.
---
Sightseeing
Your Key to the City tours from NY Waterway are a great way to spend a day or evening on the water, in the city or even in the sky. Take a twilight harbor cruise, see a Broadway show, go on a helicopter tour and much more. Packages include reduced-rate ferry transportation, savings on parking at Port Imperial and free NY Waterway bus service in midtown and downtown Manhattan.
Depart from Liberty State Park and cruise down the water to see the Statue of Liberty and Ellis Island. Statue Cruises offers packages to see them both, as well as other attractions. CityPASS lets you visit the Statue of Liberty plus five more attractions with one convenient low- price ticket booklet. You also can add on a trip to see the 9/11 Memorial, which provides reserva- tions free of charge.
Ride the Liberty Landing Ferry to Liberty State Park. Enjoy a two-mile trip along the Hudson River with marvelous views of the Manhattan skyline. Liberty State Park has picnic and barbecue areas, playgrounds, trails, restaurants, food concessions and more. It is also home to the Liberty Science Center. Bring your bicycles and strollers on the ferry to take advantage of the walkways and trails. Liberty Landing Ferry also offers rides to the Statue of Liberty and Ellis Island.
---
Cruise Control
Spend a day on the water on an eco-cruise with Hackensack Riverkeeper. Take your pick of three itin- eraries. Meadowlands Discovery, the original Hackensack River environmental education tour, is perfect for those who enjoy viewing wildlife and surveying wetlands. You'll also learn about the history of the Meadowlands along the way.
Choose Boating Through Bergen to take a trip from the southern Meadowlands to the center of Hackensack while following the path used by schooners and steamboats to carry cargo to and from Bergen County more than a century ago. This route gives passengers a chance to do some bird-watching too.
With Excursion Around the Bay you'll cruise down the Hackensack River to Newark Bay to see and learn about tugs, barges and more. On the return voyage you'll explore the Bayonne bayshore, which is home to many parks and historic sites. Eco-Cruises are scheduled in advance and are open to all fun-seekers. Seats are available for a donation of $25 per adult ($30 each for Newark Bay trips) and $10 per child.
---
Fishing
You can walk your kayak or canoe down and launch it into the trout-stocked brook at Pascack Brook County Park in Westwood. Bluegill sunfish, yellow perch, largemouth and smallmouth bass, brown bullhead and carp have been caught in the brook and the pond. Take in the scenery and venture on a short hike to reach the water to fish at Ramapo Lake. Fish species here include largemouth bass, crappie, perch, sunfish and pickerel. Small catfish have been caught on occasion too. Bergen County is home to many popular fishing spots; for a complete list of parks that feature fishing destinations log onto co.bergen. nj.us. A New Jersey fishing license is required for anyone age 16 and older. For more information on obtaining a fishing license, visit state.nj.us/dep/fgw.
Along with these places to cast your reel, a local club can enhance your fishing experience and broaden your horizons. The Salt Water Anglers of Bergen County aims to promote saltwater fishing, good sportsmanship, and saltwater fishing knowledge and conservation through education. The group holds monthly meetings, tournaments, dinners and fishing trips.