Get Your Sweet Treats
Some of the sweetest ice cream shops in Bergen.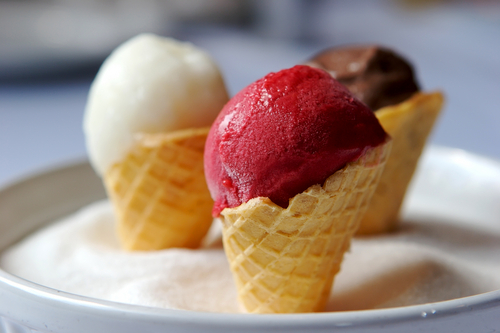 There was a time when ice cream was more than a dessert—it was an outing. And this summer your tribe can hop in the car and recapture that family fun with a jaunt to one of the county's old-fashioned ice cream parlors. In business since 1934, Bischoff's (201.836.0333) in Teaneck is world-renowned for its homemade ice cream. When you walk through the door, you step into the past, where employees greet you in paper hats and bow ties and fix your ice cream while you watch from a stool at the counter.
Would you visit the same spot for sesame chicken, pastrami and homemade ice cream? You would if it's Baumgart's Café (baumgartscafe.com), which, along with its diverse menu, has a very traditional 1950s soda-fountain feel. The original café is located in Englewood (201.569.6267), and additional cafés have been added in Edgewater (201.313.3889) and Ridgewood (201.612.5688).
Since 1928, Conrad's Confectionery (201.664.2895, conradsconfectionery. com) in Westwood has been hand-making its ice cream and candy with pure, fresh ingredients. For generations, children have been stopping by the counter for a malt or a Conrad's "heavy" on their way home from school, and couples can still be found sharing a booth in the "parlor," sipping an ice cream soda with two straws.
The Town Scoop (201.782.9494) in Park Ridge is old-fashioned…with a quirky twist. Yes, there's a giant neon-green dinosaur inside, but the old-fashioned high-top tables, red and white benches, old-time branding memorabilia and traditional ice cream concoctions like root beer fl oats and black-and-whites transport you back in time.
---
Related Read: The Best Independent Stores in Bergen