Gluten-Free Red Velvet Pancakes
Try these cute, festive gluten-free stacked pancakes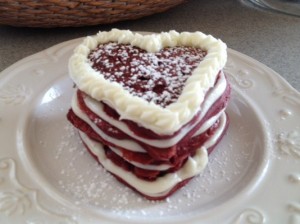 Stacked Red Velvet Gluten-Free Pancakes
(recipe courtesy of Sugar and Spice Market)
Ingredients For Pancakes:
1 cup Sugar & Spice Market All Purpose Flour
3 teaspoons baking powder
1/2 teaspoon salt
1 tablespoon sugar
1 tablespoon unsweetened cocoa powder
1 egg, beaten
3/4 cup buttermilk
2 tablespoon butter, melted
4 teaspoons red food coloring
Ingredients For Cream Cheese Topping:
2 oz cream cheese, softened
3/4 cup powdered sugar
2 Tbsp tablespoons milk
1/2 teaspoon vanilla extract
Directions For Pancakes:
-In a large bowl, combine together all wet ingredients: egg, buttermilk, butter, food coloring, mix well. Add all dry ingredients and mix until well blended.
-Let the batter sit for 5 minutes, while you make the Cream Cheese topping.
Directions For Cream Cheese Topping:
-In a medium size bowl, add all of the cream cheese, powdered sugar, milk, and vanilla. Blend until smooth.. Set aside.
-Preheat griddle and grease with butter.
-When hot, add pancakes. I used ¼ cup per pancake.
-Flip with the first few bubbles start to break on the surface of the pancake.
-Cook until done. Begin stacking pancakes with Cream cheese topping between each layer. The top pancake can be sprinkled with powdered sugar
OR
Using Sugar & Spice Market Pancake Mix:
Prepare as directed on the pancake mix package with the addition of the following ingredients. Then mix and continue with the directions above:
1 Tbsp Cocoa Powder
4 tsps Red Food Coloring
Prepare Cream Cheese Topping as directed above
Related Read: Linzer Heart Cookies from the Cake Boss