Going Under
A local therapist tries hypnotherapy and finds it isn't as 'out there' as you'd think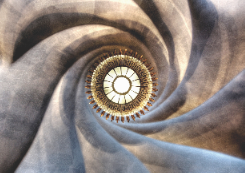 "In the moment," says Kevin Lepine, "people just decide it's the right thing to do."
Lepine, a hypnotist who does 75-minute shows six days a week in Las Vegas, is describing what people do in response to suggestions in a hypnotic trance— pretend to be in labor, for example, or act as if napkins are hundred-dollar bills.
People can get the wrong idea from acts like Lepine's—and from the movies. They can assume that subjects of hypnosis, once they get "veddy sleepy," are totally out of control. But Lepine, a certified hypnotherapist, says that's not so—they merely become suggestible.
As a therapist myself (but not a hypnotist), I knew that most hypnotherapists don't use their art as stage-show material but as a clinical tool in the treatment of a wide variety of problems. Indeed, the International Certification Board of Clinical Hypnotherapy (ICBCH) boasts 3,600 professionals across 50 states, 17 countries and six continents, and 85 percent of its members are licensed mental health professionals. Their success rates for smoking cessation, weight loss, stress reduction, anxiety and pain can be as high as 90 percent (hypnotherapyboard.org).
I knew all this, but there's nothing like experiencing something for yourself. So I looked up Mary Beth Del Balzo, a licensed clinical social worker and hypnotherapist in Ho-Ho-Kus, who likens being hypnotized to allowing entry to the mind through a side door.
"Hypnotherapy is not about going into a trance," she says. "It's a gentle focus, followed by talk." My session began just after I entered Del Balzo's professional space, which was soothing to the senses—tranquil, aromatic, all soft edges. Usually, she explained, an extensive intake process would precede the session, but in the interests of time, Del Balzo brought me to a relaxed state quickly, through meditation, mindfulness and breathing techniques. I chose to work on a concrete task—complying with my doctor's insistence that I build bone strength by lifting weights. I've known I needed to do this for two years and—well, Del Balzo speaks in comforting tones, and I was surprised by the ease with which I unwound. She encouraged me to use my thoughts to help heal my body. Many of us give the barest lip service to the mind–body connection. Our thoughts seem airy, not corporeal. But Del Balzo reminded me that thoughts, generated by our physical brains, can have an impact on our physical state.
I left my session feeling rested, and for the rest of the day I felt as if I were walking on a magic carpet: fluid, undulating, dreamlike.
The point, says Del Balzo, is to feel safe, supported and relaxed so that underlying issues can be addressed more easily. She works on specific goals such as weight loss, addictions, eating disorders and even sports performance. She recently helped an elite fencer manage the pressure of the mental feint-and-parry in matches. But most clients seek help for issues of anxiety and depression.
In Cranford, Karen Sciaraffa, Ph.D., a clinical psychologist and certified hypnotherapist, echoes the themes
of safety, trust and relaxation as she explains hypnotherapy. In a session, Sciaraffa does most of the talking. "When the mind relaxes, it's fertile for suggestion," she says. Using metaphors and stories, Sciaraffa has helped adults come to terms with childhood memories and tackle phobias and addictions. She uses guided imagery and progressive relaxation. "When brain waves slow down," she says, "healing speeds up."
Still skeptical or fearful? Be assured that the therapists I interviewed integrate hypnotherapy into an overall care plan and view themselves as the subjects' partner in the therapy. The idea that you will lose control is a misconception.
That said, let me return now to my 10-pound weights.