Gotham Getaway
Have a fresh fling with the world-class city you usually take for granted.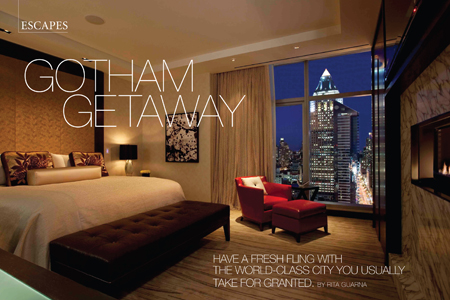 Sometimes the greatest adventures are those enjoyed close to home. If a Manhattan "staycation" sounds tempting—especially around the holidays— consider a sojourn in the swank InterContinental in the city's re-energized Times Square, a short stroll from Fifth Avenue shopping, world-class museums, Broadway and the great eateries on Restaurant Row.
The lobby of the three-year-old hotel sets the tone for a calm haven amidst the hustle of the city. Nature is a dominant theme, with an abundance of marble, stone, wood and glass used throughout the hotel. Behind the reception area is an open courtyard featuring a reflecting pool, artwork and lots of greenery, echoing the feeling of a sanctuary.
All 607 rooms were designed to evoke an upscale residence, with views of the skyline, Times Square or the Hudson River. Oversize bathrooms offer a spa-like experience with walk-in rain showers accentuated with midnight blue mosaic tiles meant to resemble sparking water.
Besides taking in a Broadway show—perhaps the acclaimed new production of The Glass Menagerie—cheer for the Rangers or the Knicks at the "new" Madison Square Garden, whose $1 billion face-lift resulted in a top-to-bottom renovation, complete with an expanded main entrance at 32nd Street and 7th Avenue that features two sets of video screens on the ceiling, plus the Chase Bridges—a pair of parallel connectors spanning the top of the arena, providing seating for 430 patrons.
Of course, you won't want to resist gawking at the Rockefeller Center Christmas tree and the skaters gliding along the ice below. And don't miss the iconic Grand Central Terminal, which celebrated its 100th birthday just this year. Take an audio tour—there are "local" and "express" versions available—to learn about the history and architectural highlights of the terminal, anecdotes included. (Did you know that Alfred Hitchcock shot scenes from North By Northwest here? That the stars in the famous sky-themed ceiling are actually arranged backwards?)
If you're planning to see Lady Liberty, consider ferrying from the New Jersey side via Liberty State Park (LSP) on Statue Cruises and you'll enjoy faster security lines, more room on boats—and plenty of parking if you prefer your own wheels. The reason: 80 percent of visitors travel to the famous statue from Battery Park instead.
Then there's the food. There's no dearth of top-shelf choices. And while hotel restaurants can be hit-or-miss, you shouldn't pass up a meal (or two) at the InterContinental's Ça Va, a French brasserie from celebrity chef Todd English. Here you'll find prix-fixe menus plus contemporary interpretations of classics. Several dishes celebrate the property's very own beehive, using honey harvested directly from the green rooftop. (Honey production was 75 pounds in October and 150 for the year.)
Restaurant manager Shawn Cioto fawns over you (in a good way), regaling you about his personal favorites—in food and theater. Enjoy one-of-a-kind delights like the boulettes de poulet au citron, a mouth-watering dish served in a mason jar jammed with chicken meatballs (although an appetizer, it's exceedingly filling, especially if you use some of the crusty French bread to shamelessly soak up the juices), truffled honey and lemon as well as the côte de boeuf braisée, braised short ribs paired with truffled polenta and honey-glazed baby root vegetables. A wonderful three-course prix fixe is offered for $44; it includes an appetizer, an entrée and a dessert. And, oh, the desserts. A sublime trio of crème brûlée features pumpkin, bourbon and cinnamon. There's a yummy creamy vanilla cheesecake with honey-macerated berries in a graham-cracker crust and warm pistachio madeleines, buttery cake-like dipping "cookies" with a slightly crispy exterior and signature "bump," used to dunk into a gooey (not overly sweet) hazelnut chocolate sauce. If you opt for just dessert or prefer lighter fare, take a seat in the adjacent lounge, which also offers signature drinks and a well-curated wine list plus several draft artisan beers and bar bites.
After you've dined a time or two there, take a seat at casual, perfect-for-people-watching Michael Jordan's The Steak House N.Y.C. in Grand Central. You might not see him there, but you will see slabs of beef aplenty. Designed by David Rockwell in 1998, the eatery pays homage to glamorous train travel with a design reminiscent of a dining car. The dining room stretches across the north balcony so you can watch the comings-and-goings while choosing from either the traditional menu or the "Fast Track," a three course fixed-price menu ($25) with such favorites as pan-fried crab cake, sliced strip steak and banana bread pudding.
There's much to be said for Rome, Lima and Bangkok, of course. But think of it: The glories we've just described—and a thousand more—are just a few miles away. No wonder you call Bergen County home!
Click here to enter a chance to win 4 free tickets to Liberty Island courtesty of Statue Cruises!