Greek Goodness
A Mediterranean diet offers brain- and heart- boosting benefits. Learn where to find it locally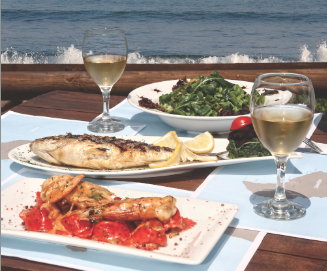 Omega-3 fatty acids. Fiber. Antioxidants. Greek cuisine is brimming with these healthy attributes. No wonder eating like Aristotle is associated with a 25 percent reduced risk of death from heart disease and cancer, say Harvard researchers. Best of all, it's totally satisfying, utterly delicious. "The ancient Greeks were in Africa, in Italy and in France," says Maria Loi, chef/owner of the New York City restaurant Loi and author of Ancient Dining, the official cookbook of the 2004 Athens Summer Olympics. "And they were the ones who introduced olive oil, wine, pasta and pizza (yes, pizza!) to the world."
Wait—didn't Marco Polo bring spaghetti from China? "No," says chef 
Loi. "The Chinese made noodles from rice; the Greeks were the first to make them from wheat." And isn't pizza from Naples? "The Greek word pita became pizza in Italian," she counters.

Granted, the Italians may have taken that food (and drink) and run with it, yet the Greeks proudly retain their own culinary character. "First and foremost, a good Greek restaurant has to have simplicity," says Loi, who grew up on her family's tobacco farm in Nafpaktos, Greece. "The plate shouldn't be full of oil, and there should be no butter. The Greeks didn't use butter, except for those who lived high in the mountains, where olive trees didn't grow."
The ancient Greeks believed food was medicine, says Loi, and their fare was wholesome: Santorini tomatoes grown in volcanic soil, fish from the Aegean, yogurt, honey, beans, spinach and arugula. Fresh feta and ricotta, beef, lamb and herbs like dill, parsley, mint and nettles. Their cooking techniques were basic—and endured well into the 20th century and beyond. When she was a child, Loi says, meals were prepared in a copper pot over a wood-burning fire. "My father would hang homemade sausages above the pot, and they would smoke while our meal was cooking."
The best Greek restaurants replicate that experience by letting an ingredient's essence shine. For example, says Loi, grilled fish should be served with olive oil and lemon—that's it. "in my village, we used just pepper, which brought out the fish's flavor." Meat gets marinated in red wine before getting grilled. Stuffed grape leaves are not too oily, and the rice is firm, not mushy. Yogurt is homemade.
And when it comes to "Greek salad," Loi wants to set the record straight. "Horiatiki, the true Greek salad, contains tomato, cucumbers, onion, pepper and cheese, but no lettuce."
While we're at it, pita is not the bread found on most Greeks' tables. Crusty dark bread, corn bread—these are mainstays. "We used to harvest corn and make corn bread with fresh corn flour," says Loi. "I can smell the fragrance now. You need only a piece of feta with it for the perfect breakfast."
And when you're ready to break with the stereotypical moussaka and gyro, she recommends a dish like roasted baby lamb. "Lamb chops you can find anywhere, but slow-cooked baby lamb that falls off the bone…." Try a soup like avgolemono. Pile your plate with horta, boiled greens. Ask for fresh mint to sprinkle over your entrée. Or taygetos oregano, "the world's best," she says.
Don't forget the wine. Chef Loi recommends Malagouzia, a white wine, or Agiorgitiko, a red. They're both eminently drinkable, but if you keep an important Greek expression in mind—"metron ariston"—you'll be fine. "It means everything in moderation," says Loi, who learned this intuitively. "From the age of seven, I became the cook for my family," she remembers. "When 
I made kokinisto [red sauce made with meat, onions, tomatoes and tomato paste], I used to add just a little wine and didn't tell my parents. That was my secret." —Maria Lissandrello
Click here for Maria's easy recipe for succulent chicken