Guard Your Skin
New research suggests it's time to do more to prevent skin cancer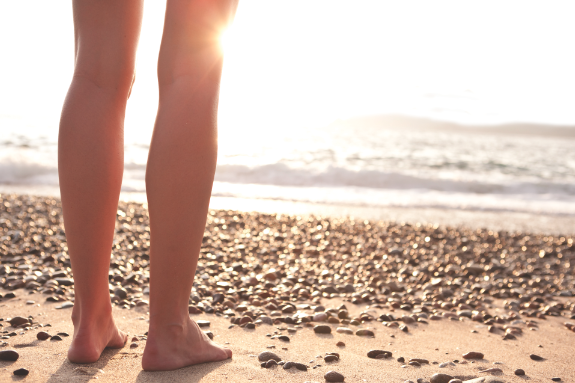 By Patti Zielinski
Remember when sun-browned skin in summertime was considered a sign of health? We've come a long way in skin-safety awareness since those days, but skin cancer still strikes more than 3.5 million Americans each year—it's the most common cancer—and recent studies hint that we need to be more vigilant about protecting our skin.
For example, there was a special wake-up call for men ages 50 and up at the American Academy of Dermatology's recent annual meeting in sunny Miami Beach. These males are at greater-than- average skin-cancer risk, researchers reported, but they're less likely than others to perform regular self-checks, schedule annual skin screenings or get a suspicious-looking skin lesion checked out by the doctor.
Another study presented at the same meeting suggested that for both genders and all ages, climate changes are making skin protection more urgent. Investigators from the University of Naples Federico II reported that increases in ultraviolet radiation may be linked to an increased incidence of skin cancer. "It's estimated that for each 1 percent reduction in the thickness of the ozone layer, the incidence of melanoma [a potentially fatal skin cancer] will increase between 1 percent and 2 percent," they said. Fortunately, there are several measures you can take to reduce your chances of getting skin cancer:
Enlist a partner for monthly self-exams. While dermatologists recommend an annual skin scan by a board-certified dermatologist, monthly self-exams are important too. "Involving a partner adds another set of eyes, which is especially helpful when checking the back and other hard-to-see areas," says Thomas E. Rohrer, M.D., a board-certified dermatologist and AAD spokesperson in Chestnut Hill, Mass. (See "How to Do a Skin Self-Exam.")
To download a "body mole map" for tracking changes and to find free skin- cancer screenings in your area, visit the AAD website, spotskincancer.org.
Know your sunscreens. Some advice about sun protection is well known: Seek shade between 10 a.m. and 4 p.m., when radiation is most intense; apply sun- screen about 20 minutes before you go outside to facilitate absorption, then reapply every two hours or right after swimming or sweating heavily. What's a little bit trickier is finding the right sunscreen—one that not only guards against sunburn, but also provides broad-spectrum protection (that is, guards against both UVB and UVA rays) and reduces skin-cancer risk.
To help consumers make more informed decisions, the U.S. Food and Drug Administration now requires manufacturers to note those factors on sunscreen labels. In addition, look for a sunscreen labeled water-resistant for up to 40 or 80 minutes.
As for sun protection factor (SPF), choose a minimum SPF 30. A product with an SPF 30 rating screens 97 percent of
 UV rays, while one with SPF 15 screens 
93 percent and one with SPF 2 screens
 50 percent. (AAD surveys show that many people are illinformed about SPF ratings—most wrongly assume, for example, that an SPF 30 provides twice the protection of an SPF 15.)
Finally, apply sunscreen to all exposed areas of your body. "Most bald men forget the top of their head," says Glenn Kolansky, M.D., a dermatologist in Tinton Falls. "Also, people miss the backs of their arms where they can't reach."
Proper use of the right sunscreen could save your life. Just consider this:
 A landmark 2010 study from the University of Queensland in Australia found that daily sunscreen use cut the incidence of melanoma in half.
Beware of reflected rays from surfaces such as water and sand. "Reflections off water can be strong," says Dr. Kolansky. "You could be feeling protected under your umbrella, not realizing that rays reflected off the water and sand are reaching you."
Avoid tanning beds and lamps. UV light from the sun and tanning beds and lamps can cause skin cancer, according to the World Health Organization. Yet nearly 30 million people tan indoors in the United States annually. Of these, 2.3 million are teens who, studies show, still consider a tan body a beautiful body (impending wrinkles notwithstanding). This April, New Jersey Governor Chris Christie signed a new law that bans minors under 17 from using commercial tanning beds. If you want to look tan, consider using a self-tanning product or spray, but continue to use sunscreen.
Do not tattoo over moles. Skin cancer can develop within a tattoo, making it more difficult to spot and diagnose. In addition, dermatologists are seeing reactions to tattoo ink that can mimic squamous-cell carcinoma (besides ruining the tattoo). Because such bumps are so hard to distinguish from that of skin cancer, they require a biopsy and, in some cases, may need to be treated as a skin cancer, with additional surgery, the AAD reports. When in doubt, call your doctor.
Consult your dermatologist—not your smartphone. Experts at this year's AAD meeting acknowledged the "ubiquitous rise of smartphone apps designed as health surveillance tools"—tools that they agree have the potential to augment healthcare education. But they stress that technology cannot replace a professional evaluation. An alarming recent study showed that three out of four of the most popular diagnostic apps classified more than 70 percent of dangerous melanomas as noncancerous. "These apps are no substitute for having a real dermatologist look at the lesion," says Dr. Kolansky. "And they may give people a false sense of security. People may look at the mole on their arm they are worried about but forget to check an actual melanoma on their back."
SKIN SIGNS TO WATCH FOR
Any suspicious-looking spot, wart, mole or unexplained scar on the skin should be checked out promptly by a board-certified dermatologist, especially if it exhibits one of these "ABCDE" qualities:
Asymmetry: one half of the spot is unlike the other half.
Border: The area has an irregular, scalloped or poorly defined border.
Color: The spot varies in color from one area to the next, perhaps with shades of tan, brown or black, or with portions that are white, red or blue.
Diameter: The area is larger than 6 mm. in diameter. (Melanomas, when they're diagnosed, are usually at least this size—about the size of a pencil eraser—but they can be smaller.)
Evolving: The mole or area of skin looks different from the rest or is changing in size, shape or color.

Source: American Academy of Dermatology
HOW TO DO A SKIN SELF-EXAM
To check your body for lesions that may be cancerous, the American Academy of Dermatology recommends this procedure:
Raise your arms and examine the right and left sides of the body.
Bend your elbows and look carefully at your forearms and upper underarms.
Examine the backs of your legs, the spaces between your toes and the soles of your feet.
Inspect hard-to-see areas such as the back, the buttocks and the top of the head. (Part your hair for a better view.)
Don't neglect areas that don't see the sun. According to the American cancer Society, about one in 20 melanomas in women occur on the external genitals, with persistent itching a key symptom.
ASPIRIN TO GUARD
 AGAINST MELANOMA?

In a large recent study, older women who took a daily aspirin reduced their risk of developing melanoma, a serious form of skin cancer.
The study, published in the online edition of the journal Cancer, drew on data from the Women's Health Initiative involving nearly 60,000 Caucasian women ages 50 to 79. It found that those who took a daily aspirin for five years cut their melanoma risk by 30 percent over non–aspirin-takers. There was no similar benefit with ibuprofen or other pain relievers.
Is aspirin a worthwhile preventive—at least for those with a family history of melanoma? Check with your doctor, and remember that like all medications, aspirin has its own risks, including the possibility of stomach bleeding.