Harborside Luxury
Nowhere will you feel more at home than in this 28-room gem, your affluent contemporaries' playground with its majestic old "cottages". The classic Newport sensibility with an up-to-the-minute expression, combining an indulgent spIrIt with bold 21st-century style.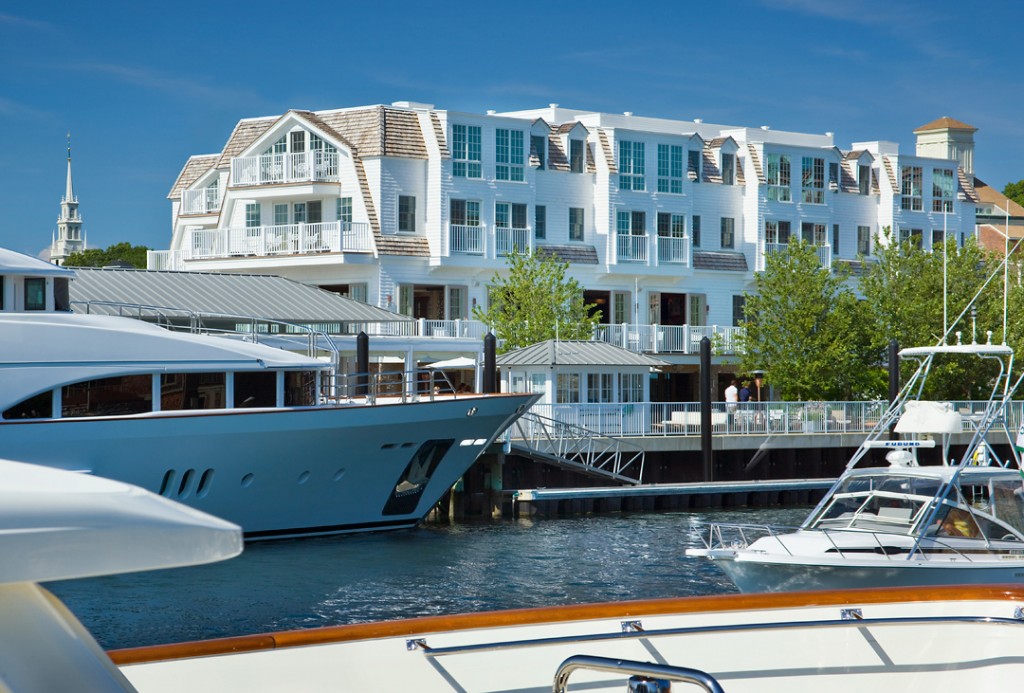 Let's say you're a Gilded-Age industrial magnate, come back to life in 2014. Nowhere will you feel more at home than in Newport, Rhode Island, your affluent contemporaries' playground with its majestic old "cottages". But you're no fool. Once you've got your bearings, you're apt to lay your head down—and moor your yacht—at a 21st-century hotel and marina on Thames Street called Forty 1° North.
Opened in August 2010, this 28-room gem gives the classic Newport sensibility up-to-the-minute expression. Designed by Philadelphia-based DAS Architects, its shingled exterior, gabled roof and porches honor the town's 19th-century architecture. The interior is modern but grand, with artfully deployed marble, onyx and platinum glass tile, a three-story capiz chandelier and a 9-foot-by-9-foot abalone shell sculpture in the lobby.
French doors and "real" windows throughout the building allow fresh Newport breezes in. This is in keeping with the hotel's eco-friendly ethos, which includes floor-to-ceiling windows to reduce the need for artificial light during the day; low-flow showerheads; and, instead of a morning newspaper, an iPad loaded with the digital version. Many guest rooms boast balconies and harbor views, and each has a gas fireplace.
Forty 1° North offers two notable restaurants. There's the hip, family- friendly Christie's, which boasts a burger that The Boston Globe calls one of New England's 10 best. Meanwhile, The Grill is a dockside delight with succulent steaks, seafood and a raw bar to text home about. For cocktails, the Library, the Oval Bar and a private wine room add to creature comforts.
Guests are steps away from Newport's Thames Street shops and restaurants and the International Tennis Hall of Fame. Also nearby are the century-old Newport Art Museum and St. Mary's Church, where John and Jackie Kennedy tied the knot. And if you time it right, your stay may include one of the town's three famous summer festivals—jazz, folk music and international film. Or take an any-old-day stroll on the 3.5-mile Cliff Walk, a shoreline walkway that snakes past those cottages, relics of a day when opulent pads came without iPads.