Holidays Needn't Go to Waist
5 Ways to say "No, Thanks" to seasonal weight gain and stay merry.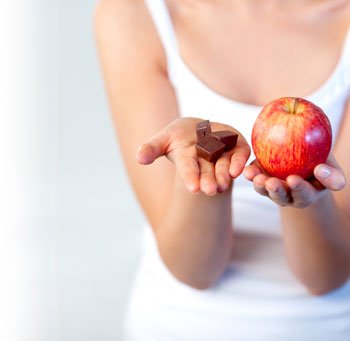 You can tell from the nip in the air and the carols on the airwaves: Most of us will soon be celebrating with family, friends—and fattening food. From Thanksgiving pumpkin pie through eggnog on New Year's Eve, this sumptuous season is the calendar's biggest threat to your trim waistline. And while a New England Journal of Medicine study a few years ago had some good news (we don't pack on as many pounds as we fear), it brought a warning, too: The weight we do add during this season tends to stay on.
So must you be a stay-at-home sourpuss, munching on celery? No, insists Janet R. Laubgross, a Fairfax, Virginia, clinical psychologist who specializes in weight management. You can be socially active and still face the scales happily, she says, if you heed five tips:
1. PLAN.
"It's essential to mentally prepare for events you know will be stressful, such as Christmas dinner with the in-laws," says Laubgross. "If you gear up beforehand, you'll feel less need to soothe yourself with food."
Restaurant meals are easy, because most eateries now post their menus online. Decide what to order in advance, so you won't be tempted while sitting at the table—keeping in mind that fried foods and butter generally should be avoided.
Also, never leave home very hungry—or very full. "If you've starved yourself beforehand hoping to save calories, you're likely to gobble every bite in sight!" warns Laubgross. On the other hand, she adds, you should also avoid the other extreme—a pre-dinner binge: "No matter how stuffed you are, you'll still be tempted to indulge in tasty morsels." Your best bet: Prep for an evening fête by eating a sensible lunch, followed by a light snack two hours before you leave home for the social event.
Finally, when you see a party spread, ask yourself, "Which of these foods do I really like?" Permit yourself small portions of these and enjoy them to the hilt—then pass on the other fattening items.
Tip: "It's OK to eat a 'big' meal on the holidays themselves: Thanksgiving, Christmas, your main Hanukkah dinner and New Year's Eve. Just don't turn that into a free pass to overindulge for two months."
– Lynn Cicerom Dietician, Morristown
2. DE-STRESS.
"I know this is easier said than done," says Laubgross, "but when we're stressed we tend to overeat and overdrink." Work on keeping pressure levels down by sticking to your regular routine as much as possible.
It's also perfectly acceptable to avoid high-strain situations. "We all have notions about what we're supposed to do, yet in reality life presents us with only a few real obligations," says Laubgross. This means it's OK to skip certain parties or leave others early, especially if the temptation to overindulge is high.
Does shopping in a teeming mall make you want to tear your hair out? Try buying presents online or from a catalog. "And remember: It's not necessary to get the absolute perfect gift for every single person you know," says Laubgross.
When all else fails, just take a break. "Excuse yourself from cocktail hour at your family's house, and step outside for a breath of air," says Laubgross. Then you can rejoin the group feeling refreshed.
3. SWEAT.
Yes, we know—during this busy time it's easier than ever to let your exercise routine slip. Don't! Even if it means breaking up workout sessions, with 15 minutes on the treadmill in the morning and a 20-minute walk after work, keeping active will help you burn excess calories and thus stay trim.
But it goes beyond the digital "calories burned" display. "Exercise also boosts confi dence and helps lower anxiety," says Laubgross. "Because many of us deal with feelings of social uncertainty by medicating with food, regular physical activity may just help you avoid bingeing at the New Year's Eve buffet table."
TIP: "Skip dips and dressings when eating salads or crudités. They're packed with saturated fat and up to 400 calories per serving."
—JUDITH GISSER, CERTIFIED NUTRITION SPECIALIST, MORRIS PLAINS
4. BE FIRM.
"If a hostess offers you a second helping of her famous—and fattening—chocolate caramel cream pie, all you have to do is say, 'No thank you,'" says Laubgross.
A small voice inside may whisper that it's rude to say no. After all, food is a symbol of love and a currency of hospitality. So have a smile and ready answer: You need to take care of you. Of course, it's the job of a host or hostess to make sure you're offered everything you might wish to consume. But you'd be surprised how few parties will stand or fall based on the amount you personally eat.
"In most cases, I don't think it's good to get into a litany of excuses about why you're passing on that sugary cocktail because you end up apologizing for yourself," says Laubgross. And you can always compliment a spread without partaking.
5. KEEP MOVING.
Remember: If you're truly tempted by a favorite treat, enjoy it and then move on. "Otherwise you're likely to overeat the rest of the week, unconsciously trying to get a taste of that delicacy you really wanted," says Laubgross.
Don't park yourself in front of the chow cart or dessert table. Circulate, and think of why you decided to attend this social event in the fi rst place. Enjoy your loved ones, friends—and possible friends-to-be. Isn't that what truly makes the holiday season special?