Home Decorating 2012
The winner of our decorating contest announced!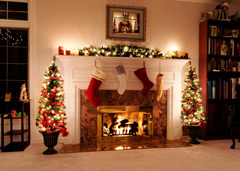 Thank you to everyone who voted in our Holiday Decorating Contest and a
special thank you to all of those who submitted their photos!
After tallying all of the votes we are excited to announce that the winner is…
We got the chance to ask Joane of Mahwah about her inspiration for the room and here's what she had to say!
What is usually your inspiration for decorating the way you do?
My inspiration comes from viewing the latest design magazines and web sites, looking for decorating tips, specifically decorating with antiques. I am drawn to the deep, rich colors significant of antique décor. When we bought our home, it was not yet painted, so I had a clean slate to start with. Using my design background, I attempted to use balance and proportion to creatively construct a feeling of timeless elegance to our home. I love using charmingly mismatched pillows, vintage furniture, and family heirlooms to decorate our home.
Do you use the same decorations/theme each year? Or do you add new elements?
I tend to add a few new holiday pieces every year. I find antique shopping addicting, so I am forever coming home with new 'treasures'. I'm always rotating pieces in and out. As a hobby, I enjoy crafting with florals, so in addition to antique shopping, I am continually rotating the floral designs in our home. I always look forward to the holidays because this time of year allows for an abundance of holiday wreaths, floral and center piece decorations.
Do you have a favorite piece?
My favorite holiday decoration is our 9-foot Christmas tree that stands on display in the Great room, beside the custom crafted 2-story cherry wood mantle. The plain white Christmas tree lights are accented by my own hand-made red floral/gold bow tree decorations, silver Christmas balls and white calla lilies.
Joane's photo will be featured in 2012's decorating issue!
Here are this year's other submissions.