Hooked on Tonic
A refreshing herb can turn this classic cocktail into your next go-to drink.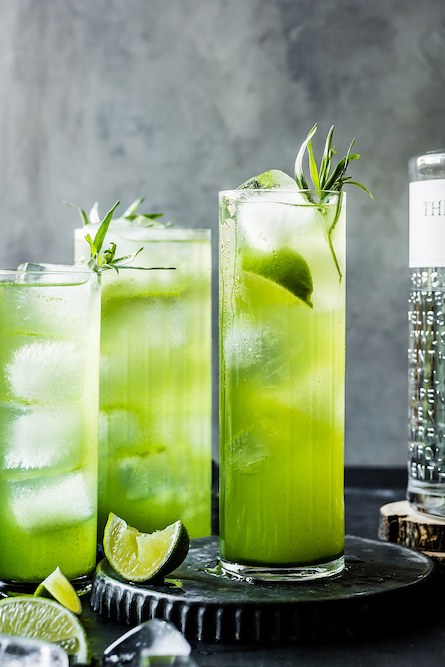 TARRAGON GIN AND TONIC INGREDIENTS
Tarragon syrup: (makes about . cup or 12 drinks)
1 bunch tarragon leaves (1 cup lightly packed)

½ cup organic granulated sugar

½ cup water

juice of 1 large lime, strained
Per cocktail:
½ ounce tarragon syrup

2 oz. chilled The Botanist Gin

2 oz. good tonic water, chilled

3–4 drops celery bitters

4 oz. sparkling water

ice

squeeze of lime
DIRECTIONS TO MAKE THE SYRUP:
Make an ice water bath in a large bowl. Combine the sugar and water in a small saucepan and bring to a boil, stirring until the sugar is dissolved. Pour into a metal bowl and place in the ice water bath, stirring until chilled. Reserve the ice water bath. Meanwhile, bring a small pot of water to a boil. Add the tarragon leaves and cook for 5 seconds, until bright green. Drain the tarragon well and immediately place in the ice water bath. When cold, drain the tarragon and discard the ice, squeezing the excess water out of the leaves. Place the leaves in a blender and add half of the chilled simple syrup. Blend on medium until smooth, about 30 seconds, then blend in the remaining syrup and the lime juice. Strain through a fine mesh sieve and chill until needed.
TO MAKE THE COCKTAILS:
Combine the tarragon syrup, gin and tonic water in a small pitcher. Fill a tumbler or highball glass with ice and add the cocktail mixture. Top with a squeeze of lime, bitters and sparkling water. Add more lime, syrup or tonic water if desired.
"More mixologists are using herbs instead of fruit for a clean, refreshing flavor that customers aren't expecting. Tarragon in a gin and tonic, which is usually bitter, gives it an anise-flavor—like sambuca."
—Colin Furey, bartender, The Shannon Rose, Ramsey