How To…. Prevent & Treat Pesky Bug Bites
It's peak bug season here in hot, sweaty Bergen County. These quick tips will help keep the bites at bay.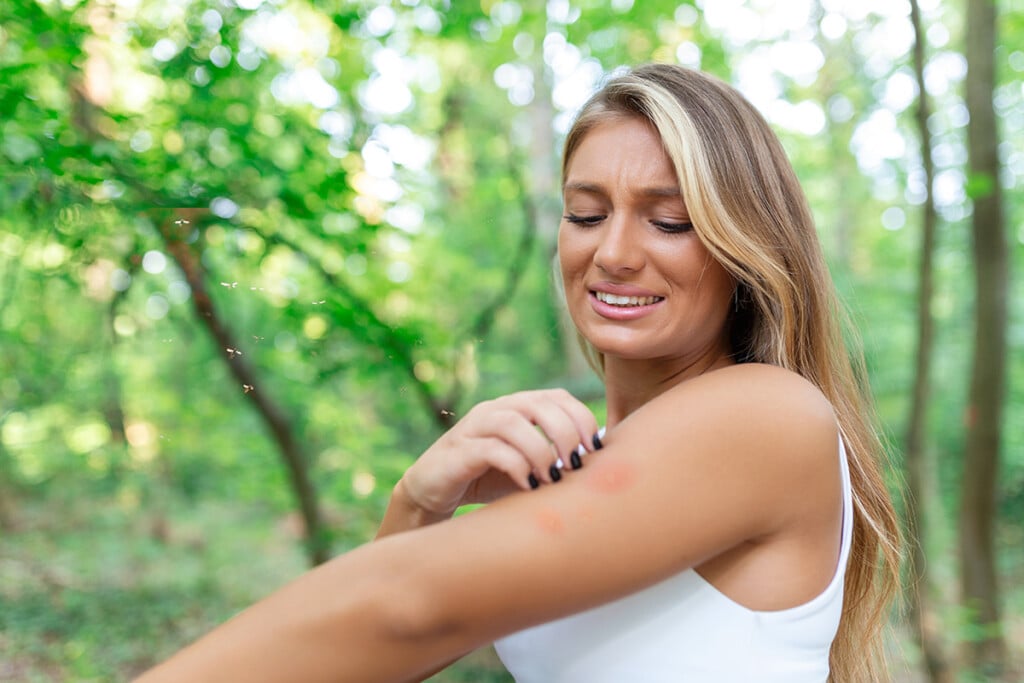 Do you find yourself scratching your skin more and more? Chances are you've bitten by a mosquito, those pesky bugs that thrive in humid environments such as the ones we've been experiencing this summer. Mosquito season "ramps up in late spring, peaks in the hot, humid months of summer, and tapers off by late fall," according to Mosquito Squad of Bergen and Passaic County.
But you're not crazy if you've found an uptick, in, well tick, flea and mosquito bites. They've soared in the past few years, according to The Washington Post, primarily due to global warming, which means there's more bugs in more locations and for longer amounts of time. And it's not only a nuisance but can also endanger our health.
"In the Northeast, including Bergen County, the threat of mosquito-borne diseases is particularly acute," says Mosquito Squad. "We contend with diseases such as West Nile Virus, Eastern Equine Encephalitis (EEE) and the increasing incidence of the Zika virus."
In honor of World Mosquito Day on Aug. 20, here's how to keep the bugs at bay through the end of this heat wave and beyond:
Prevent
The Bergen Bites Back initiative, a county-wide campaign to target pesky insects in our neighborhoods, says that the best way to prevent mosquito breeding in your backyard is to:
Empty out all water sources such as bird baths, kids' toys and flower pots
Keep your drains and gutters clear
Remove all litter and garbage from your property and trash bins
Use screens on your windows and keep doors closed to prevent the bugs from getting inside
Additionally, avoid the outdoors during peak bug times, which is dusk and dawn if possible, and apply bug spray after you apply your SPF. The gold standard is over-the-counter repellant containing about 10 to 30 percent DEET, says Margaret Fonder, M.D., a dermatologist who practices at Bergen Dermatology Specialists in Ridgewood and Oakland. She says to apply the repellent on exposed areas of skin or clothing and in one light spritz, avoiding the eyes, nose and mouth.
Treat
"Most painful bites can be managed at home with ice packs and over-the-counter pain relievers like ibuprofen or acetaminophen," says Dr. Fonder. Bergen Bites Back recommends washing a bite with soap and water, and, if a bite is particularly itchy, apply an over-the-counter cream like calamine lotion. And it's easier said than done, we know, but try not to scratch!
Seek medical attention after a bite if you feel symptoms like difficulty breathing; lip, tongue, throat or face swelling; lightheadedness; chest pain; racing heart; or vomiting. "Fevers, rashes, headaches, fatigue and body aches following a tick bite also warrant prompt attention by a medical professional," the doc notes.
The good news is we only have a few weeks left of skeeter season, so heed these tips and end summer with a bang, not a bite.
For more bug-beating tips, check out the July 2023 issue of BERGEN magazine and follow us on Instagram @bergenmagnj.