How to Save on Your Vacation
7 ways to make sure a stress-relieving trip doesn't break the bank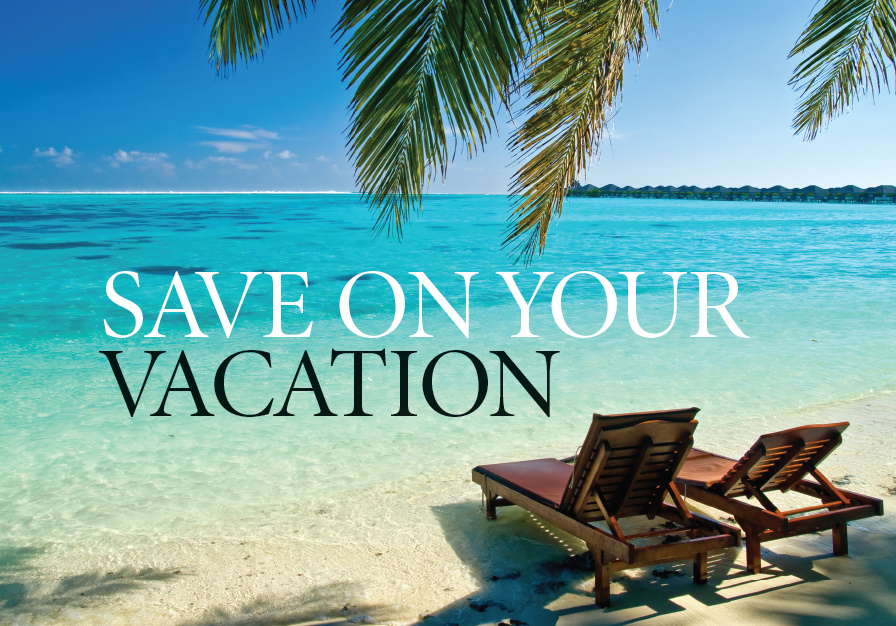 For many of us, summertime is vacation time. But with high gas prices and a still-struggling economy, how do you assure a memorable getaway without undue financial pain?
1 Plan ahead.
"It's the secret to saving when you travel," says Steve Perillo, president of Woodcliff Lakebased Perillo Tours. Unless you're going for last-minute discounts, book transportation at least four months in advance and lodging two months ahead. Happily, anticipating your journey can be part of the fun. A Dutch study of 1,530 adults found that people looking forward to vacations were notably happier than others, while postvacationers returned quickly to ordinary happiness levels.
2 Save ahead.
Ideally, you'll meet ongoing needs likethe mortgage with 50 percent of your income and put 20 percent into long-term saving, leaving 30 percent for things you want, says financial adviser Sarah Beane Ricca of the brokerage firm Morgan Stanley Smith Barney in Paramus. "If you earn $100,000 annually and net $60,000 after deductions, there should be $1,500 a month in your 'want' category —save $500 a month for a year, and there's a $6,000 vacation. If you can't afford that, decide what you can afford." Devise a realistic figure that includes transportation, lodging, meals and a margin for the unexpected— then stick with that figure. It's fine to use a credit card to pay (indeed, it may help you save), but running up a high-interest balance to charge a getaway can add to your stress level, says Ricca. "That defeats the purpose of a relaxing vacation."
3 Look and book online.
The Internet often has good deals, especially if you can be flexible about dates. Check smartertravel. com, lodging sites hotels. com, internethotels.com and tablethotels.com/last minutedeals and airfare sites expedia.com, travelocity. com, priceline.com, orbitz. com and kayak.com. (Note that Southwest Airlines flights usually don't appear on these sites, and this year Expedia and Orbitz dropped American Airlines due to a dispute.)
4 Consider a tour or cruise.
"Tours are efficiently pre-planned, so you waste no time finding your way, renting cars or schlepping luggage," says Perillo. And they can save you at least 25 percent. A day's bus travel on a tour in Europe comes to about $100, he says, while it would cost $750 to hire a car and driver. But Perillo concedes that packaged tours also strip away much of travel's spontaneity and sense of discovery. So decide what kind of trip you crave now. (Ocean cruises can be an exception to the "book early" rule because cruise lines want to fill every cabin. "If you play a lastminute game of 'chicken' with a line," says Perillo, "you may save as much as 50 percent.")
5 Go off-season.
This can save you 30 to 40 percent. Think, for instance, about booking a holiday-time trip to a cold-weather destination right now—and you won't have to worry about crowds. A visit to a European city at Christmas "isn't as popular as you'd think," says Perillo. But it can be enchanting.
6 Be flexible about hotels.
Four- and fivestar hotels tend to be on the outskirts of cities because in-town historical districts ban some structural changes required for the highest ratings. "Choose a three-star hotel instead, and there may not be central air or the Wi-Fi may not work right, but there you are in the heart of Florence!" says Perillo. "You'll not only save, you'll also have a more authentic experience."
7 Rent a villa or condo.
A standard hotel room locks you into restaurant meals, and that tab can really add up, Ricca points out. If you're taking the kids, who may have limited haute-cuisine tastes anyway, why not pick certain nights for well-planned restaurant splurges and cook for the family on other nights? Book a villa rental through a company like Perillo's or a site such as vrbo.com or villasofdistinction.com.