Imperial Fruit: Lychee
This power fruit is a touch of royalty for your table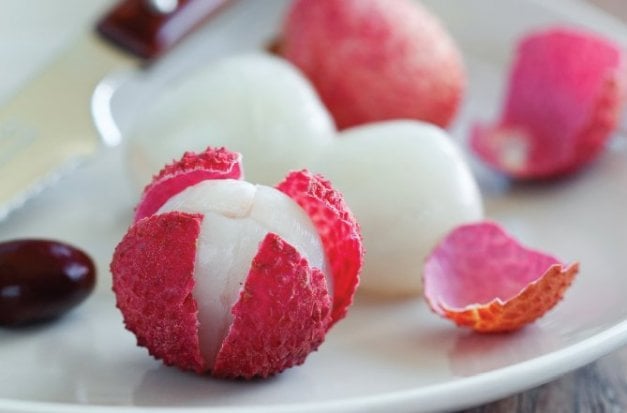 Did You Know?
This exotic fruit may be best known for its modern-day cameo appearance in martinis and cocktails at five-star restaurants, but the lychee (or litchi) has an even more resplendent past. It has logged more than 2,000 years of recorded cultivation since it originated in China. There the fruit was prized by emperors, who would send express horsemen on missions to retrieve it from the south and quickly deliver it to their imperial courts. Growth first spread to neighboring Southeast Asian countries with favorable tropical or subtropical climates, and over the centuries lychee found its way into Burma, India and the West Indies. By the 19th century it was being grown in the greenhouses of England and France before it was introduced to the United States, where it flourished in Hawaii, Florida and California. With a spiny red exterior and sweet, fragrant white fruit inside, lychee still holds court with health benefits that span traditional and modern medicine.
Power
The Chinese believe the seeds have analgesic properties, and the lychee has traditionally been used to treat coughing, swollen glands and neuralgic pain. It has a concentration of antioxidant polyphenols—specifically, cancer-fighting flavonoids—that help protect blood vessels and cells from damage and prevent inflammation. These same antioxidants are also extracted from the lychee for commercial purposes, packaged and sold as anti-aging nutritional supplements said to enhance the skin, boost circulation and reduce fatigue. The lychee also contains a variety of beneficial vitamins and minerals, including copper and vitamin C.
Buy · Store · Grow
The majority of lychee are consumed fresh, but the fruits can be dried and sold as "lychee nuts," which are raisin-like. They're also available peeled and canned. For optimal health benefits, it's best to eat lychee fresh, but due to its propensity for quick deterioration, fresh lychee should be eaten within a few days—it'll usually keep for about three days at room temperature. Choose fruit that has a vibrant pinkish-red color and avoid rinds that appear greenish or brown—meaning they're not ripe or overripe, respectively. A good lychee will feel tender under a pressed finger, but not overly soft. Purchasing from markets is the best option for New Jersey residents—even the greenest of thumbs will likely have trouble growing lychee, as it doesn't do well with heat, frost or high winds.
RECIPE: Lychee & Coriander Snapper
*Courtesy of the Australian Lychee Growers Association
Ingredients:
2 Tbs. olive oil
3 Tbs. roughly chopped coriander
1 tsp. salt
1 tsp. ground pepper
1 tsp. chopped small red chili, finely
chopped with seeds removed
Juice of 1 lime
8 lychees, peeled, deseeded and roughly chopped
Half of a Spanish onion, chopped
4 snapper fillets
Preparation:
Place lychees, olive oil, coriander, salt, ground pepper, onion, chili and lime juice in a large bowl.

Mix thoroughly. Set aside.

Spray hot pan with canola spray or olive oil.

Cook fish for 3–4 minutes, turning once or until cooked. Place fish onto plates and spoon over with the lychee mixture.

Serve.
Related Reads: The Four Foods to Always Buy Organic