'It Had to Be Bergen'
Fox News' Harris Faulkner tells why she loves her adopted county's spirit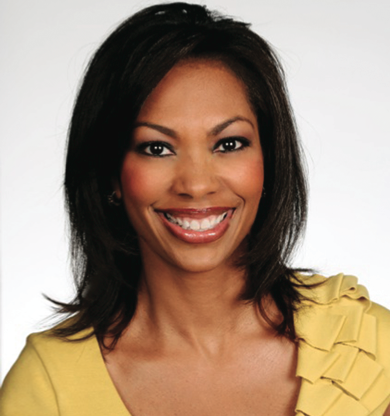 "Promise less. Surprise more." That's Fox News Channel newscaster and Edgewater resident Harris Faulkner's mantra. It's what keeps the 47-year-old wife, mom and host of Fox Report Weekend sane and stress-free.
After all, covering breaking news means she could be called away at a moment's notice. So when she and her husband, 45-year-old media relations pro Tony Berlin, made plans to whisk their daughters—6-year-old Bella and 3-year-old Danika—to Disney World in April, they didn't tell the girls until just days before: "We didn't know if anything might happen," says Faulkner, "so we waited until we were sure." Keeping the secret was hard, but the girls' utter joy was worth it.
Faulkner admits her philosophy was hard won. "I'm a recovering perfectionist," she says. "I'm not focused on being perfect any longer, but I do want excellence in my life. When you have so much to do, you have to pick and choose."
Yet one of the easiest decisions for this former Army brat was choosing where to lay down roots. The couple was living in a riverfront apartment in Weehawken until their family expanded. "When the first baby came along, that wonderful apartment with the view was great. When the second one came, we tried to figure out which one of us would sleep in the car!" she says with a laugh.
The move to Bergen was a no-brainer, Faulkner says: "Whenever we did date night, we'd go to Bergen County." The couple's hot spots include River Palm Terrace in Edgewater and La Fiamma Osteria in Ridgewood, where, she raves, "they've got this dish with sauteed artichokes and chicken. If the dish ever got wiped off the planet, I think I'd have to go with it!"
The family also loves Edgewater's Baumgart's Café, where sesame chicken, sushi and green tea ice cream are their go-to dishes. When the clan wants a change of scenery, says Faulkner, "We'll joke with each other and say, 'let's get out of town. Let's go to the Baumgart's in Englewood!'"
Baumgart's isn't that town's only draw. "I love homey, boutiquey places," says Faulkner. "I could work Dean Street all day long." So don't be surprised if you spot her and mini-fashionista Bella in Marcia's Attic, Reve New York or Pumpkin & Bean.
Cuisine and shopping aside, Faulkner, who participates in the Norwood-based Triple Negative Breast Cancer fundraisers, also loves Bergen's sense of community. "I really saw it come out during Superstorm Sandy. It was amazing, just the togetherness. It made the county feel really small, which was awesome." When their Trader Joe's in Edgewater temporarily shut down because of flood- ing, Bella and Danika made artwork to post on the outside of the building. Turns out, they weren't the only ones. "People from all over the county had left notes saying, 'We can't wait for you to come back,'" says the newscaster.
It's that show of spirit that heartens Faulkner and confirms her conviction that Bergen is the best place to call home. —Maria Lissandrello