It's Snow Excuse
Outdoor fun for winter.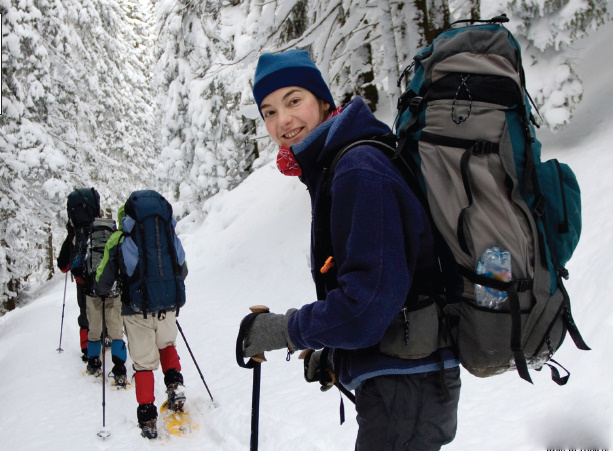 Don't blame that powdery precipitation for hindering your winter workout—use it.
"Snowshoeing is a fantastic way to extend your hiking season into the winter months," says Laura Nulman of REI, an outdoor clothing and gear store that just opened a location at the Bergen Town Center in Paramus (201.226.1560, rei.com).
"It's inexpensive, accessible and easy to learn—and just like a good hike, snowshoeing is a great aerobic workout." In fact, snowshoeing is estimated to burn about 45 percent more calories than walking or running when done at the same pace on the same terrain. Conveniently, REI members (cost to join: $20) can rent snowshoes for $20 the first day, $5 for each additional day. "Trekking poles, which are super helpful for keeping balance while snowshoeing, rent for $5 the first day and $2 for each additional day," Nulman says. "But since they can be used the rest of the year for hiking as well, buying them may be the better investment."
For happy trails, Nulman recommends checking out beginner hiking routes at Ramapo Valley County Reservation, Ringwood State Park and Sterling Forest State Park. The REI Outdoor School offers snowshoeing classes; to learn more, visit rei.com/outdoorschool.
FIND A PLACE TO SNOWSHOE: