Just desserts
Want to eat healthy, but reluctant to skip dessert? Fear not—these tasty recipes that a trio of local chefs shared with Bergen Health & Life will satisfy your sweet tooth without derailing your diet.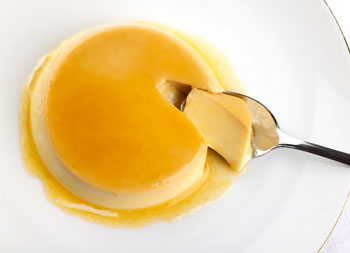 CHEF CESAR SOTOMAYOR
Village Green Restaurant, Ridgewood
PANNA COTTA
serves 5 to 7
5 sheets of gelatin 4 cups heavy cream 1 cup granulated sugar 1 vanilla bean 2 cups buttermilk
Soften the sheets of gelatin in cold water for 5 to 7 minutes.
In a saucepan, combine cream, sugar and the vanilla bean; bring to a boil, then remove from heat.
Place buttermilk in a bowl. Squeeze out the gelatin and add it to the buttermilk.
Slowly add the hot cream mixture to the buttermilk and stir until dissolved.
Pour mixture into a large mold and chill overnight.
CHEF SHOUKEY
Harvest Bistro & Bar, Closter
ROASTED PEACHES STUFFED WITH APRICOT
Serves 6
FOR THE SUGAR SYRUP:
1 pound sugar 1 pint water 1 vanilla bean
Put the sugar in a pot on the stove with the vanilla bean and 3⁄4 of the water. Bring to a boil and stir (will start to "caramelize") until color changes to light brown.
While stirring, add remaining water, cook for 40 seconds and turn off heat.
FOR THE APRICOT STUFFING:
8 ounces dried apricots 1 cup sugar syrup (described above) 1 tablespoon butter 1⁄4 cup apricot brandy Pinch of salt Small bunch of thyme, chopped
Heat apricots in hot water until soft, approximately 10 minutes.
Strain and slice the apricots, then add remaining ingredients.
Cook over medium heat for 5 to 6 minutes; turn off heat and set aside.
FOR THE PEACHES:
6 peaches 1 cup sugar syrup (described above) 1 tablespoon butter
Cut peaches in half. Remove the pit and discard, then peel the peaches (save the skins).
Place peaches into simmering water for 5 to 6 minutes.
Remove peaches and set them into an ice bath (a large bowl with water and ice).
In a pan on medium heat, add sugar syrup and butter.
Rest the peaches in the saucepan and cook for 3 to 4 minutes. Remove and place the peaches in a hotel pan covered with aluminum foil.
FOR THE PEACH SAUCE:
Skins of 6 peaches 2 cups peach Schnapps or peach juice
On low heat, cook the Schnapps/juice and skins over low heat until the mixture begins to boil.
Once it reaches a boil, turn off the burner, blend the mixture with a hand blender and strain.
PLATING:
On a plate, place half of a peach and fill with 1 tablespoon apricot filling. Cover with the other peach half.
Drizzle with 2 tablespoons peach sauce. Serve with a scoop of vanilla ice cream.
CHEF HANS EGG
Saddle River Inn, Saddle River
STRAWBERRY SORBET
Serves 6 to 8
1 cup simple syrup (described below) 2 pints ripe strawberries 2 tablespoons Grand Marnier
To make the simple syrup, combine equal amounts water and sugar in a heavy-bottomed saucepan and bring to a boil over medium heat. Allow all sugar crystals to dissolve completely. Remove from heat and let cool.
Puree the strawberries using a food processor or blender.
Add the simple syrup and Grand Marnier and blend until well combined.
In an ice cream maker, spin the mixture according machine's directions until smooth and creamy. (If you do not have an ice-cream maker, mix all the ingredients in a blender until smooth, then place in an airtight con- tainer in the freezer until firm.)
Store in the freezer in an airtight container until ready to use. • Serve over sliced bananas or man- goes if desired.