KettleMANIA
Channel your inner strongman with kettlebells- old-school weights that yield big-time results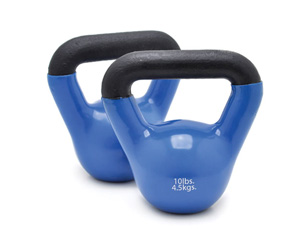 What they are
Kettlebells are large hunks of cast iron, each with a thick handle. Perhaps the ultimate retro fitness rage, they were originally used by 18th-century Russian bodybuilders-and kitsch lovers may recognize them as the quintessential "old-time" weights seen in strongman photos of yore.
Why the resurgence? In a nutshell: They're effective and efficient. "You can get a great workout in just 20 minutes," says personal trainer and certified kettlebell instructor Joe Walker, owner of Rethink Fitness in Franklin Lakes. "And since the moves combine cardio with strength training, you kill two birds with one stone."
Then there's the fun factor: Many kettlebell exercises involve swinging the weights around your body-moves that are way more enjoyable than simply pounding the treadmill or curling a barbell.
What they work
Arms, abs, legs, glutes-and everything in between. "Kettlebells really provide a total-body exercise, toes to fingertips," says Walker. "The exercises help you build a nice, strong core and lower back, which helps if you suffer from low-back pain."
Kettlebells can up the intensity of traditional strength-training moves like curls or presses. That's because, unlike with dumbbells and barbells, the weight is centered a few inches below the handle, making your body work harder to control it.
But it's not all about the brute force: Because the weights are so compact, you can swing them between your legs, over your head or around your torso. "You could never swing a barbell between your legs," notes Walker, "and if you tried it with dumbbell, you'd likely smash your legs with it." The result is a workout that combines strength, velocity, dexterity and concentration.
"Because there's so much going on, kettlebells help improve coordination and enhance flexibility in your hips and shoulders," Walker adds.
Wyckoff resident Brian Ravettine, 40, takes 1-hour kettlebell lessons twice a week, and has noticed significant results: "I just don't have the time to spend two or three hours in the gym," he says. "Kettlebells give me a full-body workout, and my core is so much stronger now.
They're also not as taxing on my joints as loading weights onto a bar."
Another plus: According to a study conducted by the American Council on Exercise and researchers from the University of Wisconsin, a typical kettlebell workout can burn a whopping 20 calories per minute.
How to use 'em
You can start slow with traditional strength-training moves like overhead presses and bent-over rows. But the real fun comes from swinging these babies around.
Fittingly, a favorite move is the two-handed kettlebell swing:
Stand about a foot behind the kettlebell with your legs shoulder-width apart.
Squat down a bit and grab the bell with both hands.
Keeping your weight on your heels, abs tight and back straight, swing the weight backward between your legs past your hips, then stand up and swing it forward to eye level, driving your hips forward.
Repeat 15 to 20 times.
For the tactical lunge, stand up straight holding the kettlebell in your right hand. Take a step, placing your left leg back into a lunge position, then pass the weight between your legs to your left hand. Return to starting position and repeat on the opposite side, aiming for 10 reps.
Other moves involve punching your arm overhead, letting the bell rotate around your wrist. Because proper form can be a tricky thing with kettlebells, it's a good idea to seek out professional instruction to avoid injury. And as with any exercise, get your doctor's OK before starting.
Put the kettle on …
Local gyms offering kettlebell instruction
Rethink Fitness, Franklin Lakes (201-891-0800, www.rethinkfitness.net): Offers 1-hour group sessions ($35/class; $259 for one month of classes, three days a week), and private 1-hour personal training sessions ($65 to $85/session)
The Gym, Englewood (201-567-9399, www.gettothegym.com), Montvale (201-802-9399): Offers 1-hour kettlebell personal training sessions ($70/session; $65/session for a package of six; $60/session for a package of 12)
Westwood Health and Fitness, Westwood (201-666-3800, www.gowestwood.com): Incorporates kettlebell training into various group classes. (Classes included in gym membership fee; $15 for a day pass, $69 for one-month membership, $49/month for one-year membership)