LANDSCAPE ARTIST
THIS PRO HELPS PEOPLE TURN THEIR BACKYARD DREAMS INTO REALITY,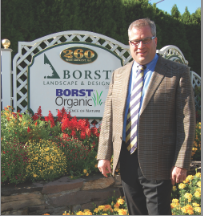 FOR MARK BORST OF BORST
Landscape & Design, a lifelong love of the outdoors and nature has translated into a blossoming career. "As a kid, I always loved being outside," says Borst, who grew up in Midland Park. In high school, he started his own landscaping business while squeezing in his two favorite sports: cross-country running and basketball. After graduating from Eastern Christian School in North Haledon, Borst earned degrees in landscape architecture and ornamental horticulture at Rutgers University's Cook College. He sat down with Bergen Health & Life to talk shop:
I UNDERSTAND YOU MOVED YOUR BUSINESS FROM WYCKOFF TO ALLENDALE IN 2002.
Yes. It began in Wyckoff in 1993, and for some time we were able to grow in our space there. But in 1999 the land was sold to residential developers. We chose our space on West Crescent Avenue in Allendale because there was lots of land available there, and we love the visibility of being on a main road. Allendale has been good to us. WHAT MAKES BORST DIFFERENT FROM OTHER LANDSCAPING FIRMS? We design every space as an outdoor room, keeping in mind the way our clients live and play outdoors. We take time to understand what they need and want, and consider the pool, patio, outdoor kitchen, cabana —everything people need to make the most of their outdoor living space. Maybe it's extra room for a volleyball court or a lot of privacy for their pool area.
HOW DO YOU SERVE AS A "ONE-STOP SHOP"?
We do much more than landscaping, offering garden design and maintenance, organic lawn care, seasonal decorating, landscape installation, outdoor lighting and tree and shrub care. We're also known for our use of color. Our designs for soft, natural landscapes and plantings keep colors flowing throughout the sea- son, from early-blooming spring plants like pansies through the summer with annual flowers, then featuring plants like flowering kale in the fall. We can even continue the outdoor designing into the holidays with lights and decorations.
WHAT'S YOUR FAVORITE PART OF WHAT YOU DO?
Design. I've always loved the way you can take a space of land and create some- thing completely different. One of my favorite projects was a small property in Ridgewood. We didn't have a lot of land to work with, and the space was pretty plain. In the end, we transformed it into a lush, colorful, beautiful area that the home- owners truly cherished.
TELL ME ABOUT YOUR PHILOSOPHY OF ORGANIC LANDSCAPING.
Our goal is always to concentrate on the health of the soil. Healthy soil fights off pests and diseases, so there's less reason to use chemicals. Many of our clients request "green" lawn care service, so we developed an environmentally friendly, private-label product line as well as natural treatment methods that improve disease resistance, increase stress tolerance and maintain healthy growing conditions.
HOW DO YOU GIVE BACK TO THE COMMUNITY?
I help the Eagle Scouts with outdoor projects, such as community gardens in Allendale and Wyckoff. I also volunteer as chairman of the Shade Tree Commission in Wyckoff. The company participates in Allendale Day and helps design streetscape plantings downtown as part of the Allendale Chamber of Commerce Streetscape Revitalization Project.
WHAT'S YOUR OWN BACKYARD DOWNTIME LIKE?
That's easy. I work a lot, so when I have time, I love to just sit back and enjoy the view! —LISA DAWSON