Lebanese if you please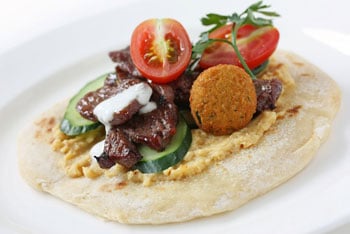 "We make food from our hearts and treat customers like they are guests in our home," says Lebanese native Bennie Hamade, chef-owner of the colorful Bennies in Englewood (201-894-5700, www.benniesofenglewood.com).
Specializing in traditional Lebanese dishes made with healthy, all-natural ingredients, the cozy eatery offers such delights as homemade hummus; baba ghanoush; tabouli; and grilled lamb kebobs served with veggies and rice pilaf—not to mention bright, festive Middle Eastern décor.
Raised in a village outside of Beirut, Hamade learned to cook from his parents, who came to the U.S. in the 1970s. Prior to opening in Bergen, Hamade and his family ran eight Bennies restaurants in Manhattan in the '80s and '90s. When escalating rents made it difficult to remain in the city, Hamade closed those restaurants and relocated to Englewood 12 years ago.
Today, customers appreciate Hamade's commitment to fresh fare. "I never use heavy stuff my cooking—only simple things like olive oil, a little bit of lemon juice, a little salt," he says. "The food speaks for itself."