Let's Party!
Good friends, good food and a great new house add up to a magical holiday bash.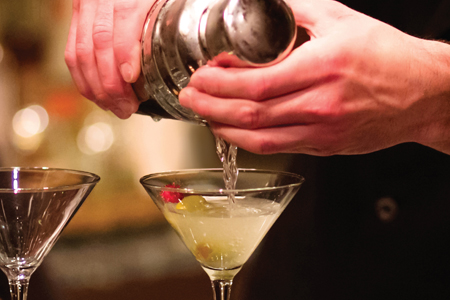 On the Upper West Side, everyone wore ugly sweaters. That is, at least once a year, when Andrea and David Hekemian hosted their annual holiday party with a dress code that called for oversized kitschy knitwear. But since the power couple traded their New York City apartment for a sprawling home in the suburbs two years ago, they've upped the ante for the festive gathering they throw each December. The crowd hasn't changed—Andrea and David's friends since childhood look forward to the event each year—but the move to New Jersey inspired a more elegant, grownup affair. So one chilly evening last December, while the Hekemians' baby slept upstairs, women wearing cocktail dresses and gentlemen sporting bow ties gathered to kick off the holiday season in style.
This was the family's second holiday season in the Garden State. But 2011's formal black-tie affair, while successful, had lacked the easy, comfortable vibe of those cozy Manhattan get-togethers. This time, the challenge was to fill the new house with the old fun.
As the Hekemian home came into view from the driveway, partygoers were greeted by a festive display. Trees festooned with ribbons of white lights sparkled across the grounds leading up to the entrance. The guests passed through the carved wooden doors and into the foyer to encounter a grandiose Christmas tree reaching toward the ceiling. Its branches were adorned with ornaments that, like the friends, were old and dear—both Andrea and David built collections starting as young children. Lily, their black French bulldog, happily trotted through the halls, sniffing and greeting all who arrived.
Trays of hors d'oeuvres and cocktails floated through the crowd as clusters of women engaged in long, intimate conversations or danced to the traditional Christmas music that filled the house. Later, finding their partners was simply a matter of tracing the sweet scent of lit cigars through the couple's cozy den to the backyard. There the guys had gathered around a fire pit, talking business and drinking scotch. Throughout the early evening, guests enjoyed nibbling mini grilled cheese appetizers and kicking back tomato soup shots that were as delicious as they were playful—this was a Hekemian party, after all.
While planning this event, Andrea knew that to create the regal-yet-relaxed ambience she envisioned, she would need to delegate some of the responsibility. So she contracted David Cafasso Jr. of Cafasso's Fairway Market in Fort Lee to create a menu and manage the catering.
Cafasso delivered, with a stunning selection of food stations that were appropriately seasonal. The raw bar—overflowing with crab legs, shrimp, clams and oysters—boasted vivacious red and white colors, while nearby the scent of roasted lamb drew guests to the buffet, which also featured pasta with truffles and a fine cheese and meat selection. Decadent desserts, including a chocolate fountain, served as an irresistible indulgence. "Lately, everyone's been focused on trying to do something different," says Cafasso, "but I think it's best to stick with comfort food and home-style holiday dishes that people are used to. That's what the holidays are for."
Regular attendees of the Hekemian party found the new venue and theme to be a welcome change. "Surprisingly, the larger space made for a more intimate setting than in the New York years," says guest Meredith McBride Kipp, a longtime friend of Andrea's. "The 'ugly sweater' parties were cozy and warm, but the new space allowed people to gather into nooks and have evening-long intimate discussions."
Andrea agrees. She feels she reached a happy medium with this past year's party, which will set the tone for future events. "It's so much better now," she says. "We have room for a Christmas tree, so we can create a much more festive atmosphere to bring our friends and family together. It's great to be in the suburbs."
WRITTEN BY LIZ DONOVAN · PHOTOGRAPHY BY ROB AUGUST
Party Planning Tips
Get culinarily creative: A raw bar or a charcuterie station can be a double delight, feeding your guests while offering a visually pleasing burst of holiday reds and whites.
Think outside the box: Decorate trees or shrubbery that can be seen indoors through windows with twinkling lights. It subtly adds dimension to your décor.
Pick a theme: Whether it's a formal black-tie event or a more eccentric "ugly sweater" party, a specific theme adds excitement to a holiday party and makes it more memorable. Just don't forget to include the dress code on your invitations.