Linzer Heart Cookies
From Baking with the Cake Boss (Free Press)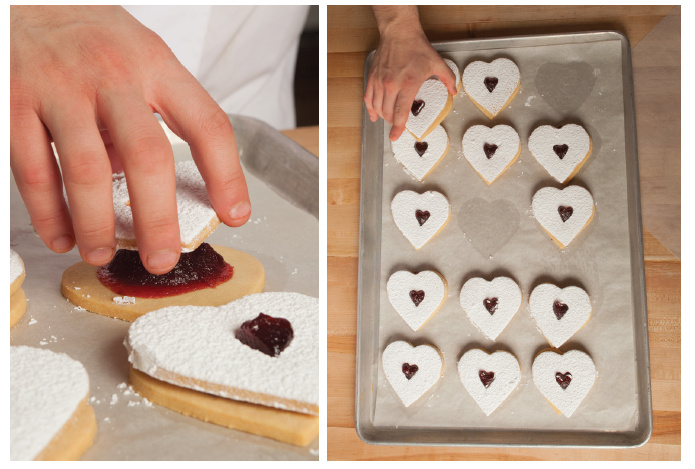 Ingredients
1¾ cups vegetable shortening (such as Crisco)
½ cup granulated sugar
½ tsp. salt
½ tsp. baking powder
½ tsp. pure vanilla extract
½ tsp. freshly squeezed lemon juice
¼ cup cold water
2 extra-large eggs
1 cup all-purpose flour, plus more for
flouring your work surface
3 cups pastry flour
Heaping cup of raspberry jam
½ cup powdered (10X) sugar
1 large heart cookie cutter
1 small heart cookie cutter
Preparation
Position a rack in the center of the oven and preheat to 350° F.
Put the shortening, granulated sugar, salt, baking powder, vanilla and lemon juice in the bowl of a stand mixer fitted with the paddle. (You can use a hand mixer if you allow the shortening to soften at room temperature before beginning.) Start on slow speed, then increase to medium to get out all lumps, about 2 minutes. With the motor running, add the water slowly. Add the eggs one at a time, paddling for 1 minute after each egg. Stop and scrape. Add the all-purpose and pastry flours. Restart the mixer slowly and blend just until the flours are absorbed and the mixture is free of lumps, 2 to 3 minutes.
Flour your work surface generously. Divide the dough into two equal pieces and roll half out to a rectangle about 20˝ by 15˝ and ¼˝ thick. Cut 15 4˝ hearts with the large heart cookie cutter. Punch 1˝ hearts in the center with the small heart cookie cutter.
Return any scraps to the bowl with the remaining dough and briefly knead together. Roll the dough from the bowl out to form a rectangle about 20˝ by 15˝ and ¼˝ thick. Cut 15 4˝ hearts with the same large heart cookie cutter you used in step 3.
Line two cookie sheets with parchment paper, using nonstick spray or a dab of butter in each corner to glue the paper in place. Arrange the hearts on the sheets. Bake in batches until the edges are golden-brown and the cookies are firm to the touch, 10 to 12 minutes. Remove the cookie sheets from the oven. As soon as the cookies can be moved, use a spatula to transfer them to a rack and let them cool.
Spread the bottom cookies (the ones with no holes in the center) with raspberry jam.
Sprinkle powdered sugar over the tops (the ones with the holes), then apply one top to each jam-covered base. (Sprinkling the sugar on the tops before affixing them to the cookies ensures the sugar will stay off the jam.) The cookies may be enjoyed right away or kept in an airtight container at room temperature for up to 3 days. These are also delicious with the chocolate-hazelnut spread Nutella instead of jam. Note: You may replace the pastry flour with all-purpose flour, but you will lose some elasticity.
Related Read: Chocolate Brownie Custard