Local Mayor Turned Chopped Champion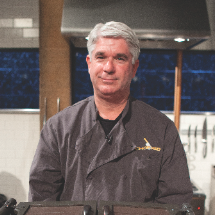 Wyckoff residents who follow Food Network's cooking competition Chopped may have noticed a familiar face on an episode earlier this year—their committeeman and former mayor Kevin Rooney. Rooney beat out thousands of applicants for a chance to be one of the four amateur chefs competing for a $10,000 prize. The show begins with four contestants and comprises three rounds: appetizer, entrée and dessert. At the beginning of each round, the chefs are given a basket of four ingredients, all of which must be incorporated into the dish they create. After each round, a panel of food experts judges the dishes and eliminates one chef. At the end of his episode, Rooney was the last chef standing. Here he tells Bergen Health & Life about his experience: What was the casting process like? One of my three daughters submit- ted an application for me in August 2011 without my knowing. A month and a half later, I got a phone call from the producers and we did a few phone interviews. In February 2012, they asked to come to my home to film a short segment that would be used in the beginning of the show if I were chosen. But the township committee had just approved an ordinance I introduced as mayor that prohibited filming in the town unless you paid for a permit. So to avoid going against my own ordinance, we had to shoot at another location outside of Wyckoff.
Can you give us an idea what it's like on set? The first thing they did was take away our cell phones. Before cooking the first round, we had a few minutes to see the stations, the pantry and the fridge. Then we started the appetizer round. We had literally 20 minutes to cook and not a second more, and there were several cameras in my face. When the time was up, we were taken to a back room until it was time to meet the judges to present our dishes.
How are you planning to spend the $10,000 reward? The money was donated to a charity—and that was my intent from the onset. I feel if you're successful in life, you should
be willing to give back.