Love at First Bite
To dine in Spain's capital is to dive into a wonderland of foods and flavors. You need to visit its wonderfully civilized capital. And if you're smart, you'll arrive hungry: your favorite Madrid Meal may be in a place you discover for yourself.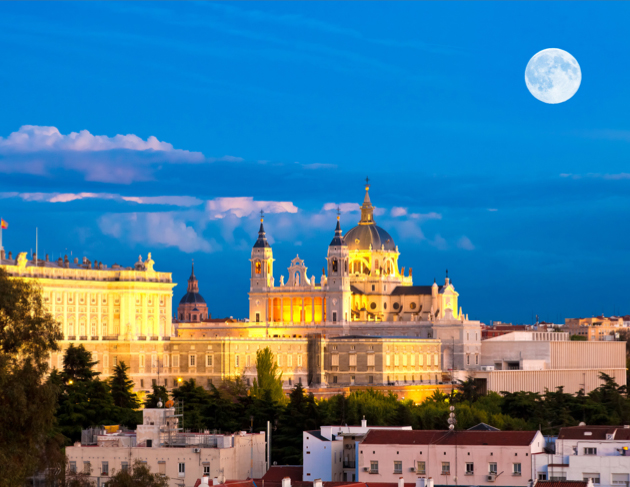 What was I thinking, claiming I'd seen Spain? Sure, it was fantastic on the fun-loving Costa del Sol, and my visit to hip Barcelona had been a delight. But to really know this country, I now realize, you need to visit its wonderfully civilized capital. And if you're smart, you'll arrive hungry.
I knew about churros, Spanish fried-dough pastries, and montecados, those famous addictive almond cookies. And I'd tasted jamón Ibérico, the distinctive cured ham from southern Spain. But until I arrived I had no notion of how much Madrileños love their food. Despite the anemic economic growth we read about, this is one town that assuredly knows how to dine.
I did more than just eat, of course. Madrid has been Spain's capital since 1561, and I could see the centuries go by on its strollable streets. In the heart of the city there's the imposing Plaza Mayor, built in the 1600s and rebuilt in 1790, and Puerta del Sol, with a clock whose bells toll each New Year's Eve to mark the eating of the "12 grapes of luck." Another don't-miss is the cathedral-like Palacio de Cibeles, built in 1909 and now serving as the city hall.
For the art-minded, Madrid has CaixaForum, just a few years old and boasting a large green "vertical garden"; the world-famous Museo del Prado, with masterpieces by Goya, Rubens and Titian; and the Reina Sofía, where Picasso's famous Guernica hangs out. (But did you know it was painted in Paris?)
Begin your culinary adventure as a guest at the Villa Magna, a five-star hotel that under-went a $65 million-plus face-lift four years ago. It's set in the heart of Salamanca, the city's shopping district. While the blend of Louis XVI furniture, Bauhaus influences and Chinese and Portuguese accents creates a visual feast, it's the service here that really stands out. With head concierge Manuel Pizarro at the helm, guests are made to feel that the staff really knows them. Perhaps that's why Madonna, Gwyneth Paltrow, Hugh Jackman and Leo DiCaprio choose to hang their hats here.
At dinnertime, enjoy Restaurante Villa Magna, presided over by Michelin star-winning chef Rodrigo de la Calle. While working at another Madrid eatery, La Taula, de la Calle met botanist Santiago Orts, director of the botanical garden El Huerto del Cura, and embraced gastrobotanics. The concept is simple: he's passionate about pro-duce and champions undervalued vegetables and fruits, such as fresh dates. And he respects the growing cycle of each.
Says the chef: "People have come to expect to eat tomatoes yearround, but if you want them to have flavor it simply can't be done." So at the Restaurante Villa Magna expect to eat what's in season—lots of asparagus, for instance, from April until June. Standout dishes include grilled cod in Basque sauce with chanterelles and cruciferous couscous; and free-range chicken, mushroom extract and chicken paté. Another fine dining optionin the hotel, Tse Yang, said to be favored by the Spanish royal family, offers delicious dumplings and specialties such as pigeon in coriander.
Beyond the Villa Magna, one recommendation is Catalan master chef Sergi Arola's Vi Cool, a bar-style space in the city's literary quarter. The Michelin-starred chef is known for his gourmet burgers (yes, burgers) and traditional cocas, a Catalonian-style pizza cooked in a coal-fired oven, with smoked tuna, roasted vegetables, quail eggs and more on top. The "Vi" refers to an extensive wine list with some 30 local varieties.
Another must-try is Juanjo López Bedmar's Cien Llaves, which means "the hundred keys," located in the Palacio de Linares. Here you'll enjoy wonderful stews, fish and great octopus glazed with red peppers and anchovies. And to shop and eat like the locals, head to Mercado de San Antón in the Chueca neighborhood.
It's not difficult to try many different dishes, of course, because of Madrileños' love of tapas, which are akin to a tasting menu. The trick is to try one tapa here, another there. Some traditional tapas to sample in the city—tortilla Española, or omelet (not to be confused with the Spanish omelet on every diner menu in america!), croquetas (croquettes), bacalo (salt cod), gambas al ajillo (prawns with garlic) and boquerones fri- tos (fried anchovies). And if you want to be a real Madrileño, consider sipping vermouth with your tapas. Some cafes even have it on tap!
Your favorite Madrid Meal may be in a place you discover for yourself. Around every corner, there are more surprises—and more to learn. I am too wise now ever to say I know Madrid. But I'm certainly glad I've had a taste of it.