Makeover Challenge Update
See what Jacqueline and Christine Dattoli have been up to on their four-month challenge of improving their health from the inside out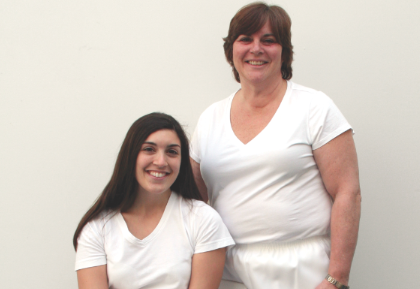 Jacqueline Dattoli 

age: 25 · height: 5 ́4 ̋ · starting weight: 144 · pounds lost: 6
 "I've realized that small changes, like drinking more water and planning meals, are huge. Everything I learn, I share with my family and friends."
Christine Dattoli 

age: 56 · height: 5 ́4 ̋ · starting weight: 193 · pounds lost: 10 "The whole experience has been an eye-opener. I think everybody deserves the opportunity to look and feel rejuvenated!"
The Challenge In May, we selected Jacqueline and Christine Dattoli to take on the four-month challenge of improving their health from the inside out with the help of our expert advisory panel. Here's a bit of what they've been up to:
Fitness "Jackie works like a horse and has lost inches in her hips, thighs, chest and arms," says trainer Ellen Babajko of Ethos Fitness & Spa. As for Christine, "We're working the whole body, with weights, machines and cardio," says trainer Carlos Mirabal.
Dentistry "I gave Christine full-mouth porcelain veneers for a completely youthful oral appearance," says Albert Kurpis, D.D.S., of the Kurpis Center for Advanced Dentistry. "I re-contoured Jackie's central incisors and canines to be in proportion with her facial structure. Minor adjustment, big difference!"
Face Time H. William Song, M.D., of Omni Aesthetics erased small capillaries on Jackie's face with intense pulses of light. Christine's spider veins were removed, and she is receiving an advanced skin-tightening treatment for under her chin.
Stay tuned for their 
big "after" reveal in the Oct./Nov. issue!