Maria's Yiaourti Kotopoulo
Here's Maria Loi's easy recipe for succulent chicken.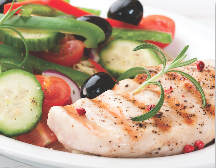 Ingredients:
2 lbs. boneless chicken breasts, skin off
1 cup greek yogurt

2 tbs. lemon juice

1 tbs. mustard
salt and pepper to taste
Preparation:
In a bowl, combine the yogurt, lemon juice, mustard and a pinch of salt and pepper. Coat the chicken breasts in the mixture, and let them marinate overnight.
The next day, wipe the marinade off the chicken breasts, season with salt and pepper, and grill
 for 4–6 minutes per side, or until cooked. Let the chicken rest for 3 minutes, serve and enjoy!
For a delicious sauce to complement the chicken, make a second batch of the marinade, add some chopped parsley and dill, stir to combine.