Michael Scherl, M.D. James Lee, M.D.
Northern Valley ENT & Innovative Hearing Solutions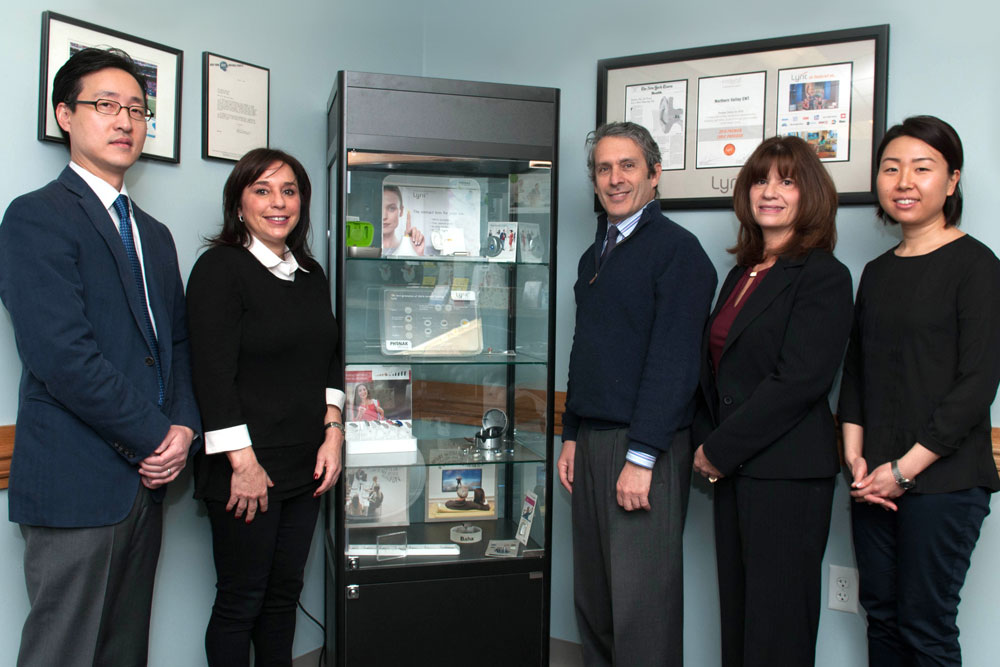 AT NORTHERN VALLEY ENT and Innovative Hearing Solutions, our team of Otolaryngologists and Audiologists have worked together treating hearing loss for over 30 years. Our team includes Dr. Michael Scherl, Dr. James Lee, Dr. Donna Szabo, Dr. Lori Roses and Dr. Esther Park, who each work closely with patients and their families to address their hearing needs. Patients with hearing loss are medically evaluated by the Otolaryngologists. Dr. Scherl and Dr. Lee can thoroughly address hearing-related symptoms and discuss the medical treatment options.
It's important for patients to know that not every complaint of hearing loss requires, or is best served, with a hearing aid. The Audiologists at Northern Valley ENT and Hearing Solutions are highly skilled in treating hearing loss and well versed in the latest technologies. Our practice specializes in non-surgical invisible hearing implant solutions. These tiny, invisible hearing aids, called the Lyric, are specifically programmed to match each patient's hearing loss. Lyric hearing aids are easily inserted into the ear canal and remain in place for a few months. This "no hassle hearing aid" is a successful option for elderly patients with dexterity issues. Lyric is also an invisible option for younger patients who are concerned with the stigma attached to wearing a visible hearing aid. We also offer rechargeable hearing aids and all other hearing aid types. Our team provides patients with the ultimate care and newest solutions for hearing loss.
Dr. Scherl is board certified in Otolaryngology—Head and Neck Surgery and a Fellow of the American Academy of Otolaryngology among his many esteemed achievements, appointments and memberships. Dr. Lee is double board certified by the American Board of Facial Plastic and Reconstructive Surgery and the American Board of Otolaryngology—Head and Neck Surgery, and a Fellow of the American College of Surgeons. Dr. Szabo, Dr. Roses and Dr. Park are licensed Audiologists, hearing aid dispensers and members of The American Academy of Audiology.
Westwood: 354 Old Hook Rd., Ste. 204, Westwood, NJ 07675 • 201.666.8787
Englewood: 163 Engle St., Ste. 1B, Englewood, NJ 07631 • 201.569.6789
northernvalleyent.com • innovativehearingsolutions.com • 201.312.6000