Mother/Daughter 2013 Online Journals: Week One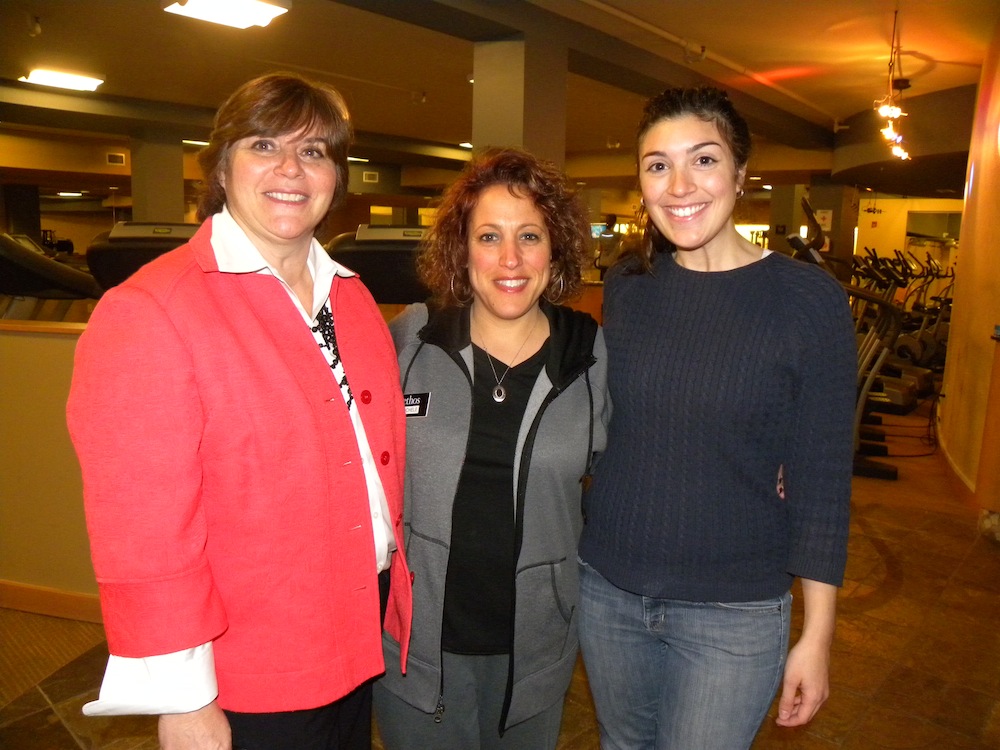 Photo: Christine, Michele Aluoto, and Jacqueline
Christine's Day 1 Journal
I received the thrilling news that my daughter Jacqueline and I were the winners of the 2013 Mother Daughter Makeover Challenge. What I would like to share with you is that I am fortunate to have 3 other wonderful daughters who are all thrilled to see us off on our Makeover Journey. They will follow us closely to take advantage of all the knowledge, health and fitness tips that we learn along the way.
THE PHOTO SHOOT
Greeted at the Wainscot Media Office- the Home of Bergen Health and Life by Art Director Meredith McBride Kipp, we quickly begin one of the most difficult events of the makeover… the dreaded BEFORE SHOTS. I must tell that I am more comfortable in my camouflage colors of black pants, and black shirt that hides all the areas of my body that I don't like to focus on, than wearing white. All during the dreaded shoot where you ask yourself "when did I get so old and what happened to my body?", I was thinking of how wonderful it is to know that my daughter's kind words about me is giving me an opportunity to recapture my healthy self again and to maintain it when I get there.
As we leave the shoot Jennifer Vreeland the Editor in Chief gives us our list of the Makeover Advisory Board Contacts. With well wishes she sends us on our way to schedule our appointments to begin our transformation.
Jacqueline's Day 1 Journal
Let me first start up by saying that we were in total shock to be selected. It is such an amazing opportunity to be the Mother/ Daughter team, and I know my mom and I are so excited to have this experience and to share it together.
Yesterday, my Mom and I had our "before" photo shoot to capture our before look! It was a bit awkward to have a photos taken, but we couldn't be more excited to meet all the people that will help make the "after" photo shoot fantastic. This up coming week we have planed to meet with Deb and Michelle at Ethos in Midland Park. I am looking forward to feel and looking better!
Christine's Week 1 Journal
3/25/13 We arrive at the Ethos Fitness and Spa, I have been to the Midland Park Shopping Center at least 50 times never realizing that an oasis of services to pamper your mind and body was right smack in the middle of that shopping center. Jacqueline and I walk down the staircase to a very tranquil lounge and are instantly greeted. Debra Regan the General Manager welcomes us to Ethos and introduces us to Michele Aluotto, the Membership Associate. Sitting in the lounge we hear about the all the services that Ethos offers for its members. When asked what my fitness goals were, I answered that I hoped to lose weight, gain flexibility, and to increase my energy. We toured the facility, it was beautiful, the equipment was all state of the art and meticulously clean. We toured the women's lounge and it had every imaginable need to transform from workout weary to back to work freshness. We concluded our tour in the SPA facility which was extremely inviting and very tranquil. I look forward to trying a few of the SPA treatments to rejuvenate and recharge my body.
3/26/13 – Back to the Ethos Fitness and Spa to meet my Personal Trainer Carlos. Again I have to face the reality that my physical health is being accessed. Weight, and measurements of my arm, legs, waist, this is truly difficult. To the treadmill we go to further test my Oxygen level intake ( I had no idea there was such a scientific approach to fitness). Carlos takes all this information and inputs the data into the computer which will ultimately track my fitness progress. Next time we meet, its workout time.
3/27/13 – Our first meeting with our Life Coach Renee Marie, the founder of Ethereal Health and Wellness. I learned that this facility just opened in December, and it is lovely. As you open the door to Etheral the soothing fountain flowing immediately brings you to a sense of calmness. Renee is gracious as she introduces us to her staff and takes us on a tour of her facility. Renee is a fountain of information and I am looking forward to benefiting from the services that are offered at Ethereal Health and Wellness to modify my lifestyle and health habits to help in my transformation to regaining a healthier me and to maintain the end results when I get there.
3/28/13 – Busy morning for us at Ethos, we met with Stephanie Byers, the resident nutritionist at Ethos. It was the most incredibly informative hour regarding nutrition and the impact on my health that I have ever had the opportunity to experience. I just wanted to download all the information that was coming out of her mouth to my brain!! I am so looking forward to having her guide us as I make modifications to what I put in my refrigerator and pantry closet but most importantly, what I choose to eat and what time of day to eat at. I can't wait for our next meeting with Stephanie. I think that the knowledge she offers will make a great impact on my health as well as everyone in my family.
1st Work out with Carlos- It feels great to start working out. Carlos spent most of the session teaching me how to use the equipment and explained what areas of my body that these machines will focus on. It was a great education and I am looking forward to each new lesson.
Photo: with Nutritionist Stephanie Byrne