Old-School Spirits
You'll be the toast of the town when you serve up these vintage cocktails!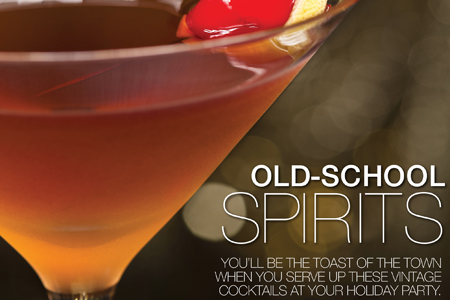 The history of vintage drinks is rich indeed. Some of the recipes—the Manhattan, for example—date to the 19th century. The cocktails here are among the favorites of Michelin three-star mixologist Brian Van Flandern. Bottoms up!
Manhattan
2 oz. whiskey
1 oz. sweet Italian vermouth
2 dashes Angostura bitters
Pour all ingredients over ice in a mixing glass and stir as you would a martini. Strain into a chilled cocktail glass. Garnish with a cherry or, if using dry vermouth, a twist.
Gimlet
2½ oz. gin
¾ oz. fresh lime juice
1 oz. simple syrup
Shake all ingredients well with ice and strain into a chilled martini glass, or serve over ice in an old fashioned glass. Garnish with lime wedge.
Dry Martini
1½ oz. dry gin
Dash of dry French vermouth
Shake all ingredients with ice to chill. Garnish with an orange peel, lemon peel or olives.
Sazerac
dash Peychaud's bitters
2 oz. rye whiskey
Splash of Herbsaint or other absinthe substitute
½ oz. simple syrup or one sugar cube and a tiny
splash of water
Take 2 rocks glasses. Chill one while preparing the drink in the other. Splash the Herbsaint into the second glass and swirl it, then pour it out. Add the rye, syrup (or sugar) and the bitters and stir with an ice cube to chill. Strain into the chilled rocks glass and garnish with a lemon or orange peel.
Recipes printed with permission from Vintage Cocktails (Assouline)