Online journals: week 1
Our mother/daughter team recounts their first week of the makeover process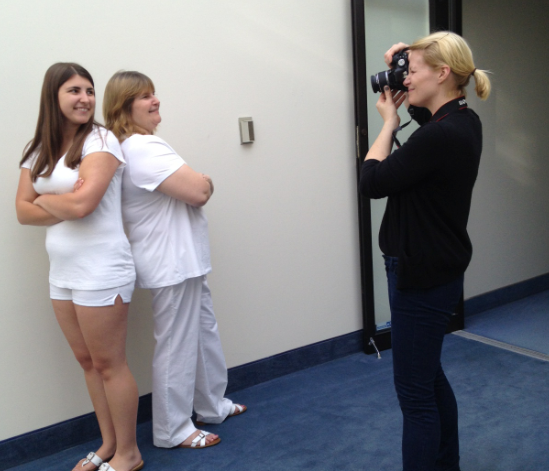 Samantha:
I think the only appropriate word to describe how I feel right now is "WOW"! This past week has felt like a dream. Receiving the email from Jennifer informing us that we were chosen to participate in the Bergen Health & Life Mother/Daughter Makeover was unreal. I was sitting outside when I first opened the email and immediately started to cry. All the thoughts of how this incredible opportunity could change our lives came together, and I was filled with so much joy that it is really indescribable. I have never in my life seen my Mom truly excited about something. It makes me so happy. Our challenge officially began on Tuesday, so I called Ethos Fitness & Spa, Omni Health Professionals, Laser Dentistry of North Jersey and Araya Rebirth to schedule appointments for the upcoming weeks.
Our first appointment was the same day with Debra at Ethos Fitness & Spa. Debra was wonderful and showed us the gorgeous gym and spa (she made us feel like celebrities!). We were also both set up with personal trainers who we are going to be meeting with twice a week! On Wednesday, Mom and I met with our trainers for the initial consultation. My trainer, Molly, was very nice and I am looking forward to our first session on Monday evening! She took my weight and measurements as well as establishing my baselines so that we can work toward goals of improving my health and fitness abilities. I would LOVE to lose 15 to 20 lbs, and I know with Molly's help that I can do it! This week has been so busy with the holiday weekend and starting my orientation today for my summer externship at The Valley Hospital, but I know that it will calm down once orientation is over on Tuesday and I start a regular schedule.
Friday at 5:00pm we have our first appointment with Dr. Song; I can't wait to meet everyone at Omni Health Professionals! After our appointment we are going to Ethos Fitness & Spa for a quick work out and then heading to Relay for Life. Saturday is Mom's birthday so we will have some more celebrating to do! Thank you so much for this amazing opportunity, we will make you all very proud!
Janet:
Now that the initial shock is over and the excitement of all that is occurring is rushing rapidly throughout my body, I would like to share my first week with you. Since it was a holiday weekend we started on Tuesday with our first interview session. We had the pleasure to meet with Debra at Ethos Fitness & Spa and she introduced us to many of the wonderful individuals who will be working with us over the next few months. A game plan was in its beginning stages, and I can't wait to see what they have in store for us. I'm so excited. It's like a new beginning to life has just been handed to me.
On Wednesday I was introduced to my personal trainer—imagine me with a personal trainer of my own! Elena was just wonderful! I look forward to working with her over the next few months. First was the tough part—taking measurements and weighing in—then came the easy part—discussing realistic goals. I shared with Elena that I'm a stranger to a gym since I work 6 days a week and really take little time for myself. This is all going to change as of now. My work schedule will remain the same (I LOVE what I do—giving the gift of sight), but I will make time for myself. I already have done this. I walked the treadmill
Thursday night after working a 9:30 a.m. to 7 p.m. day. It's a start. I'll be back tomorrow night (Friday) to work out a little, since I'm walking in the Relay for Life at Saddle Brook High School Friday night, I will get a good workout there. I'm meeting Elena Sunday afternoon to officially start our training mission.
The week doesn't end here: tomorrow night, we're meeting with Dr. Song at Omni Health Professionals to start another new beginning. I would have never imagined such a wonderful experience would of ended up happening to me. THANK YOU!!!