Online journals: week 2
Our mother/daughter team recounts their second week of the makeover process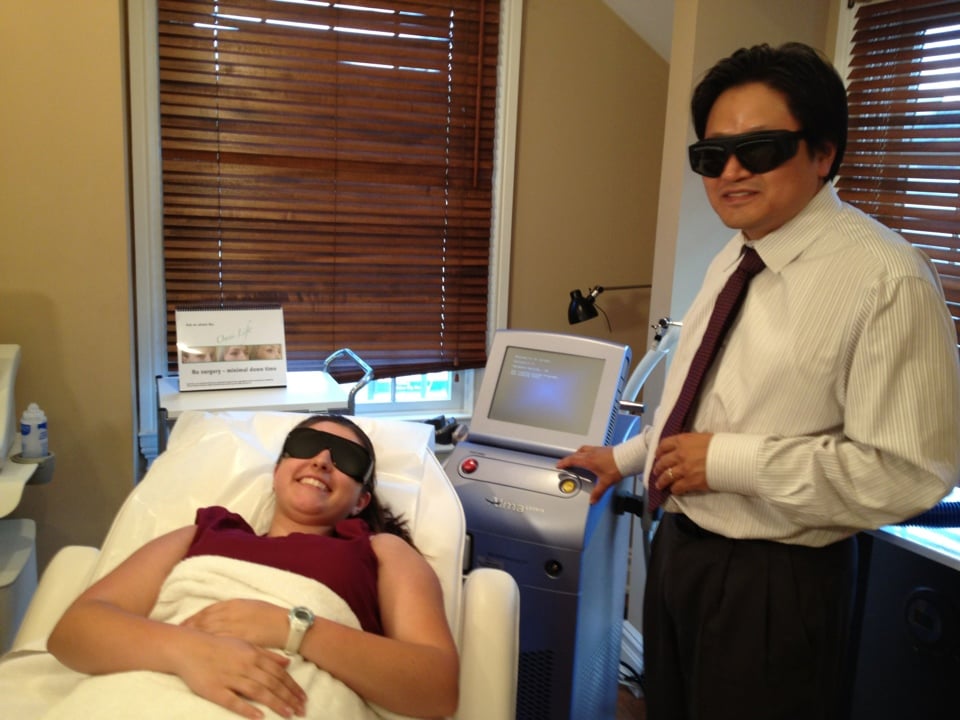 Samantha:
The last two weeks have been extremely busy/exciting/stressful. Last Friday we had an appointment with Dr. Song at Omni Health Professionals that had to be rescheduled because my Grandma was brought to the emergency room early in the afternoon, which brings about the stressful part of the week. At 85 years old we were all very nervous as to how her surgery would go but it went remarkably well and she is doing great! So the week was filled with getting used to my extern position at The Valley Hospital, spending time with Grandma and keeping up with appointments. It was an odd day if I was home before 10pm any night this past week. Thankfully my Mom and I have been great support for each other and our family and friends are incredible.
Monday I had my first real workout session with Molly at Ethos Fitness & Spa, I felt great afterwards and loved the way she arranged the workout. I am usually the type of person to just jump on the elliptical for thirty minutes then go home but now I have an actual structure to my workout. I was not as happy with how I felt by Tuesday morning when I could barely put myself in a sitting position or walk down stairs. I was still determined though so I made sure to push myself back to Ethos for my workouts without Molly on Tuesday (with Mom too!) and Wednesday.
Tuesday we had our photo shoot at Bergen Health & Life with Meredith for the before photos; we had a great time and a lot of laughs! By Thursday I felt much less sore and could actually walk down the stairs! Thursday night I met with Molly for our second session. This time it seemed like we were focusing more on upper body strength. Thankfully I didn't have any soreness the next day and I felt great! Ethos is such a beautiful fitness center and I feel very comfortable working out especially since membership is only for women.
Friday after work Mom and I finally were able to meet Dr. Song! We were both talking about it all week and it was such a good feeling to finally meet him. Dr. Song and Carol looked over Mom and I to see what areas could use some improvement. I mentioned that I have always been extremely self-conscious of the small red bumps on my arms and Dr. Song said he could make them go away. I cannot even explain the happiness I felt when he said that. I have had the bumps for as long as I can remember and have never gotten real advice as to how to make them go away. Dr. Song said he would perform laser hair removal and that this would cause the bumps to go away. Since the treatments have to be done in 6-to-8-week intervals up to 6 times he performed the first treatment right away! The laser didn't hurt at all; it was just a warm feeling on my warms that actually was very soothing. Dr. Song will also be performing a procedure to lift my eyebrow slightly since one side is shaped slightly different than the other. Self image is so important and these two procedures are going to make me so much more comfortable with myself. Not only did we meet Dr. Song and Carol, we also had the pleasure of meeting Jacqueline Laurita from The Real Housewives of New Jersey! She was such a nice person and we look forward to working with her more throughout our makeover!
Next, mom and I head to Ethos where they were hosting a Girl's Night. We participated in our first Zumba class (we made it the whole hour and fifteen minutes!), had sangria and snacks, and both received a foot massage! It was such a great night for both of us! We were so nervous about Zumba and now we can't wait to take another class! So even though this week didn't start on the best note, it really ended wonderfully! I can't wait to see what next week will bring with an appointment at Ethos with Stephanie our nutritionist on Sunday, an appointment with both Molly and Dr. Song Monday, and our first appointment with Dr. Bucher at Laser Dentistry of North Jersey on Tuesday!

Samantha and Janet take their first Zumba class
Janet:
Exciting week this week. Photo shoot on Tuesday, worked out with trainer on Wednesday and met with a Nutritionist after my workout. The nutritionist is going to work on formulating a meal plan for me to try. In my case I tend not to eat enough so my body stores everything it is given which in turn gives me my extra weight. I can't wait to shed some of these extra pounds.
My next appointment was on Friday with Dr. Song at Omni Health Professionals. What a great visit. He is so nice—it will be such a pleasure working with him. With a facial peel and minor modifications my skin is going to look great like it did in my younger years. While we were there Jacqueline from The Real Housewives of New Jersey stopped in. What a wonderful surprise. She is so sweet and bubbly and added additional excitement to everything that was occurring already. Oh and I don't want to forget Carol in Dr. Song's office, so charming and informative
After Dr. Song's office visit, we went off to Zumba at Ethos Fitness & Spa. We signed up for a 75-minute group session that was taking place Friday night at 7:45. I have never taken that type of exercise class before so I wasn't quite sure what to expect. We danced up a storm, sweated up a storm and had a great time. I think I used muscles I didn't know I had. Afterwards they treated us to Sangria, fresh fruits with an optional chocolate dip, assorted chips and dips and foot massages. AHHH, that foot massage was golden after such a busy day. That wraps up this busy week. I must say how wonderful everyone is that we have met so far. I have to pinch myself to realize that this is all real. I THANK MY LOVING DAUGHTER for entering us in this contest. It will give me a fresh outlook on life that has been needed for quite some time.

Janet gets a much-needed foot rub after a tough Zumba class at Ethos Fitness & Spa