Pandemic Pasta
This meaty tagliatelle recipe, courtesy of a personal chef from Midland Park, is calling your name on World Pasta Day, Oct. 25.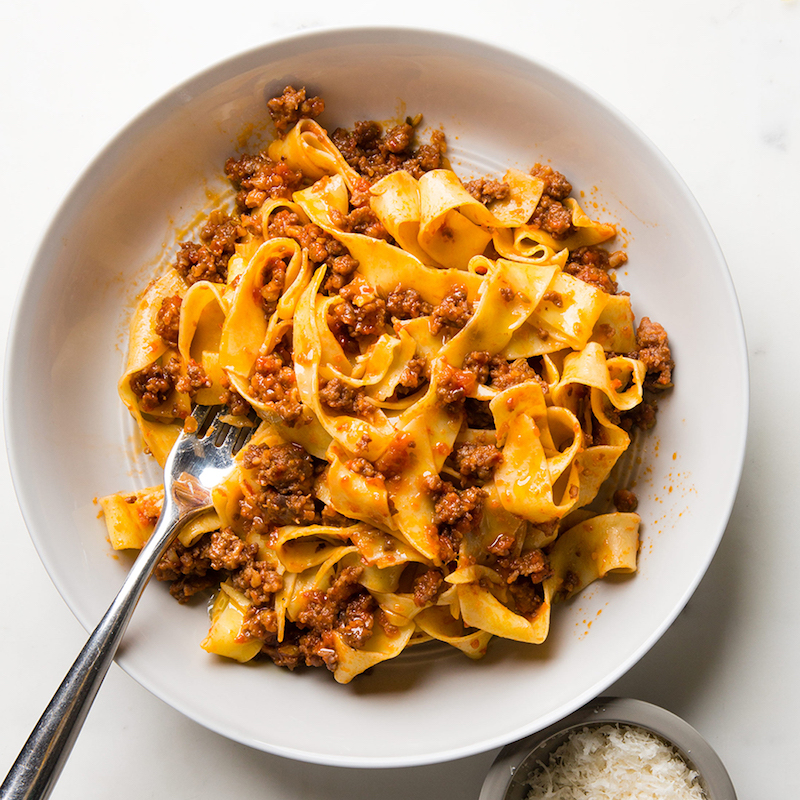 We're seven months into the pandemic, so you're undoubtedly past that point where you've run out of things to cook for yourself and your family. But Oct. 25 is World Pasta Day, an excuse to indulge in the heavy-yet-satisfying Italy-derived delicacy that everybody enjoys—and why not do it with a twist?
Baked ziti or spaghetti and meatballs are each a fine choice, but this recipe, from personal chef Lisa Pattman of Midland Park, is different—and delicious. And unlike gnocchi or ravioli made from scratch, this dish is actually easy enough to make at home for those who aren't professional chefs.
So pour yourself a glass of red wine, whip up a side salad—may we suggest this kale salad recipe with mango and pumpkin seeds?—and enjoy this pasta that's equal parts meaty and delicious.
Tagliatelle with Fennel and Sausage Ragu
Yields: 4-6 servings
Ingredients: 
½ fennel bulb, stalks discarded, bulb chopped coarse
1 onion, chopped
1 Tbsp. fennel seeds
1 28-oz. can whole tomatoes
2 lbs. mixed sweet and hot sausage, casings removed
1 Tbsp. extra-virgin olive oil
2 Tbsp. tomato paste
5 garlic cloves, minced
2 tsp. dried oregano
1 cup red wine
1 cup low-sodium chicken stock
1 lb. tagliatelle
Parmesan, freshly grated
salt and pepper, to taste
Directions:
Pulse fennel, onion and fennel seeds in a food processor until finely chopped; transfer to a bowl. Process tomatoes in now empty processor until smooth.
Heat oil in a large pot until simmering.  Add sausage and cook, breaking the meat up until it starts to brown, about 15 minutes.
Add fennel mixture and salt to taste and cook until softened, about five minutes. It's ok to have the bottom of pan very brown. Add tomato paste, garlic and oregano, stirring constantly until aromatic, for a few seconds.
Stir in wine, scraping the brown bits at the bottom of the pan until almost completely evaporated.  Add 1 cup low-sodium chicken stock and tomato purée and bring to a simmer. Reduce heat to low and simmer, uncovered, about an hour. Season to taste with salt and pepper; cover and keep warm.
Bring four quarts water to a boil in a large pot. Add pasta and one tablespoon of salt, stirring often, until al dente. Reserve one cup cooking water, then drain pasta and return to the pot. Add three cups sauce and ½ cup reserved cooking water to pasta and toss to combine. Adjust sauce with remaining cooking water as needed.
Transfer to serving dish and sprinkle with lots of Parmesan. Remaining sauce can be refrigerated for up to three days or frozen for up to one month!
Check out more of chef Lisa's recipes and her cooking how-to videos on Instagram @lisapattmancatering.