Paul E Kovatis, M.D.
Orthopedic Surgeon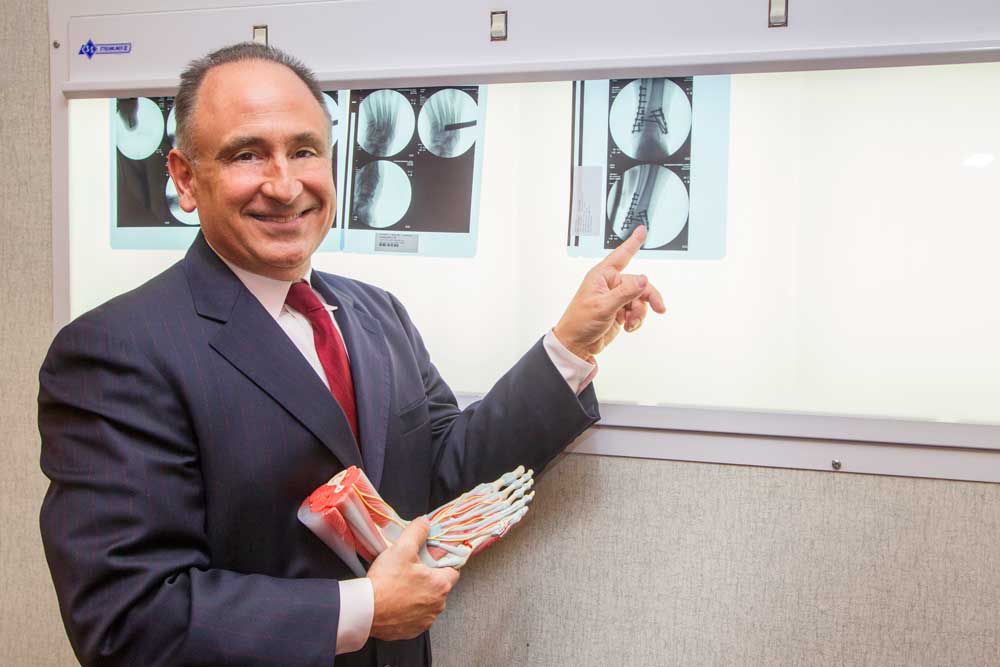 "Some men see things as they are, and ask why. I dream of things that
never were, and ask why not." Robert F. Kennedy
A FAVORITE QUOTE OF DR. PAUL KOVATIS, it epitomizes his full, rich life and never ending reach to uncover the greater good in medicine and humankind. Dr. Kovatis dedicates his life to selflessly helping others through philanthropy, physician leadership in orthopedics and support of military veterans.
Dr. Kovatis, a Hospital for Special Surgery fellowship trained orthopedic surgeon, specializes in the care of leg, foot and ankle disorders – an underserved subspecialty within orthopedics. He is best known for his results in the field of complex ankle fractures and trauma to the lower extremities. Emergency rooms and care centers look to Dr. Kovatis for their most challenging and complex cases, a fact that has gained him numerous local and national letters of praise from patients and organizations.
In life as well as in practice, Dr. Kovatis follows the proverbial "Golden Rule," treating others as one would wish to be treated. "What I strive for each day is to make a positive difference in people's lives without the expectation of recognition or gratitude," states Dr. Kovatis. All too familiar with the sick and elderly, Dr. Kovatis passionately believes that everyone deserves the best quality healthcare delivered with trust and compassion. As a patient advocate, he counsels on the risks as well as benefits of both surgical and nonsurgical treatment options emphasizing realistic expectations.
Dr. Kovatis's altruistic values were instilled in early childhood rooted in his family's military history of service and dedication to one's country and community. Taking inspiration from the words of John F. Kennedy "As we express gratitude, we must never forget the highest appreciation is not to utter those words, but to live by them," Dr. Kovatis exemplifies what it means to be a doer and make an impact on the world.
Dr. Kovatis's philanthropy extends from the surgical world into the military, religious and professional sports venues. In April 2013, he was bestowed the esteemed honor to throw out the ceremonial "First Pitch" at a New York Mets vs. Washington Nationals game at Citi Field – a perfect 84 MPH strike – for his work with pro athletes. "A very proud day," says Dr. Kovatis. "I typically shy away from recognition following in the footsteps of my late father, an original Flying Tiger and Air Force Colonel, and choose to remain the quiet professional. But as the only physician to be given this longstanding distinction, it made for a day I will never forget."
Dr. Kovatis's long list of honors and awards includes Past-President and Chairman of the Medical Board and Staff at Hackensack-Meridian Medical Center and a Past Chairman of their Quality and Patient Safety Committee to the Board of Governors. He also served as President of the Bergen County Medical Society. Dr. Kovatis graduated from UMDNJ- New Jersey Medical School, Newark and served a General Surgery Internship and Orthopedic Surgery Residency at UMDNJ. He completed his orthopedic foot and ankle fellowship at the Hospital for Special Surgery (HSS) in New York City, the hospital consistently ranked #1 by US News and World Report.
2 Forest Ave., Paramus, NJ 07652 • 201.587.1111 • ossmc.com • njtopdocs.com