Power Food: Oregano
Popular oregano has more to offer than a tempting aroma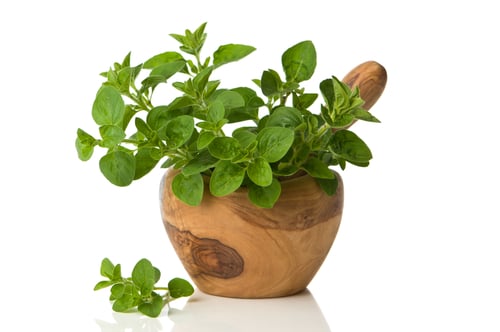 Did You Know?
Oregano can be traced back 3,000 years to the ancient Egyptians, who used it as a medicine, disinfectant and preservative. The herb's culinary uses were first recorded in the Middle Ages, when it was especially popular in the stews and shellfish of Spain and Italy and even made an appearance in the brewing of beer before hops were introduced. It only reached its heyday in the United States after World War II , when soldiers who had tasted oregano in Europe returned with a newfound love for the herb. Today, Americans consume more than 379,000 metric tons of oregano every year.
Powers
From soothing stomach pain and toothache to easing bruises, the medicinal uses to which oregano has been put are numerous. While today it may be more common on pizza than in a poultice, research shows that the herb contains the powerful flavonoids galangin and quercetin, which may help fight cancer. In addition, oregano contains a variety of vitamins and minerals, including calcium, potassium and vitamin A.
Buy · Store · Grow
If you're buying an oregano plant to cultivate, check the label to make sure you're purchasing the culinary variety, not the ornamental species. If you're a home gardener looking to sow oregano, Greek oregano (origanum vulgare hirtum) is one of the hardier varieties and also has great flavor. When purchasing fresh oregano at the grocery store, look for vibrant green leaves that are free of spots and yellowing and have firm stems and a noticeable aroma. Oregano will keep for about a week in the refrigerator wrapped in a slightly damp towel. Dried, bottled versions will last for three years, though quality can begin to diminish after six months. When cooking with the herb, remember that dried oregano has a more potent flavor than fresh, so adjust accordingly.
Recipe
Oregano-infused Grilled Chicken with Fettuccine, Tomatoes, Olives and Fresh Mozzarella
By Hawthorne's Cheryl Slocum, contributing food editor at Country Living. Her recipes have also appeared in O, The Oprah Magazine
and Essence.
Serves 6
Ingredients
6 skinless, boneless chicken breast halves (about 2½ pounds)
²⁄³ cup extra virgin olive oil, plus 3 tablespoons
½ cup sherry vinegar
1½ tablespoons chopped oregano, plus 2 teaspoons
1 tablespoon kosher salt, plus more to taste
1½ pints grape tomatoes
1 pound fresh fettuccine, cooked, drained and kept warm
½ cup Kalamata Niçoise olives
½ teaspoon crushed red pepper
½ pound fresh mozzarella, cut into cubes
Preparation
1. Pierce the chicken with a fork in several places and place with ½ cup vinegar, ²⁄³ cup olive oil, 1½ tablespoons chopped oregano and 1 tablespoon kosher salt in a large sealable plastic bag and let marinate for two to 12 hours.
2. Heat a grill to medium-high heat. Remove chicken from marinade, brush grill grates with oil and grill, turning once, until cooked through, four to five minutes per side.
3. Remove from grill and let rest for five minutes, then slice horizontally into strips.
4. Meanwhile, toss tomatoes with 1 tablespoon olive oil and place in a grill basket. Grill until tomatoes just begin to wrinkle, about two minutes.
5. Transfer tomatoes, sliced chicken, fettuccine, olives, mozzarella, crushed red pepper and remaining 2 teaspoons oregano to a large bowl. Gently toss.
6. Season to taste with salt. Serve warm or room temperature.
---
Other Oregano Recipes:
Grilled Calamari with Garlic, Oregano and Lemon