Pumpkin Power
Why should your porch have all the fun? This iconic squash also has great potential for indoor décor!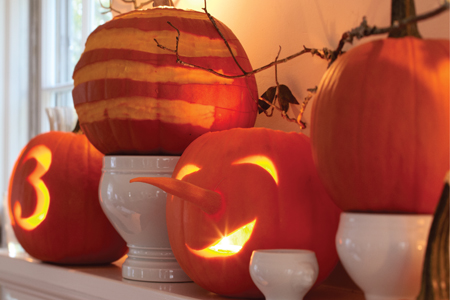 Nothing says "autumn" like the glowing grin of an outdoor jack-o-lantern you've carved with your kids. But when the clock strikes November, few of these porch-perched pumpkins are still smiling—young neighborhood pranksters see to that. Fortunately, the pumpkin also has other possibilities.
Carved or uncarved, pumpkins can play a starring role in imaginative indoor decorating schemes that go fall clichés one better. Of course they're great for seasonal centerpieces, with or without cornucopias, fruits and nuts, and Indian corn. But think, too, about mounting one on the mantel, flanking the fireplace or appointing a giant 'kin to preside over a corner beside glass doors leading to a den, library or rec room.
And what law of anthropomorphic spookiness decrees that decorative pumpkins be carved only in faces? Try your knife-hand on a numeral, a star, a crescent moon, a dollar sign or a map of New Jersey. You could use a linoleum cutter to make subtle patterns in your gourds without breaking the flesh. Or experiment with your uncarved orb as a surface for illustrations with stencils, vinyl decals or acrylic paint. Happily, your creation will last longer than a floral display (although one possibility is using a pumpkin's carved opening as a holder for mums, wheat stalks and baby's breath).
Whatever your aesthetic grand plan, choose a firm pumpkin without blemishes or spots. The stem should be attached, dry and preferably green (an indication that the pumpkin has been freshly picked). Or turn your pumpkin over and press the bottom with your thumb. If it gives, it's not fresh.
Take appropriate fire-prevention precautions, of course, if your glowing jack-o-lantern or carved pumpkin is to be placed indoors. A glass votive holder is safer than a simple votive candle; to be absolutely hazard-free, opt for a battery-operated LED tealight.
If you do choose candle lighting, consider going for a multisensory effect. Sprinkle cinnamon on the inner lid of your pumpkin so the heat warms and releases the pleasant scent.
Feeling botanically adventurous? Try deploying different kinds of pumpkins. Big Macs, Mammoth Golds and Connecticut Fields are popular for jack-o-lantern use because of their firm skin and classic orange color. But Jarrahdale pumpkins have a distinctive bluish hue, while next to them a white Lumina appears positively ghostly.
The key to preserving your autumnthemed spectacle is to prevent mold growth. At room temperature, uncarved pumpkins will keep for about one month, carved ones five to seven days. Tips to keep pumpkins longer include coating the edges of the carved details with petroleum jelly or vegetable oil, spraying with hairspray (after any pie-bound pumpkin fruit has been removed) and placing a wet towel over your pumpkin during the day and storing it in the refrigerator at night. Always be sure to put a small cloth or piece of cardboard under your pumpkin—this protects both the pumpkin base and your furniture.
Bergen's Prime Pumpkin Pickin'
At the farms listed below, "picking" a pumpkin means choosing your own. It doesn't necessarily mean cutting it loose from the underbrush in the patch it has grown in (which you may not want to bother with anyway). Call or check the websites for details and information on hours, prices and terms—some establishments accept only cash.
Abma's Farm
700 Lawlins Rd., Wyckoff, 201.891.0278; abmasfarm.com
Take a hayride to the pumpkin patch to choose one of the homegrown pumpkins—and don't miss the cider donuts in the market.
Demarest Farms
244 Wierimus Rd., Hillsdale, 201.666.0472; demarestfarms.com
In a hurry? Besides a plentiful patch just a hayride away, there are pre-painted pumpkins out front.
DePiero's Country Farm
300 W. Grand Ave., Montvale, 201.391.4576; depieros.com
Enjoy a hayride before you select your pumpkin, then wander through the 1,500-bale "hay maze" and enjoy apple cider and donuts.
Fresh & Fancy Farms
575 River Rd., New Milford, 201.483.9494; freshandfancyfarms.com
This century-old farm lets you pick your own or choose from a freshly picked selection. Stop by in October for donuts and cider.
Goffle Brook Farm
425 Goffle Rd., Ridgewood, 201.652.7540; gofflebrookfarms.com
The pumpkins here are cleaned and ready to load into your car.
Old Hook Farm
650 Old Hook Rd., Emerson, 201.265.4835; oldhookfarm.com
Expect an excellent selection of potential jack-o-lanterns at this family-owned farm that also features an old-fashioned market.
Rohsler's Allendale Nursery & Florist
100 Franklin Tpk., Allendale, 201.327.3456; rohslers.com
Cut and cleaned pumpkins are out front, and a hayride to the spooky patch awaits.
Secor Farms
85 Airmont Ave., Mahwah, 201.529.2595; secorfarms.com
Miniature "jack-be-little" pumpkins abound as well as larger gourds. Take a hayride to the corn maze and pumpkin patch.
Stokes Farm
23 DeWolf Rd., Old Tappan, 201.768.3931; stokesfarm.com
This emporium promises an "unsoiled assortment" of pumpkins ready to become jack-o-lanterns—or other decorative delights.