Queens of Karma
Two bergen yogis bring peace of mind to people in need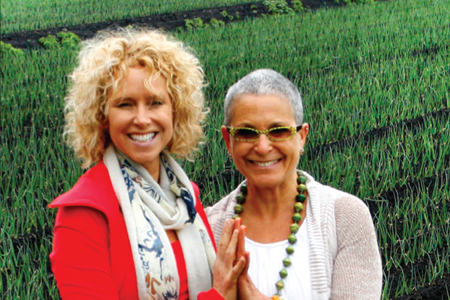 A cancer patient sits on a bed, takes a long, deep breath and reaches toward the ceiling. An autistic child allows an adult to help him as he kicks his legs up into a headstand. An abused woman sits among her peers and chants songs of love and gratitude. These individuals, faced with very different challenges, are linked together through the therapeutic yoga practice offered by the nonprofit organization Kula for Karma.
Kula (Sanskrit for "community") for Karma is the brainchild of two Bergen County women, Penni Feiner and Geri Topfer, who have seen firsthand how yoga and meditation can help a person cope with difficult times. At 61, Hawthorne resident Feiner is a beacon of stability, but 30 years ago she battled a drug addiction and discovered that yoga helped to quiet her "crazy mind." Topfer, a 52-year-old bubbly blonde and mother of three, had a successful career in advertising but struggled with social anxiety—something she's since overcome through yoga.
Because of their experiences, both women were drawn to bringing the practice to at-risk populations at no cost. "I wanted to reach people in the most desperate place of their lives," says Topfer,who lives in Franklin Lakes. Through mutual friends in the yoga community, she met Feiner, who was likewise seeking to teach to "populations that needed some kind of spiritual practice to heal."
The pair started working at a group home with adolescent girls, most of whom had been physically or emotionally abused. Says Feiner: "Week after week, we would learn chants, and the girls would make them their own, singing the Sanskrit verses to hip-hop."
Feiner also used the yoga classes to teach the girls team-building skills. "There were 12 teenagers trying to live together—it was a near-impossible situation, with discord and very little working together. I tried to foster the idea of how powerful they could be as a community. We did that with breathing and chanting and balancing poses. I would have them try 'tree pose,' which requires someone to stand on one leg, to see how difficult it is, and then we'd do it standing in a circle while holding onto each other."
The success of this program inspired Topfer and Feiner to expand their services to other populations, including drug addicts and alcoholics, seniors, adults with mental illness, combat-war veterans and caregivers. They partnered with healthcare facilities such as the John Theurer Cancer Center at Hackensack University Medical Center. "There, oncologists are prescribing not only chemotherapy and radiation, but also therapeutic yoga and meditation," says Topfer. Through the hospital's Kula Care program, volunteers with Kula for Karma help cancer patients perform basic yoga moves—in their beds or chairs if they are not mobile enough to move to mats.
"People who are struggling with a chronic illness seem to have a sense of disconnect with their bodies," says Feiner. "They feel as though their bodies have deserted them. Through yoga, they're able to make friends with their bodies again."
Now, after seven years of focusing their efforts on the less fortunate, Topfer and Feiner found that they've helped "cure" themselves as well. "Chronologically I am past my prime, but emotionally, physically and spiritually I feel more vibrant and alive than ever," says Feiner.
Topfer offers a similar report: "I have finally come to a place in my life that I feel most authentic, that I am able to celebrate me. It only took 52 years, and just a little breathing." —LIZ DONOVAN