Ralph E. Marcus, M.D., F.A.C.R. Neil J. Gonter, M.D., F.A.C.R. Alexandru F. Kimel, M.D., F.A.C.R.
Rheumatology Associates of North Jersey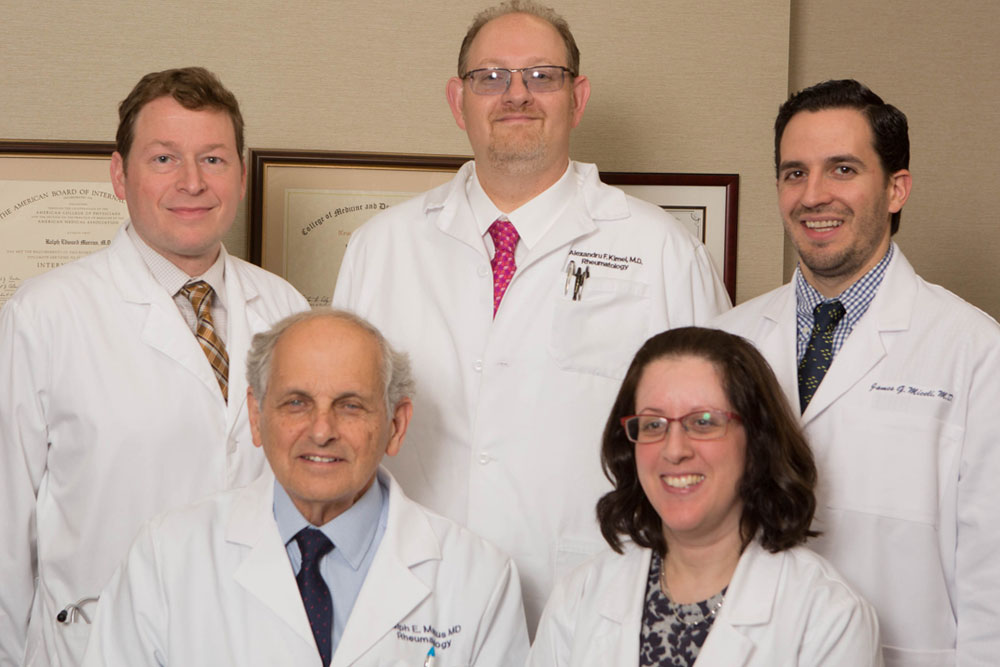 ACHY, CHRONIC JOINT PAIN and mysterious joint swelling or abnormal blood tests need the skilled detective work and compassion of Drs. Marcus, Gonter and Kimel to determine the cause. Rheumatology Associates of North Jersey was one of the first rheumatology practices in Bergen County established over 40 years ago. It has built one of the most trusted and experienced teams of doctors, including Drs. Silverberg and Miceli, as well. With over a hundred different kinds of arthritis, patients need smart caregivers to figure out the causes. The doctors at RANJ are all board certified and spend the time getting to know patients to ascertain the precise diagnosis to determine tailor-made treatments.
Each of the doctors are innovators in their own right. From treating patients with rheumatoid arthritis with multiple DMARD drugs, and cutting edge biologics to treating lupus, vasculitis, myostitis, and other connective tissue disorders with new immunomodulating regimens, they think outside the box for appropriate treatments. They were the first rheumatologists in New Jersey to use advanced lubricating treatment, Hyluronic acid,.i.e, to treat osteoarthritis of the knees, and along with Dr. Gonter, to use ultrasonography for diagnostic purposes and ultrasound guided joint injections. Today all RANJ doctors routinely use this advanced procedure of guided injections to ensure its precision. Dr. Kimel is highly sought after for his expertise in complex cases involving inflammatory myopathies, arthritis, lupus, vasculitis and gout.
RANJ offers an infusion suite staffed by a skilled team that has performed over 14,000 infusions on site, helping patients to reduce costs while accessing new therapies that weren't available a few years ago to successfully treat autoimmune and inflammatory conditions. The team of highly trained doctors are affiliated with Hackensack Medical Center, Holy Name Medical Center and Columbia University. They truly have become known as the doctor's doctors and keep in tune with medical advances in the field by continuing to teach at these institutions.
Teaneck: 1415 Queen Anne Rd., Teaneck, NJ 07666
Englewood: 200 Grand Ave., Ste. 202, Englewood, NJ 07631
North Bergen: 8305 Bergenline Ave., North Bergen, NJ 07047
201.837.7788 • njarthritis.com